Last summer I made my first attempt at a swimwear capsule and *spoiler alert* I'm officially converted. So in this post I'll be doing my best to convert you too! But for real, even if you don't have daily access to a pool or natural body of water, I think it's well worth curating a swimwear capsule within your closet.
Today I'll be sharing:
The 10 items in my swim capsule.
3 benefits to having one.
How to curate your own in 4 simples steps.
So let's dive in!
---
This post contains affiliate links. This means if you decide to shop through the links included, I may earn commission on a sale at no additional cost to you. All opinions are always my own and I only share items I love and think you might too. Thanks for supporting Style Bee!
---
MY 10 PIECE SWIMWEAR CAPSULE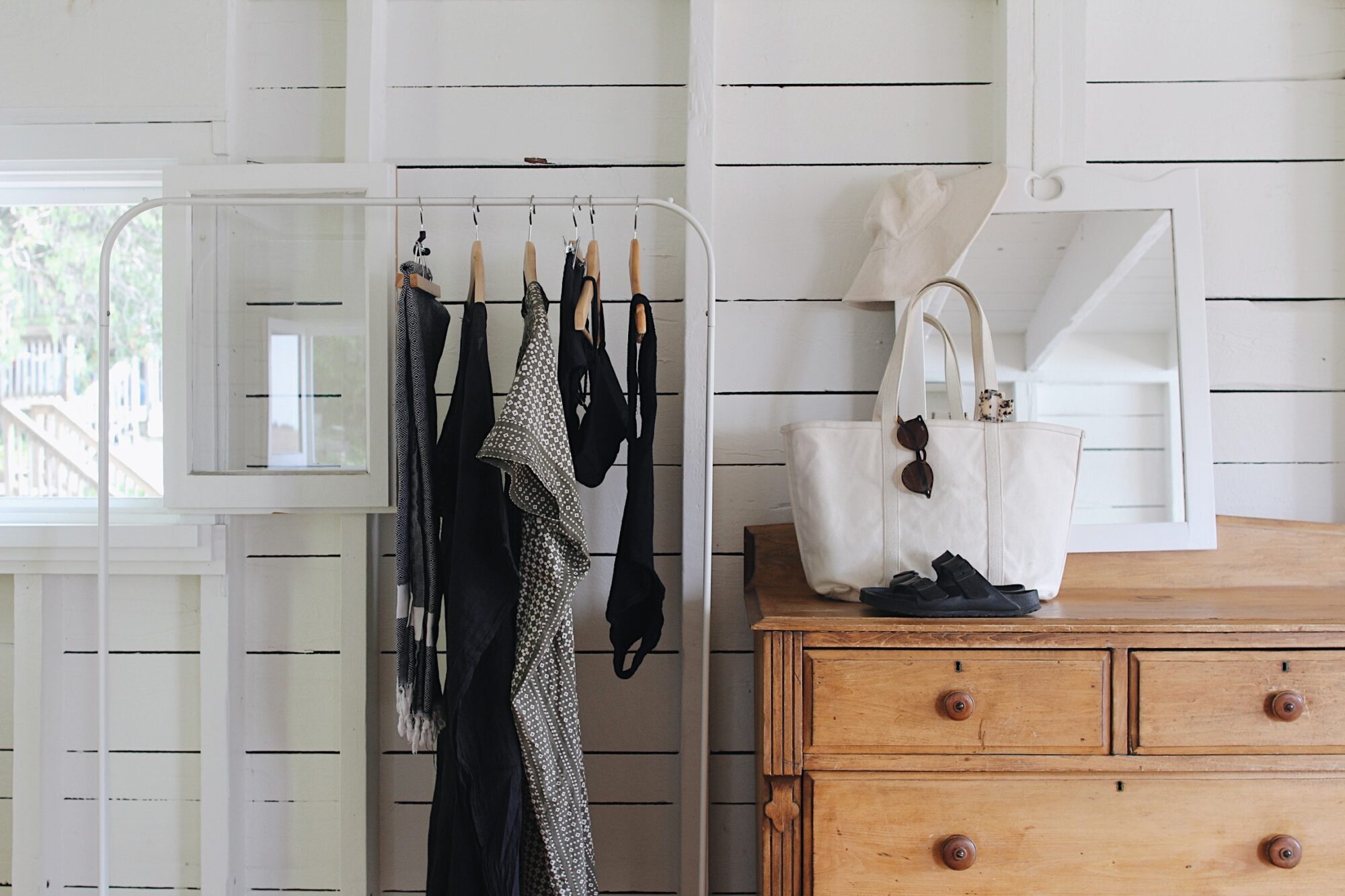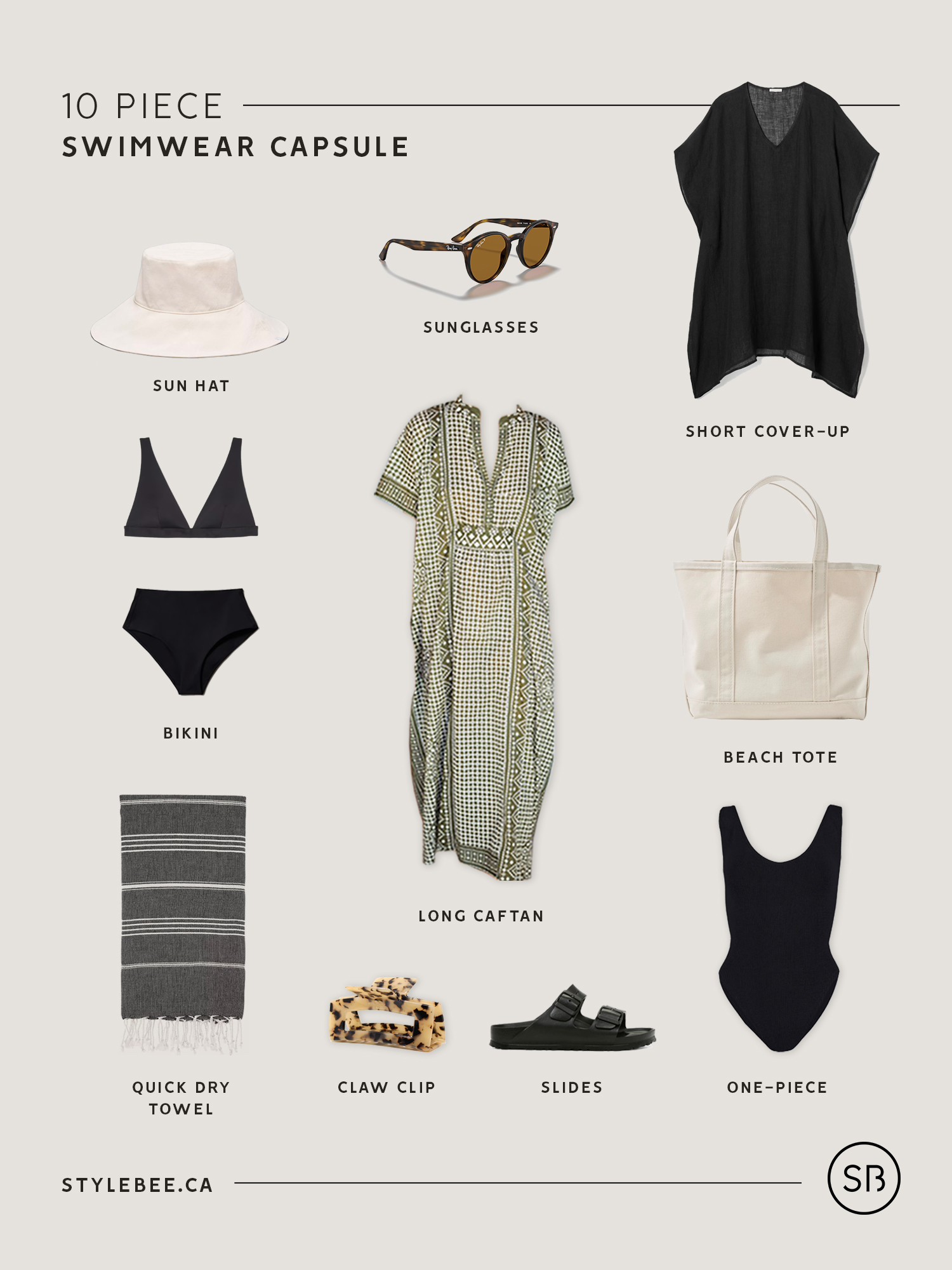 Links for exact items shown above
SUN HAT | SUNGLASSES | SHORT COVER-UP | BIKINI TOP & BOTTOM | LONG CAFTAN | BEACH TOTE | QUICK-DRY TOWEL | CLAW CLIP | SLIDES | ONE-PIECE

---
NOTES ON MY CAPSULE ITEMS
I just ordered the Ultra Wide Brim Cotton/Linen Hat from SOLBARI and can't wait to wear it this summer. It's packable, washable and has an adjustable fit and chin strap, which is ideal for windy days and boat rides.
I love my RB2180 sunnies so much I bought them twice! Well, only because I accidentally drove over the first pair. They're a classic shape that offers lots of coverage without being too oversized. They're also very comfortable to wear for long periods of time.
I received this piece from the Eileen Fisher for a collab last summer and it's been a staple ever since. I love it as a cover up but it's also beautiful over a cropped tank with wide leg black pants for a dressier look.
I've been wearing the Malibu Top & Sunset Bottom set from Canadian-based swimwear line Fentessa for several years now. The material is super soft and doesn't sag or bunch when wet.
One fault I will note however, is that the lower band on the top lacks stretch and can be tricky to pull on when it's hot and sticky. When I'm ready to replace it I'm looking at the Sunday Top & High Tide Bottoms from Left On Friday.
I basically live in this caftan when the heat and humidity pick up in the summer. It's perfect for throwing on over a swimsuit and can be dressed up for a dinner or day trip on holiday.
I've been using the same large canvas tote for years now. I like something that's sturdy and open for easy access to everything. That said, if I was traveling or swimming in more populated places I'd opt for something with a closure and inner pockets for organization.
We have a stash of about 8 Peshtemal towels and they're perfect for beach (or in my case, dock) days. They take a few washes to get properly absorbent but once they do they do they're great. They fold up tiny and air dry fast. Plus they can double as a sarong as needed.
I love a claw clip for sunny days when I need to get my hair off my neck or whenever it's windy and I need to tame the mane. They can also come in handy when you need to keep your towel fastened to a chaise or you don't want to deal with wet elastic bands creasing your hair while it dries.
At the moment, the EVA Birkenstock is the only poolside sandal I'm interested in wearing. I have three colours of them and rotate through all summer long. They're lightweight, comfy, waterproof and float if they get knocked or dropped in the lake!
I really like my You.Swim Eva one-piece swimsuit, however, it is definitely low cut so if you want more coverage try the Aplomb. I love a black one piece because it's completely timeless and can easily double as a top or bodysuit with a pair of shorts or wide-leg linen pants. Perfect for holidays.
---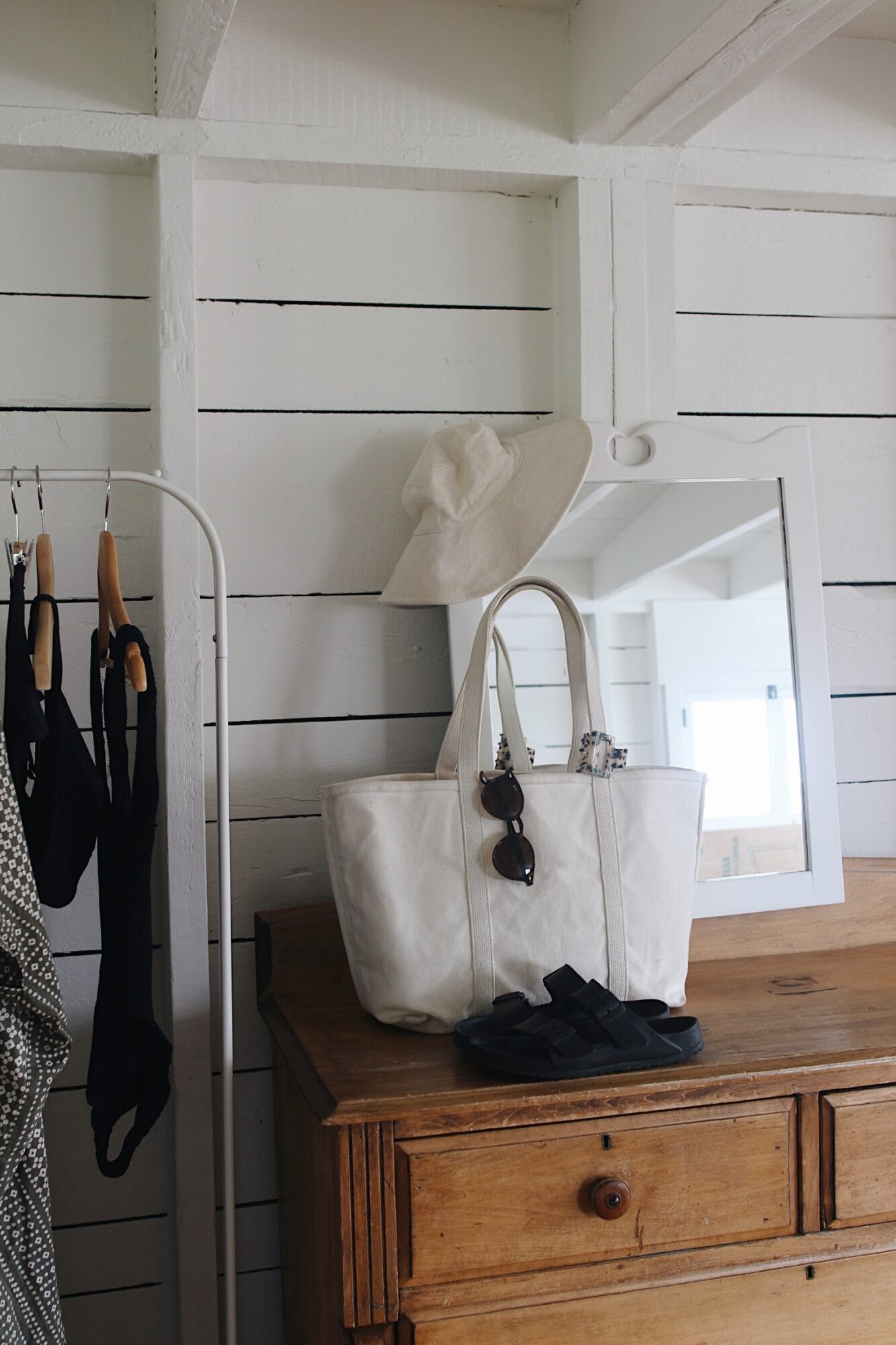 ---
WHY YOU NEED A SWIMWEAR CAPSULE?
1 / When the perfect summer days arrive you'll be ready to seize them.
2 / You'll feel more at ease around the pool or at the beach.
3 / Vacation packing becomes a breeze.
Life is too short to spend a minute more than you need to feeling self-conscious about time with family and friends by the water. Curating a swimwear capsule that you feel good in and that serves your needs can truly help to alleviate the stress surrounding these activities. We can't unlearn or undo the negative impacts of toxic beauty culture and weight stigma over night, or even over a summer, but we do have the power to set ourselves up for more joy.
---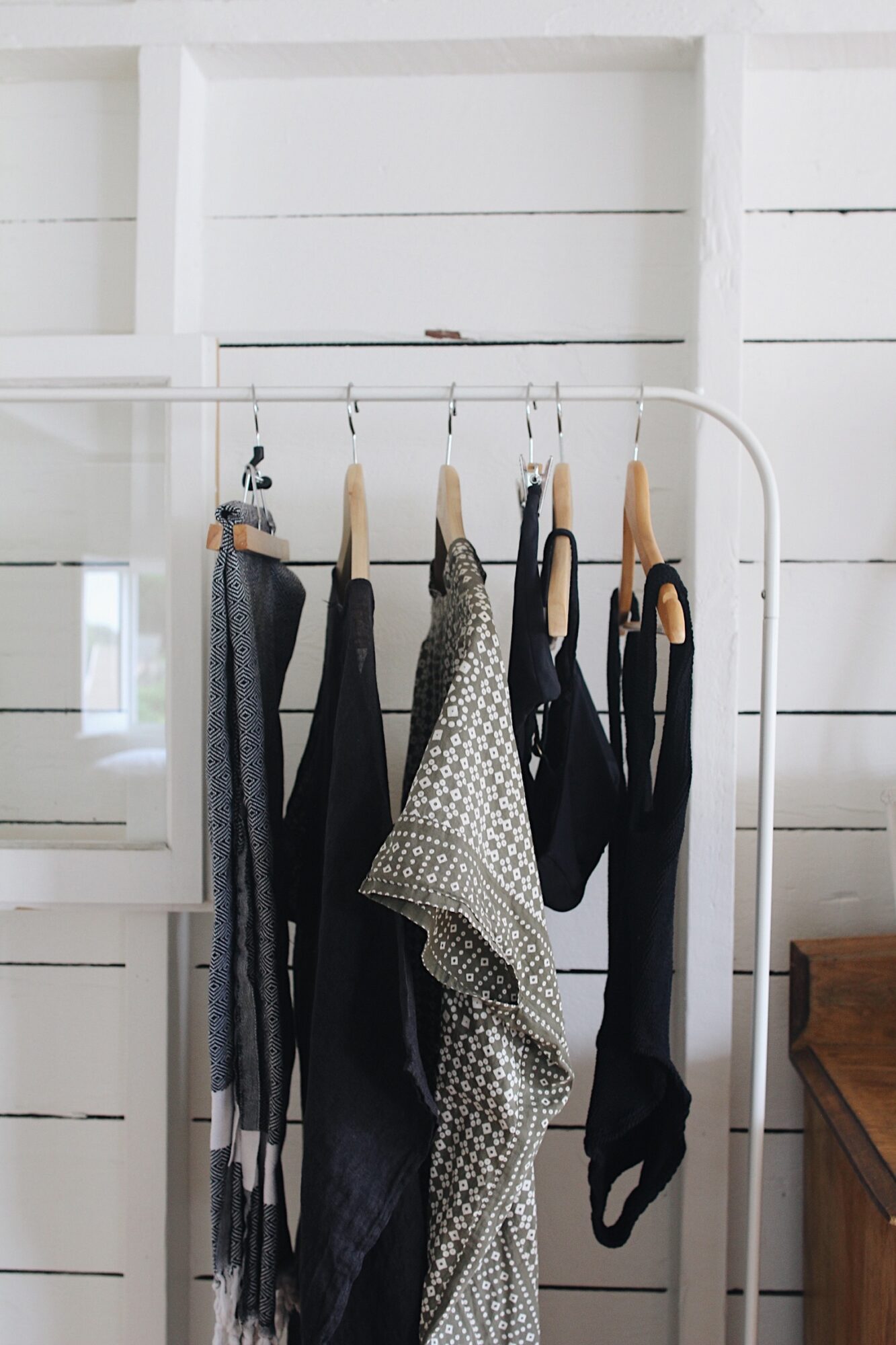 ---
HOW TO CURATE A SWIMWEAR CAPSULE IN 4 QUICK STEPS
STEP 1 – Start by letting go of the swimsuits that ride up, dig in, fall down or whatever your reason is for not feeling good in them may be. You might only have one or two that fit the way you want (that's all I kept for this summer), or maybe you're left without any, which means it's time to find one that you do like to wear. I personally feel best in black swimwear but if you love colour, go for it!
TRY (*Canadian-based): FENTESSA* | YOU.SWIM | LEFT ON FRIDAY* | NETTLE'S TALE* (inclusive sizing)
STEP 2 – Then assess what sort of caftan or cover-up you want to wear. This could be a linen set, a lightweight sarong, a t-shirt maxi dress or a floaty cotton tunic (my personal pick). We always need something to throw on over a swimsuit to grab a bite, go back to the car or whatever the scenario might be.
TRY (*Canadian-based): THE SLEEP SHIRT* (STYLEBEE for 20% Off) / EMERSON FRY / EILEEN FISHER / ETSY (inclusive sizing)
STEP 3 – Next come the accessories and for me a wide brimmed hat and good sunglasses are key. Footwear that's comfy and practical for waterside use. Even having a quick-dry towel that's dedicated to your capsule can make for extra easy beach-day prep.
TRY (*Canadian-based): SOLBARI (UPF50+ sun hats) | SILK & SNOW* for towels
STEP 4 – Finally, it's time to assign a method of conveyance for the capsule, which in my case is a simple canvas tote. For you it might be a backpack, a duffle or a woven basket bag.
TRY (*Canadian-based): JOSHU VELA | LL BEAN | ETSY | PROVINCE OF CANADA*
Now you're well on your way to being all set to enjoy your time by and in the water!
---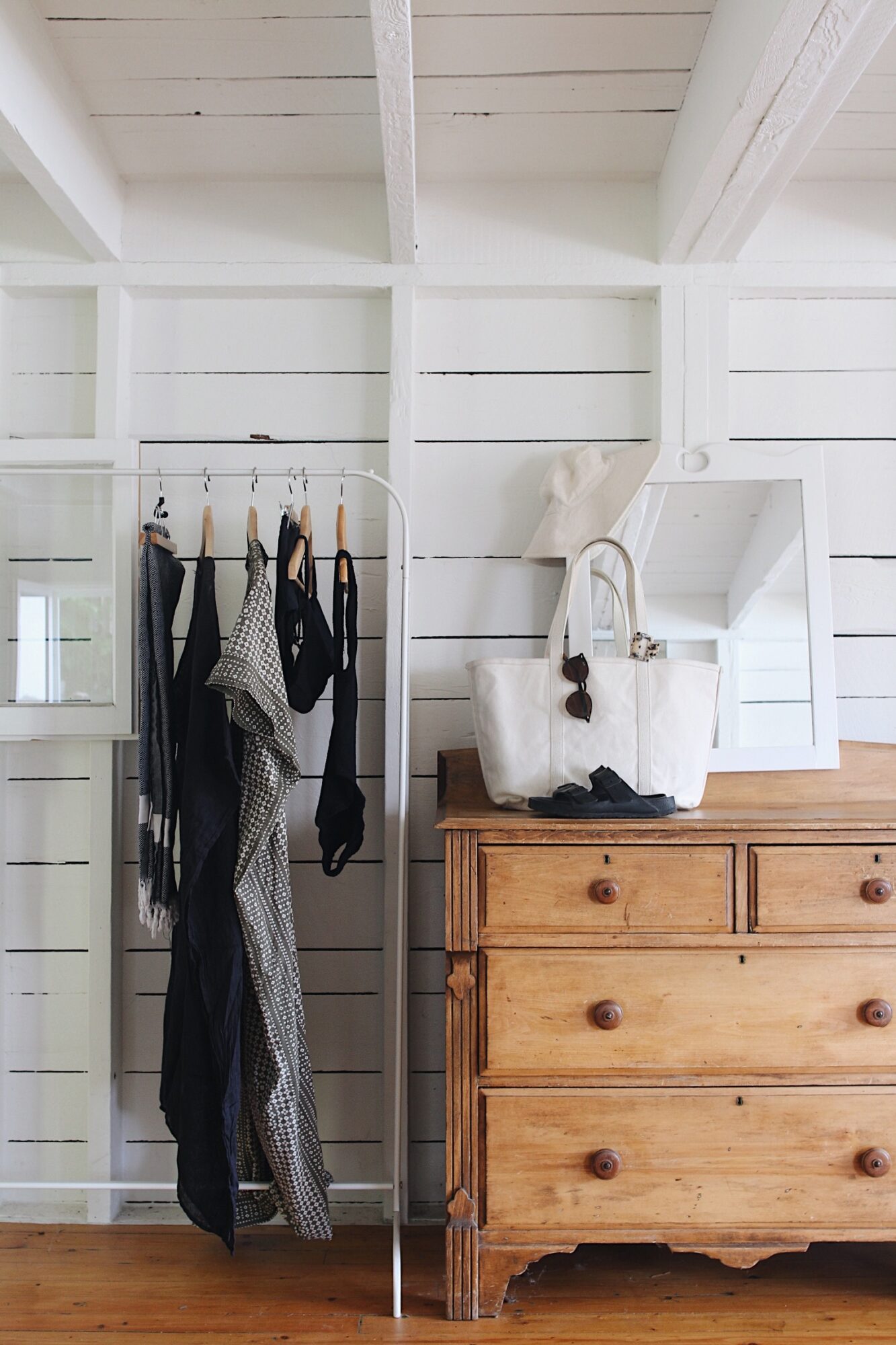 ---
THANKS FOR TUNING IN!
Do you have a swimwear capsule that you use? If so, what's in it?
If not, do you think you'd consider curating one?