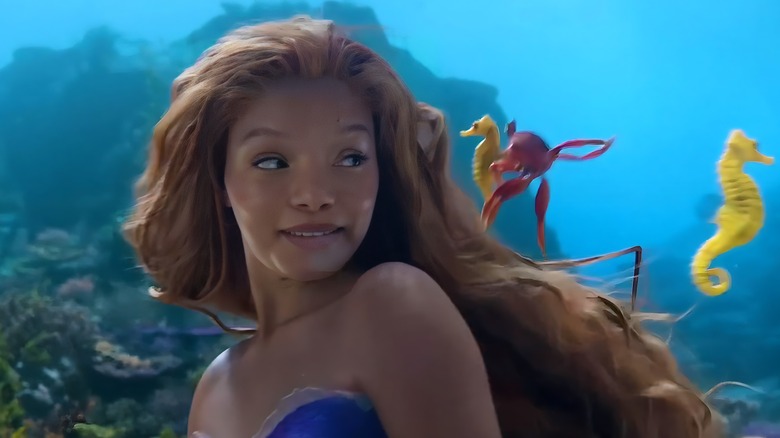 This article contains spoilers for "The Little Mermaid."
There are quite a few changes in "The Little Mermaid" live-action version, from the ending to Prince Eric's backstory, and King Triton's characterization. Director Rob Marshall reminded viewers in his interview with SFX that his film "really is a reimagining of 'Little Mermaid' more than a remake. There are things in animated musicals that you just accept that you just wouldn't accept in live-action." One of those things is the "Les Poissons" song. 
In the comical number, Chef Louis chases Sebastian around his kitchen. The original scene relies a lot on the juxtaposition of scale and Sebastian's over-the-top expressions for its humor. Sebastian's tiny body avoids a huge pot of boiling water and flies into the air. His eyes bulge out and he nearly throws up when he realizes that he could be cooked. He even hunches into his shell to try and hide. 
The realistic CGI depiction of Sebastian could never capture the goofy essence of this scene. There's still lots of physical comedy in the live-action, like when Sebastian comes out from under Prince Eric's hat during "Kiss the Girl" or when he clings to the wheel of the horse carriage, but the comedy comes from the authenticity of his scurrying movements and rather than his exaggerated reactions.
Sebastian's pratfalls are also cut from "Part of Your World," such as when he spies his warped reflection in a giant orb. They were added to the original film to keep younger audiences engaged because executives wanted to cut the beloved song after an unsatisfactory test screening. Rob Marshall described Ariel's ballad as "the motor for the entire piece," having said, "It's our 'Somewhere Over The Rainbow' and it needed to be treated like that." The entire focus stays on Halle Bailey's dazzling performance. 
Making Tough Choices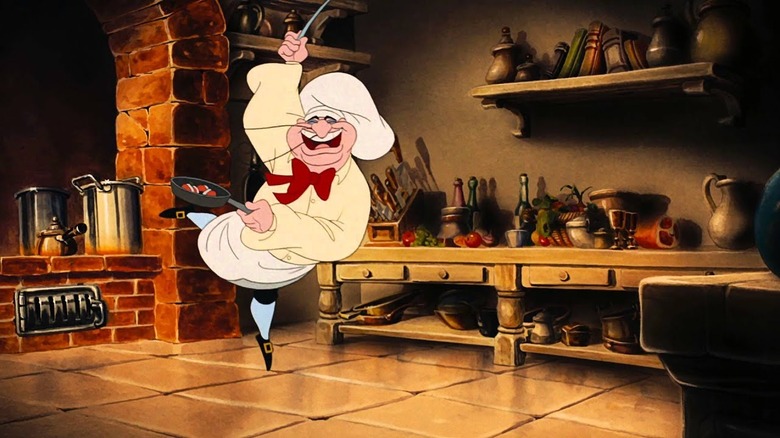 Rob Marshall explained to SFX that through his cuts and alterations, he "took the bones [of the original] and fleshed it out into a deeper, more emotional, more fully realized piece. A full live-action film." Even though "Les Poissons" was a humorous treat for younger audiences in the original, what replaces the entire sequence is so much better. 
Instead of the stuffy dinner scene where Grimsby pushes Eric and Ariel to go out together, the couple bonds over their shared love of collecting trinkets and going on adventures. The removal of "Les Poissons" gives Eric and Ariel more time to develop their relationship which is now based on something deeper than just love at first sight. 
With a longer runtime than the 83-minute animated film, the filmmakers were able to add new songs written by Alan Menken and Lin-Manuel Miranda. Ariel expresses more of her thoughts about the human world in her additional solos, Prince Eric gets his own "I Want" song, and even Scuttle has her own cringy but catchy rap, "The Scuttlebutt."
"The Little Mermaid" live-action is not a shot-for-shot remake of the animated film, and nor should it be. It makes innovative changes that fit the different medium. "The animated movie stays forever, and people can go and watch that. This needs to work in a realistic way. You have to be brave enough to make the tough choices," Rob Marshall said. Creating a new version of "The Little Mermaid," which was such a revolutionary release for Disney, was never going to be easy. Many of Rob Marshall's choices, especially the one to develop Prince Eric and Ariel's similar personalities, give the film more emotional resonance while still bringing the same magic of the original we all know and love.
Chef Louis was a necessary cut.
Read this next: The 12 Most Influential Disney Movies Of All Time
The post Why The Little Mermaid Remake Left Out Chef Louis And 'Les Poissons' appeared first on /Film.