By using this site, you agree to our Terms of Use. This post may contain affiliate links. Read our disclosure policy. 
Follow us on Etsy for more fun ideas for kids!
Santa is coming to town! This countdown printable lets you know just how close he is. Santa beard themed printables are perfect for anyone who loves Christmas and all things festive. 
Many people use Santa beard printables to track their holiday progress, or simply to have a fun little activity during the countdown. 
They are perfect for use in classrooms, homes and offices. Kids will love counting down to Santa's arrival and parents will love the fun, festive prints. 
You can use this Santa beard countdown printable to practice fine motor skills during the holiday season, or simply as a fun way to celebrate. 
Plus, Santa beard printables are a great way to encourage creativity and imagination. So grab your Santa beard countdown printable today and get ready for the holiday season! 
Santa Beard Countdown Printable Overview
Whether it's the Jolly Old Elf conjuring up memories of childhood Christmases or simply enjoying the aesthetics of a well-groomed man in red, we can't help but be drawn to Santa. 
This Santa Beard Advent Calendar is the perfect way to celebrate Christmas. With four printables included, you can choose which Santa best represents your family and style. 
Print out one or all of the printables to get ready for the countdown. 
Then add a cotton ball for each day in December until Christmas Eve when you will finally be able to see Santa's glorious beard!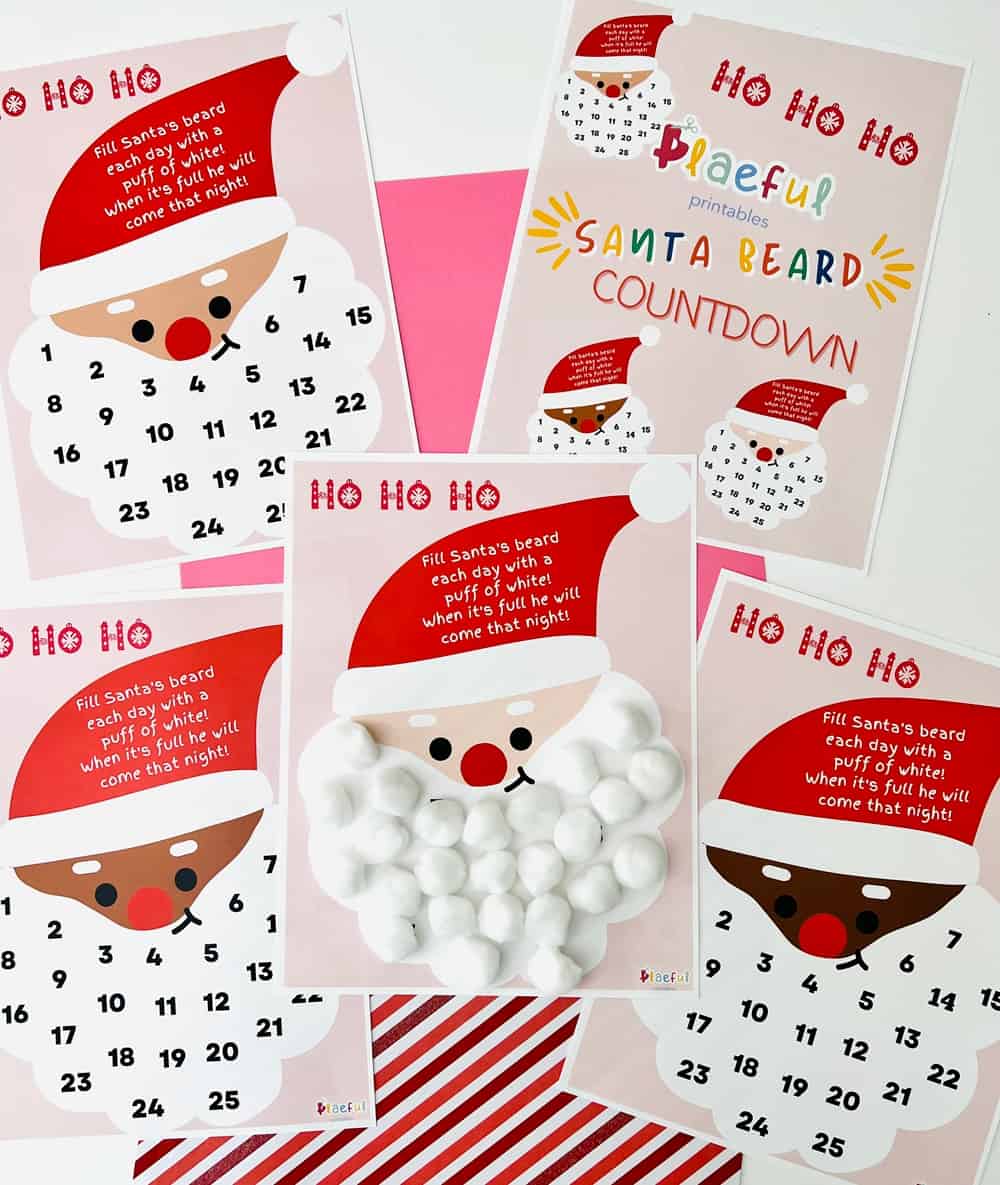 How To Make Your Printable Even More Eye-Catching
Add a festive border around the calendar
A festive border would really bring out the colors in your Santa beard countdown printable and make it look even more amazing! 
For example, you could use a green or red border to match the colors in your printable. Washi colorful tape would be cute in festive colors! 
Or you could go for mint green, light pink, or even black! This is a really easy way to make your printable look extra special.
Print onto canvas boards for an impressive display
If you're looking to impress guests, glue the Santa beard countdown onto canvas boards. 
Canvas boards are a really unique way to display your prints, and they make a great centerpiece for any Christmas table. 
Not only will this look amazing on your wall, but it'll also make a great reminder of all the Christmas cheer that's waiting for you! You can glue the cotton balls so they stay put on Santa's beard. 
Personalize each print with photos and favorite quotes
If you have any favorite quotes about Christmas that you'd like to include, you could do just that! You could grab some photos of your family enjoying a festive day together and add them too!
Quotes and photos make a really great way to personalize each print, and they'll make your countdown calendar even more special!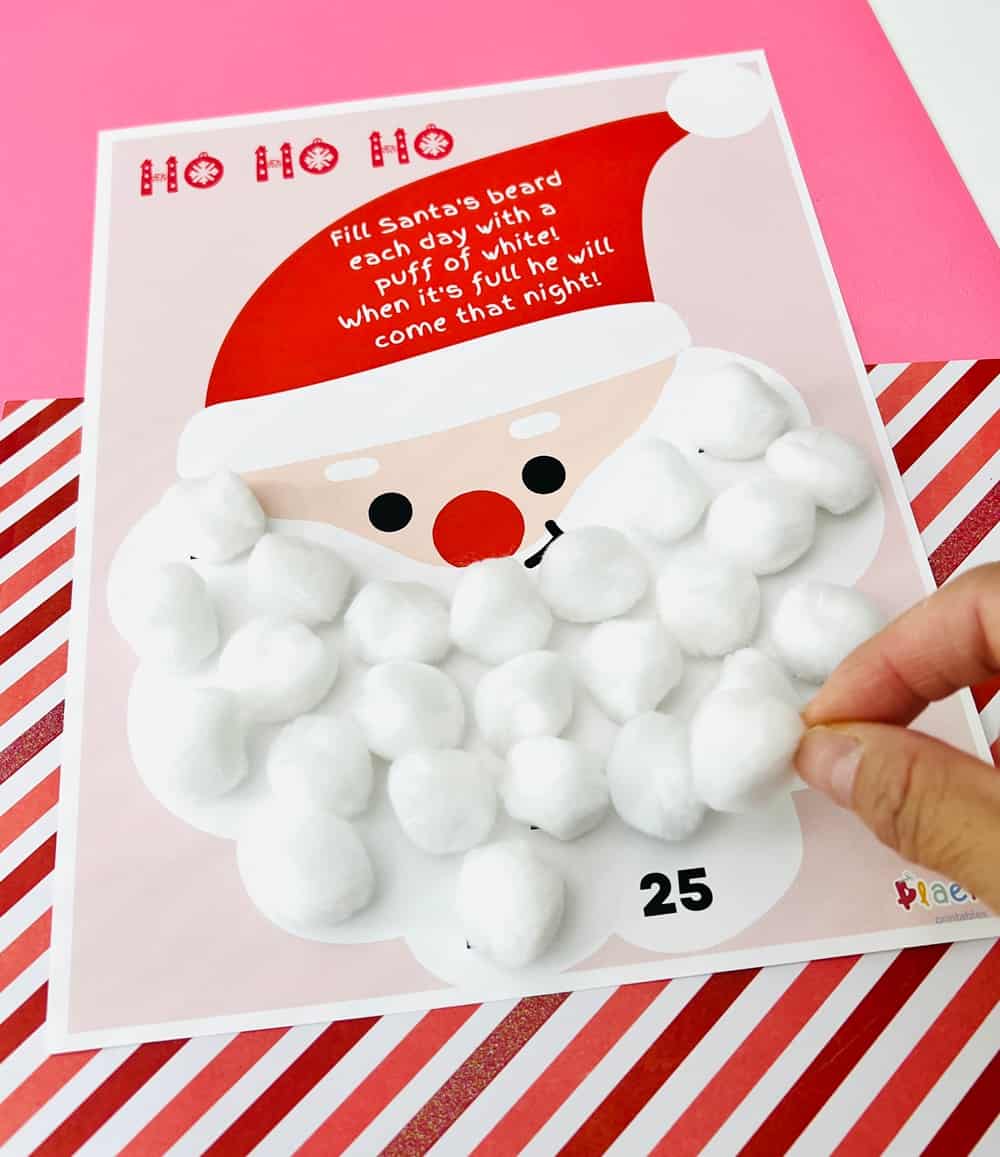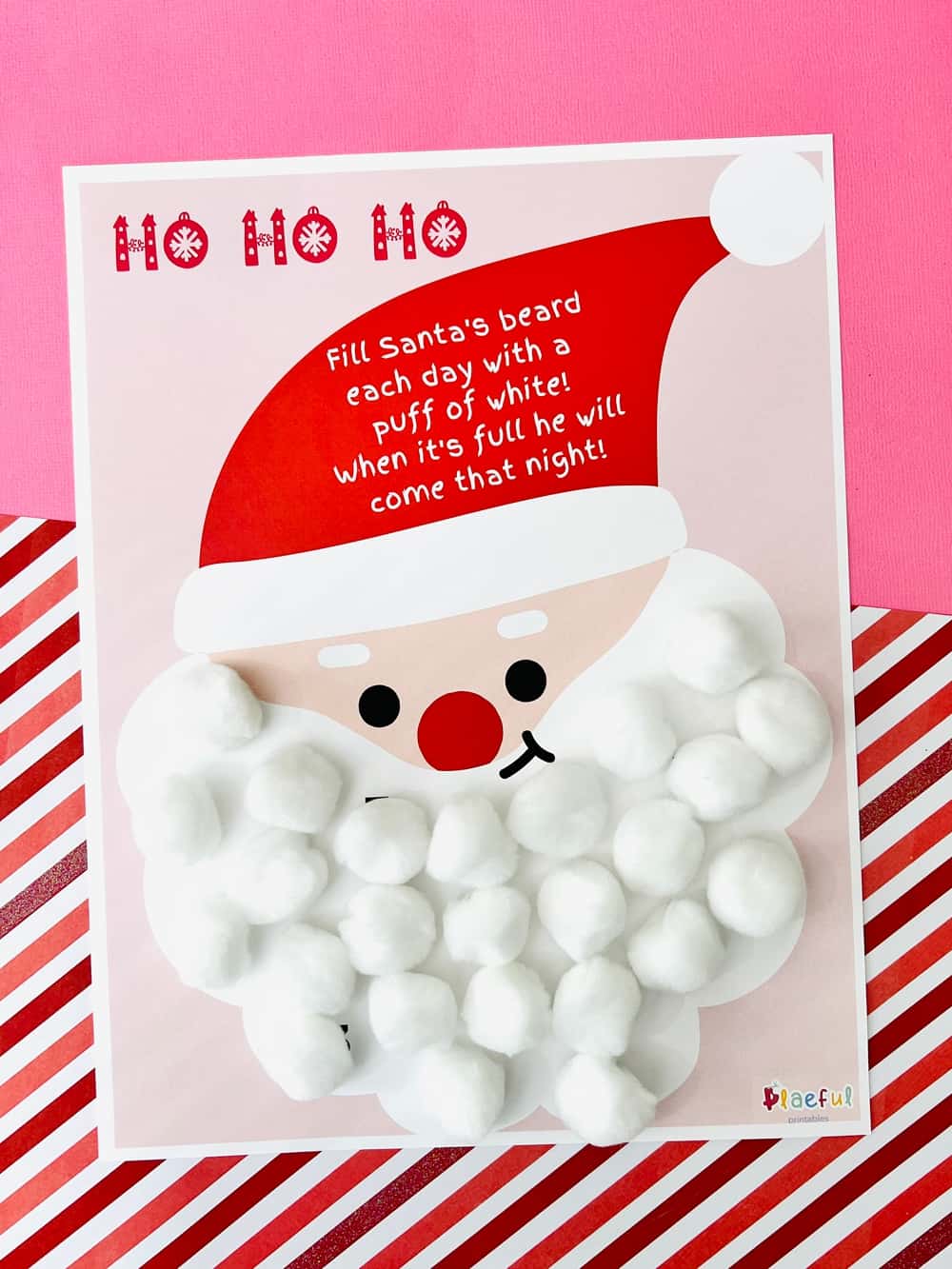 Embellish the edges of each calendar
If you're feeling extra creative, you could add a little bit of embellishment to the edges of each calendar. This could include glitter, sequins, or even small lights! 
It would be such a fun way to spruce up your Santa beard countdown and make it stand out from the rest. This is a great way to make sure that your countdown calendar is truly unique!
Add glitter or other decorations to make it pop
If you're feeling extra festive, you could add glitter or other decorations to your Santa beard countdown printable. Maybe sprinkle some white sparkly glitter on his beard to make it shine! 
This would take it up a notch and make it something that everyone on your Christmas list wants! 
Kids especially will love getting a glittery calendar to hang on their wall and remember all the fun they had during Christmas.

Unique Ways to Display Your Santa Beard Printable
Hanging it on a wall in the family room
If you have room on your wall, you could hang your Santa beard countdown printable there. Cut a hole with a hole punch at the hat and hang a festive ribbon! 
This would be a great way to keep an eye on the calendar and stay on top of all the events leading up to Christmas Day!
Frame it and use as a decoration
You could frame your Santa beard countdown printable and use it as part of your holiday decor. Not only will this look beautiful, but it'll serve as a handy reminder! 
Kids will love checking the calendar each day and seeing how close they are to Santa's big night. Frames are also a great way to save the printable for future years!
Giving as gifts to friends and family
If you want to give your Santa beard countdown printable as a gift, you could do that too! You could put it in a fun box or packaging and give it to your friends and family members. 
They'll enjoy knowing exactly what's going on with their Christmas preparation this year! Plus, they'll get a hilarious calendar to hang on their wall, too!
Takeaway
If you're looking for a fun way to keep track of your holiday preparation, consider printing out your Santa beard countdown printable and using it in some creative ways! 
These include hanging it on the wall, framing it, or giving it as a gift. Many different ways to display and use this printable will make it a hit with everyone on your Christmas list! 
Plus, it'll be a fun way to stay organized and track your progress! Now that's a gift that will be appreciated and used by the entire family!
The post Santa Beard Countdown – Christmas Countdown Printable appeared first on hello, Wonderful.