and is Trunk Club better than Stitch Fix?
Hi friends! Happy Monday! How was the weekend? We went to the Zopp circus with friends, Kyle and Meg came over for dinner, I caught a yoga class, and blasted through some book-related work stuff. I hope you had a great weekend, too!
For todays post, I wanted to share my latest Trunk Club since I ended up loving so many new pieces. I have a new stylist named Daniel and LOVE him. I switched stylists after I was getting sent similar items and thought it would be a good chance chance to change things up. Daniel picked pieces that fit my style and paired them with a couple of newer items that I wouldnt have tried on my own. Fun fact: if you sign up using my referral link, hell be your stylist, too! He sent me messages and asked questions via the app before putting my trunk together so I was very excited to see the goods in person.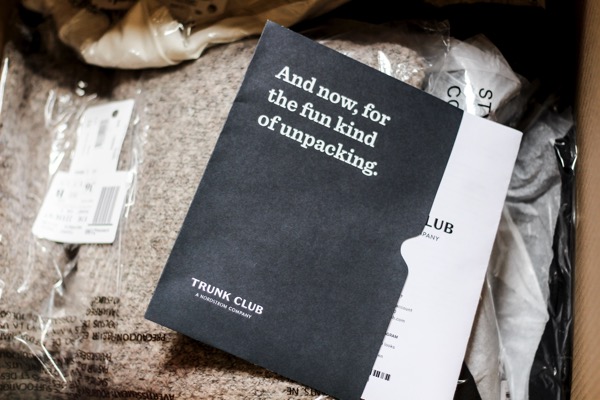 Heres what I received in my last Trunk Club:
When I pulled this dress out of the box, I instantly knew that it was a keeper. I feel like Im always struggling to look put together during the winter months Im either in a sweater and jeans or bundled up to the max and love that I could wear this with tights and booties if its cold and with sandals or low-top sneakers in the spring. This dress is made of beautiful lightweight fabric and fits well.
I didnt really know what to think of the booties when I first took them out of the trunk, but when I put them on, I knew I wanted to keep them. They give a little bit of height and have a little bit of huarache-style weaving on the top. The heel is thick and feels heavy when you hold the shoe, but very light and comfortable when youre wearing them. Theyll definitely be a staple for spring!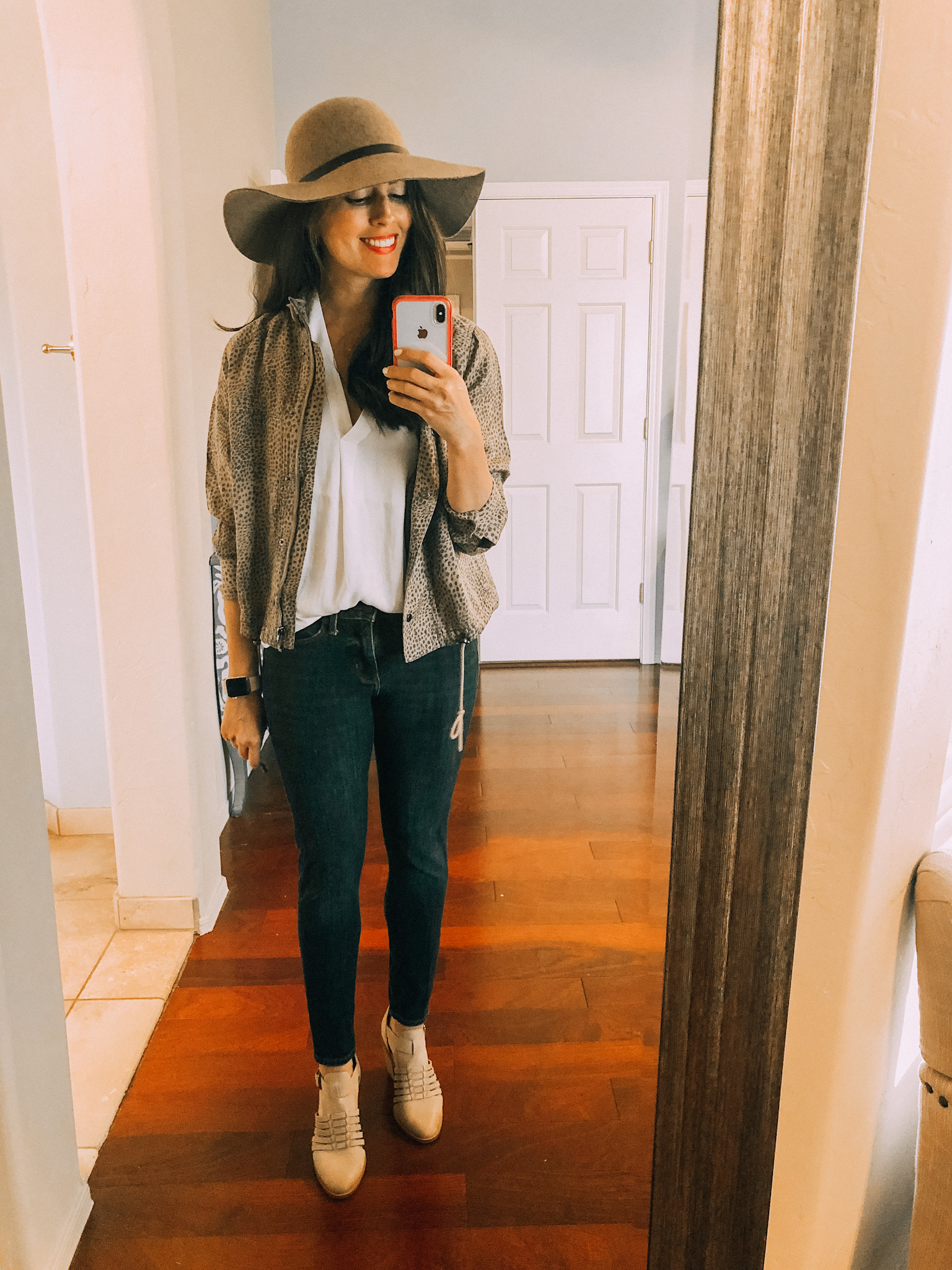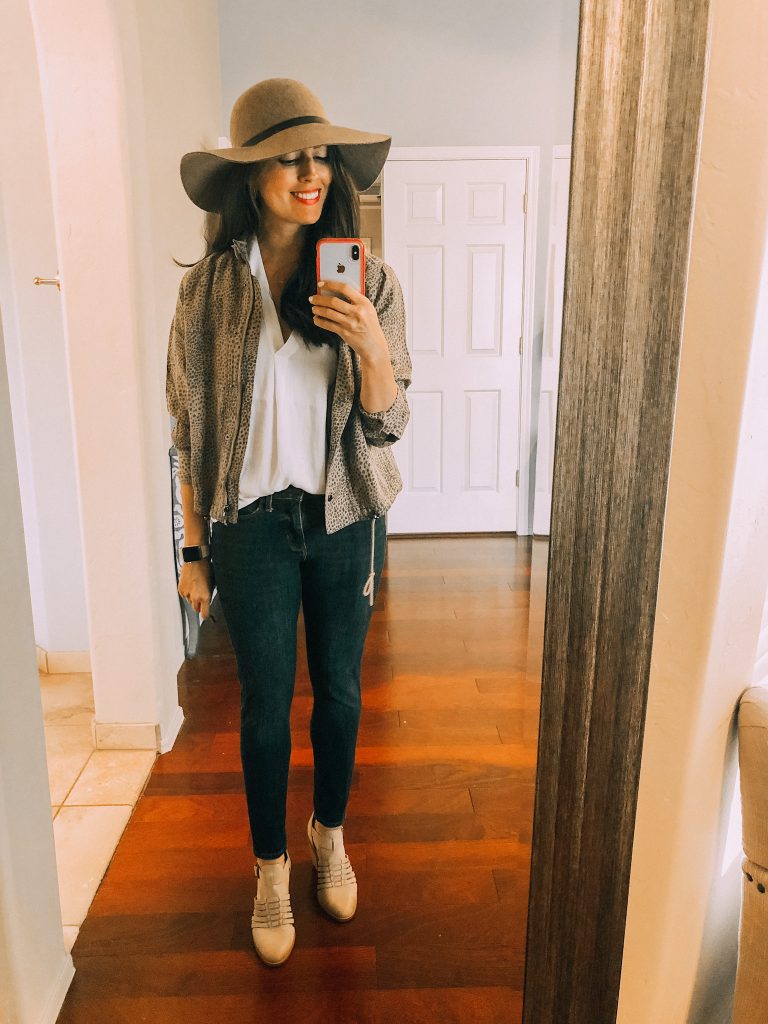 (the jeans were from a previous Trunk)
You can add in accessories and extras to the trunk, like sunglasses, underwear, pajamas, and hats. I saw this hat and thought it would be cute for the cruise!! I like the way it looked on, but didnt know if Id end up wearing it much, so I sent it back. (To all of my friends out there who can regularly wear hats and rock them, I clap for you. But in my heart, Im just not a hat person unless Im going to Telos and havent washed my hair.)
The animal jacket was a no-brainer (keep, keep, keep) and the tank was the perfect everyday white satin tank. Its extremely breezy and not too see-through.
I had no clue if I could pull this one off. It gave me Samantha from Sex and the City vibes, and also flasher vibes haha. It was super cute and I was surprised how much I actually liked it, but I didnt see myself wearing it regularly so I sent it back. (Id probably get some raised eyebrows at preschool drop-off.)
Were planning a Vegas trip and I thought this would be cute for a dinner out! It fit well even though the ruching on the back is a little intense but was shedding glitter everywhere, so I sent it back.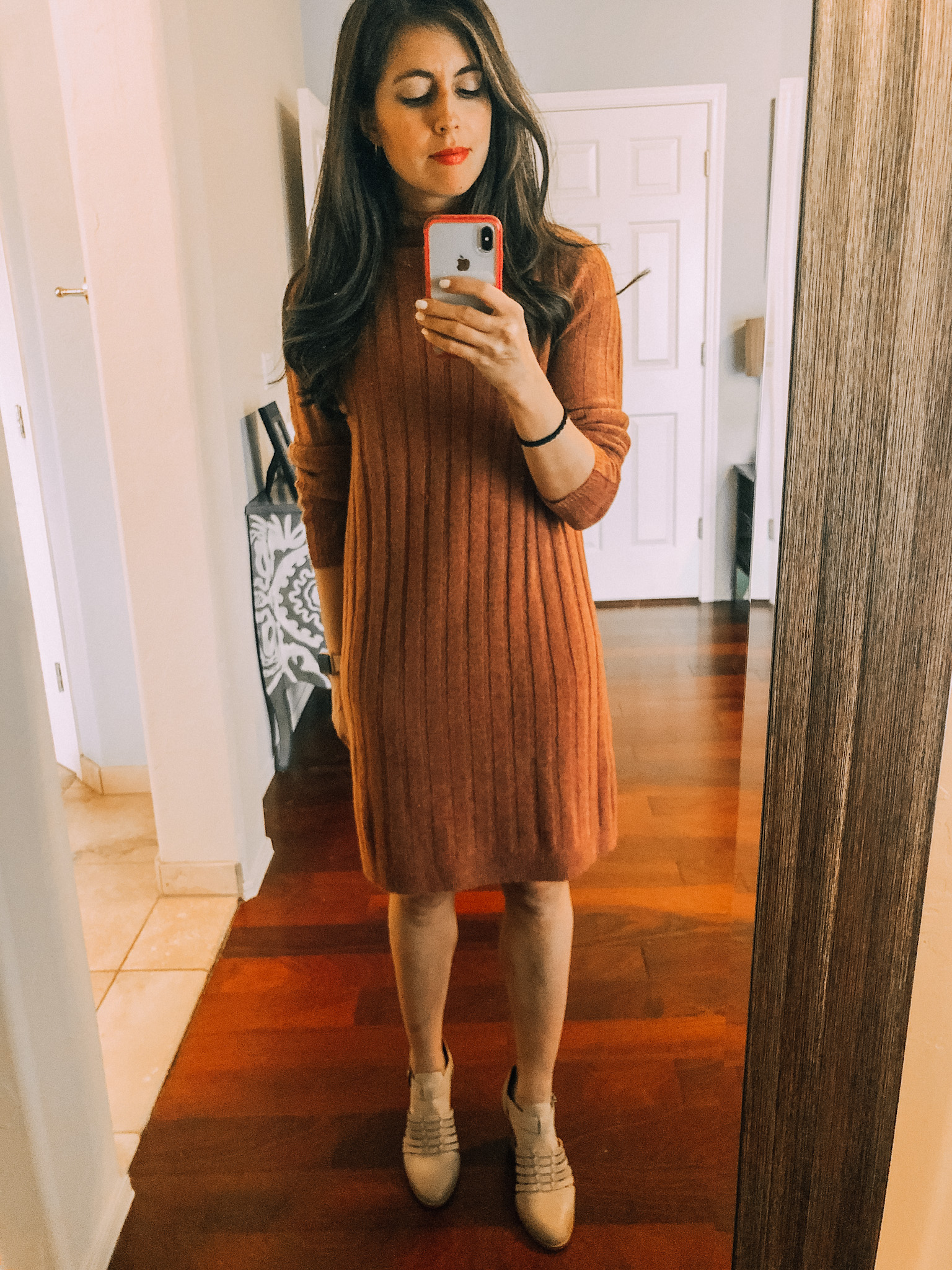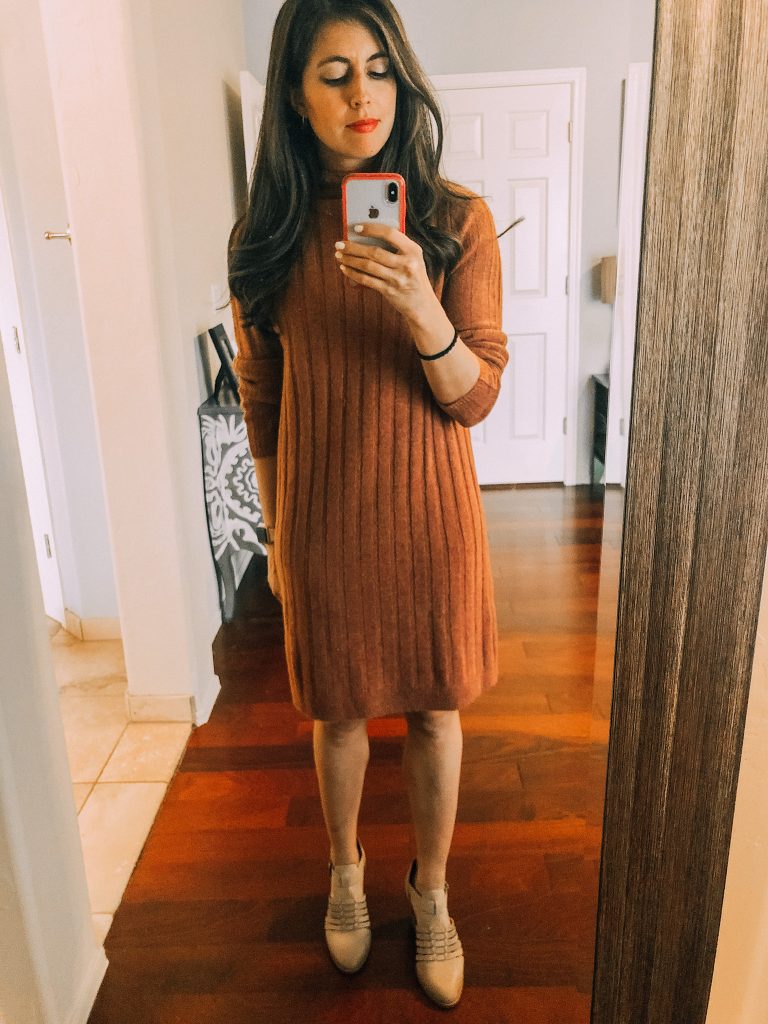 I liked the color and fit but wasnt crazy about it, so I sent it back.
I didnt end up trying the jacket since I have a similar one and skipped on the sweater because Im ready for winter to be OVER. Bring on all of the spring and summer clothes!!
If youre interested in trying Trunk Club, check out my full review here! [Just a heads up that none of these Trunk Club posts are sponsored! I just use it and love it, so wanted to share the goods with ya.]
Some of my favorite things about it:
You can see all of the pieces before theyre sent and can reject pieces to be replaced by something else. For example, if I see on the app that theyre going to send a black tank top and I already own a couple, I can decline that piece and request something else in the comments, like please send a casual dress instead.
If you have a Nordstrom card, the styling service is free!! Usually its $25, which goes towards any product youd like to purchase.
You can do everything through the app. Im not a huge app person like there are less than 10 that I really love and use frequently and this one makes the entire process so convenient. You can message your stylist directly through the app, schedule a pickup for your Trunk, and browse outfits that your stylist puts together for you.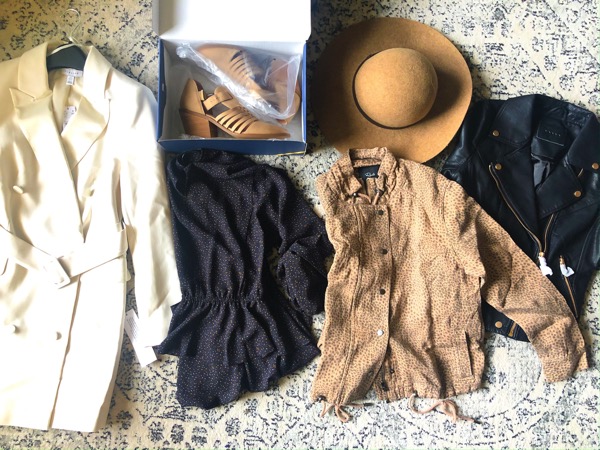 The most common question I receive on Instagram and in blog comments:
Is Trunk Club better than Stitch Fix?
For adult clothing, the answer is 100% yes. The quality of Stitch Fixs clothing has really gone downhill. I also got to the point where I felt like my stylist didnt read any of my comments. (Once I said, Please no more tunics and I think the algorithm thought I said, Please send all the tunics!) I feel like the quality for Trunk Club is so much better. We still use and love Stitch Fix for the kids clothes, but I got a Stitch Fix delivery for myself a couple of months ago and was extremely disappointed.
Have you tried Trunk Club? Where do you buy or order most of your clothes? I order a lot from Nordstrom and have recently fallen in love with Everlane. If you want to try out Trunk Club, my referral link is here! Youll get Daniel as your stylist and hes awesome.
Thanks for stopping by the blog today and hope you have a happy Monday!
xoxo
Gina
The post Recent Trunk Club appeared first on The Fitnessista.