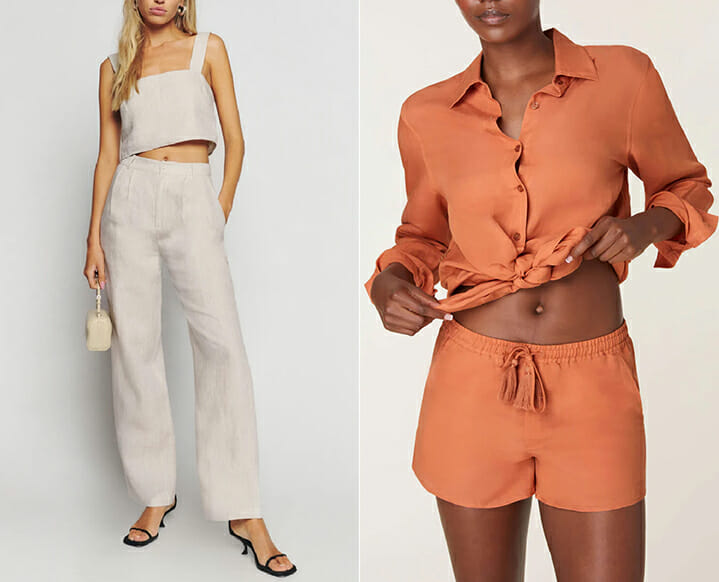 Are you an under-packer or an over-packer? Enjoying a good vacation has everything to do with less decision making -- and packing well can help you breeze through a trip with style.
These are a few of my recent travel MVPs across clean beauty, sustainable fashion, and beyond. What did I leave out?
20 Must-Pack Vacation Essentials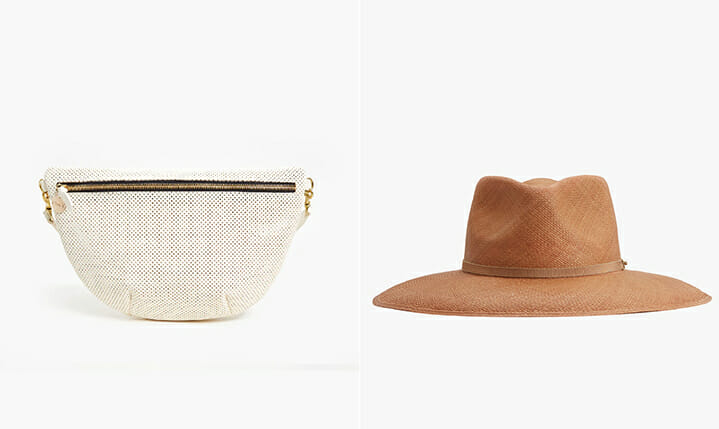 the Oversized Belt Bag | Because you're a tourist, after all. Use Claire V's Grande Fanny as an elevated version of the ubiquitous travel dad belt pack you've seen on tourists across the globe. Keep your essentials close and use it to build a classic travel look we're loving lately. Here are seven more options we love.
the Wide Brim Hat | If you didn't wear a big hat on the beach, did you even go on vacation? Cuyana's Panama Hat will add an effortless chic to any travel look and provide you with an extra layer of protection from the sun. A tip for packing hats: lay your hat into your suitcase and gently pack around it. Fill the inside with rolled clothing, but be cautious not to stress the shape. This tote clip is also a genius solution.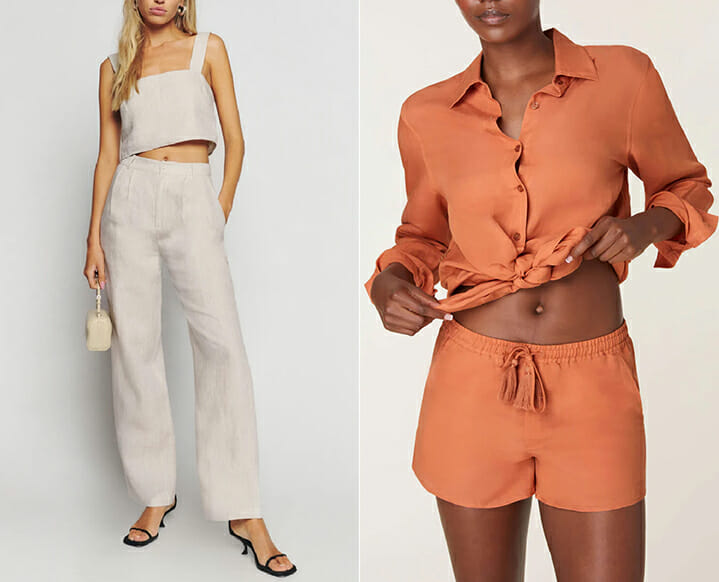 the Crop Top + Pant Set | If there's a time to wear a crop top, it's while on vacation. This Reformation Olivia Linen Two Piece has summer vacation 2023 written all over it. Let these linen pants work overtime -- paired with a sweater for an al fresco breakfast and then paired with the matching top for a special day out. Let linen pieces hang in the hotel bathroom while you shower to avoid wrinkling.
The cover-up Set | Don't sleep on summer-friendly brand, Andie who just opened a new shop in the capital of the season, Malibu, California.This The Corvo Button Up is perfect for vacation or beach day packing. Wear alone or paired with The Graciosa Short in a range of soft, but festive shades.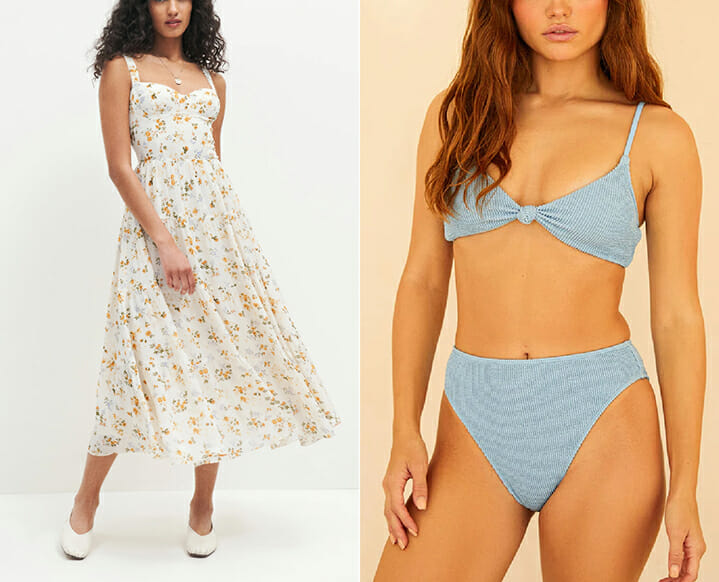 the flattering Day-To-Night Dress | Destination wedding this summer? Reformation makes the summer wedding guest looks, and still gets our hearts racing season after season. Pack up one of their flattering dresses that can do it all, day to night. We're loving the Aviva, but nearly ever pick from Ref will give you the effortless look you need to make the best travel memories.
the Eco-Concious Bikini | We don't hear much about Dippin Daisys, but IYKYK. Darling prints, flattering colors and tons of eco-conscious materials make the brand an incredible resource for summer swim and loungewear. This Zen Top and matchig bottom makes for the eco-conscious bikini of our dreams.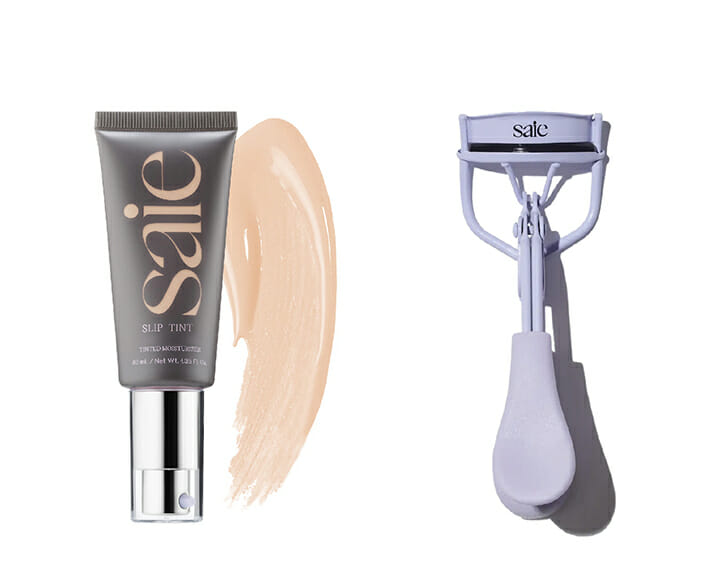 The Tinted Moisturizer | Get lazy on vacation. As long as you're slathering on SPF, let it do all the work. Pack a tube of Saie Slip Tint Dewy Tinted Moisturizer SPF 35 and thank us later - it'll moisturize, give you a hint of glowy coverage, and, of course, sun protection.
the Eyelash Curler | Sure, you could pack mascara and have it run down your face mid-swim or make the effort to remove a waterproof version before bed every night. Or you could lighten your toiletry bag and pack an Eyelash Curler instead. This one remains the gold standard.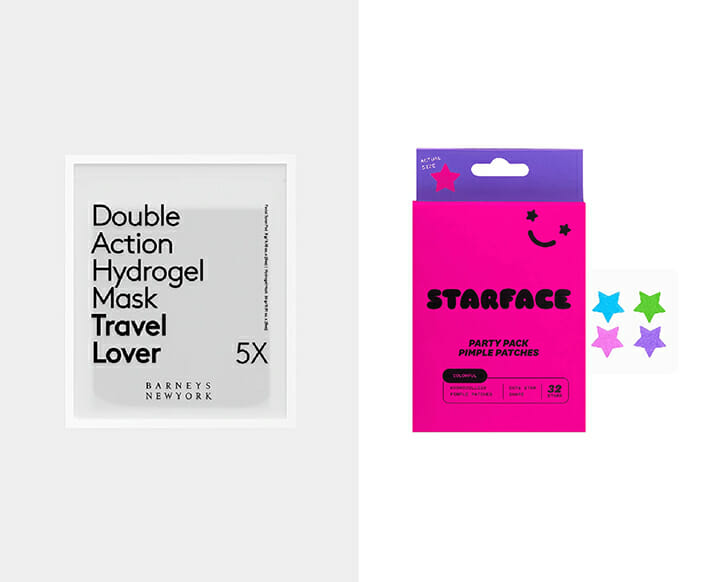 the Hydrogel Mask | Be bold and lay this sheet mask on mid-flight or wait til check-in, slip into that nubby robe and re-hydrate your skin in this skincare luxury. Barneys New York launched their skincare line just a few months back and, so far, the clean hydrogel masks are a team favorite. Each mask comes with a gentle toner to prep skin and maximize absorbtion. The mask itself is two parts so that it easily stays on your face!
The Pimple Patch | Starface just gets it right when it comes to breakouts. Travel can confuse our skin and it's best to be prepared. Pack this adorable Party Pack and cover any skin irritations with these skin-healing charms.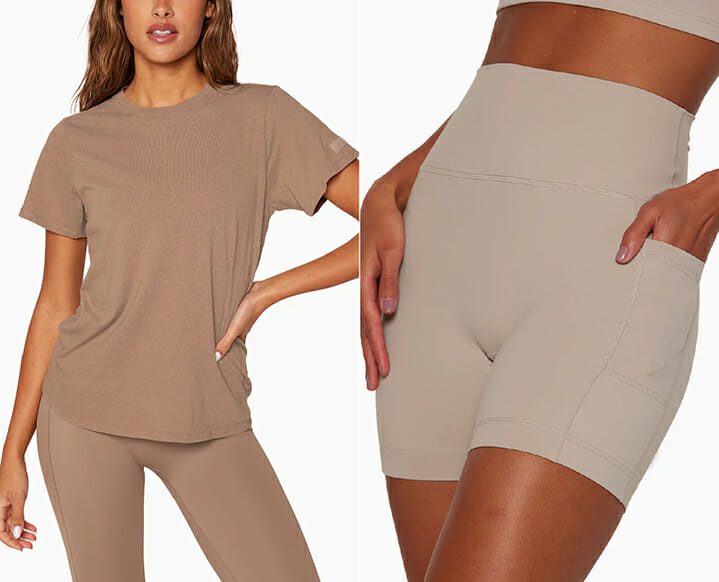 The Bike Shorts | Fit in a workout at the hotel, go for a hike, or use them as back up pajamas while you order room service. We love Set Active Bike Shorts and matching Ts because the color options are so pretty. Shop quickly if you see a color you like -- they sell fast!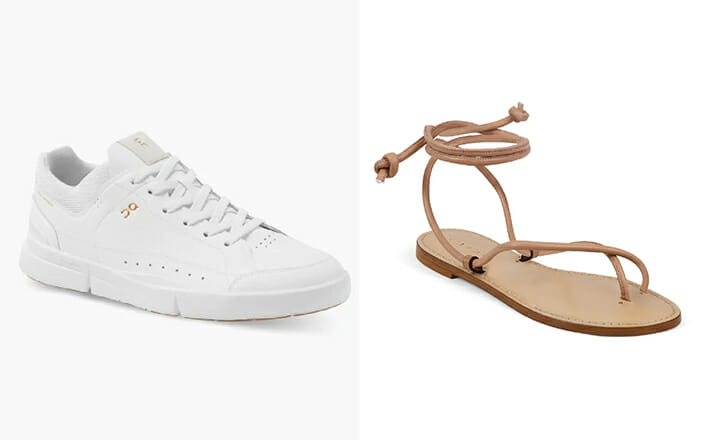 the White Sneaker |  On Running makes a super-pretty sneaker with the tech we need to explore a new city or make it through LaGuardia. Check out The Roger Centre Court to wear while flying, walking or working out!
the Leather Sandal | Amanu is known for their bespoke sandal-making studios, but they've also got a selection of ready-to-wear options that are ready to pack! Style 18, The Kilimanjaro won't take up much room in your luggage and can be worth with just about anything! Meet Amanu's stylish founder HERE.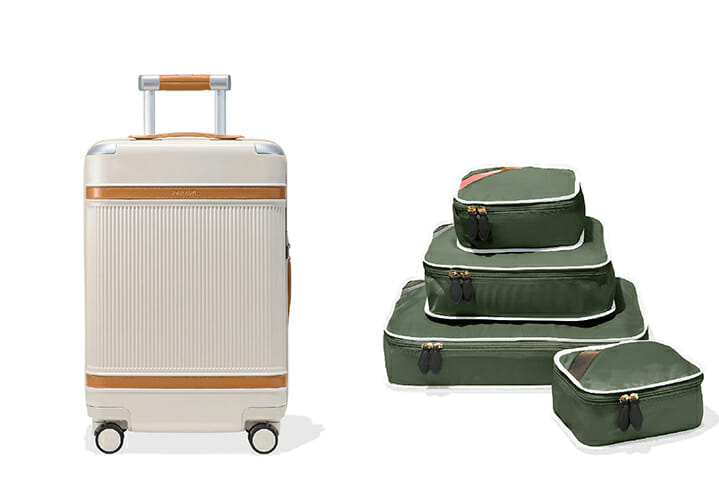 The Perfect Carry-On | The Aviator carry-on from Paravel may be the most beautiful luggage we've ever seen. Like an old-fashioned trunk turned modern-day weekender, the case is sustainably made and carbon neutral with TSA-approved locks.
the Packing Cubes | The reason that Paravel is on our radar in the first place? We're all about their packing cubes. Pick your color, monogram them if you want to get extra about it, and learn to pack and unpack on a whole other level. If you've never used cubes to pack before, you'll be surprised at how magically they condense things. But using them to keep clothes orderly in a hotel room or your grandmother's guest room? Life-changing.
Come back to us tomorrow for our guide to travel supplements worth packing!
The post On Belt Bags + Eyelash Curlers: 20 Must-Pack Vacation MVPs appeared first on The Chalkboard.