Craft beer, local artisans, delicious food, and outdoor fun — where should you start? Follow this guide to the best things to do in Burlington VT!
Does "Vermont" conjure images of covered bridges, pastoral farm scenes, snow-covered slopes, or small village skylines accented by pristine white church steeples? Yes, that is quintessential Vermont. But Burlington is something different.
Burlington is Vermont's largest city, but with a population under 45,000, that's not saying much. But while it is small in size, it is large in character.
Burlington is the side of Vermont where craft beer-loving hipsters share co-working space with start-ups building rockets. Where University of Vermont college students mingle with millennials at the local coffee shop after yoga class. And where Brooklyn transplants blend with multi-generation farmers and makers to create a youthful city that still feels very…Vermont.
Yes, it gives off some Portsmouth, NH vibes, but with more outdoorsy, college-town, local-focus characteristics, than a touristy, wannabe Portland feel.
If you are looking for a fun weekend getaway destination, put Burlington on your list, especially if you can combine a stay with some time in the Green Mountains or enjoying Lake Champlain.
I'll cover where to stay, great places to eat, and the best things to do in Burlington, Vermont — no matter what season you visit!
Getting to Burlington, VT
Burlington is located in northwestern Vermont, on the banks of Lake Champlain, with the peaks of New York's Adirondack Mountains clearly visible across the lake. Not too far from the Canadian border, the easiest way to get to Burlington is by flying into Burlington International Airport (BTV), which is conveniently located just three miles from downtown. Alternatively, you can take a 7.5-hour train ride from New York City's Penn Station on Amtrak's Ethan Allen Express.
If you prefer driving, Burlington is about a 4-hour drive from both New York City and Boston, making for a great Vermont road trip, and it's only a 2-hour drive from Montreal. Once you are there, Burlington is a very walkable city, although you may want to have a car to take some day trips or to reach some of the places I include below.
Best Things to Do in Burlington, Vermont
Given its location in northwestern Vermont, it is no surprise that what there is to do varies by season. However, many of the things to do in Burlington are relevant in any weather, making it a four-season destination — which in Vermont is defined as winter, mud season, summer, and fall/stick season.
If you love craft beer, good food, shopping, live music, and outdoor activities, you are going to love Burlington Vermont. Plus, if you are visiting with a family, there are so many fun things to do in Burlington with kids too!
Stroll Through the Church Street Marketplace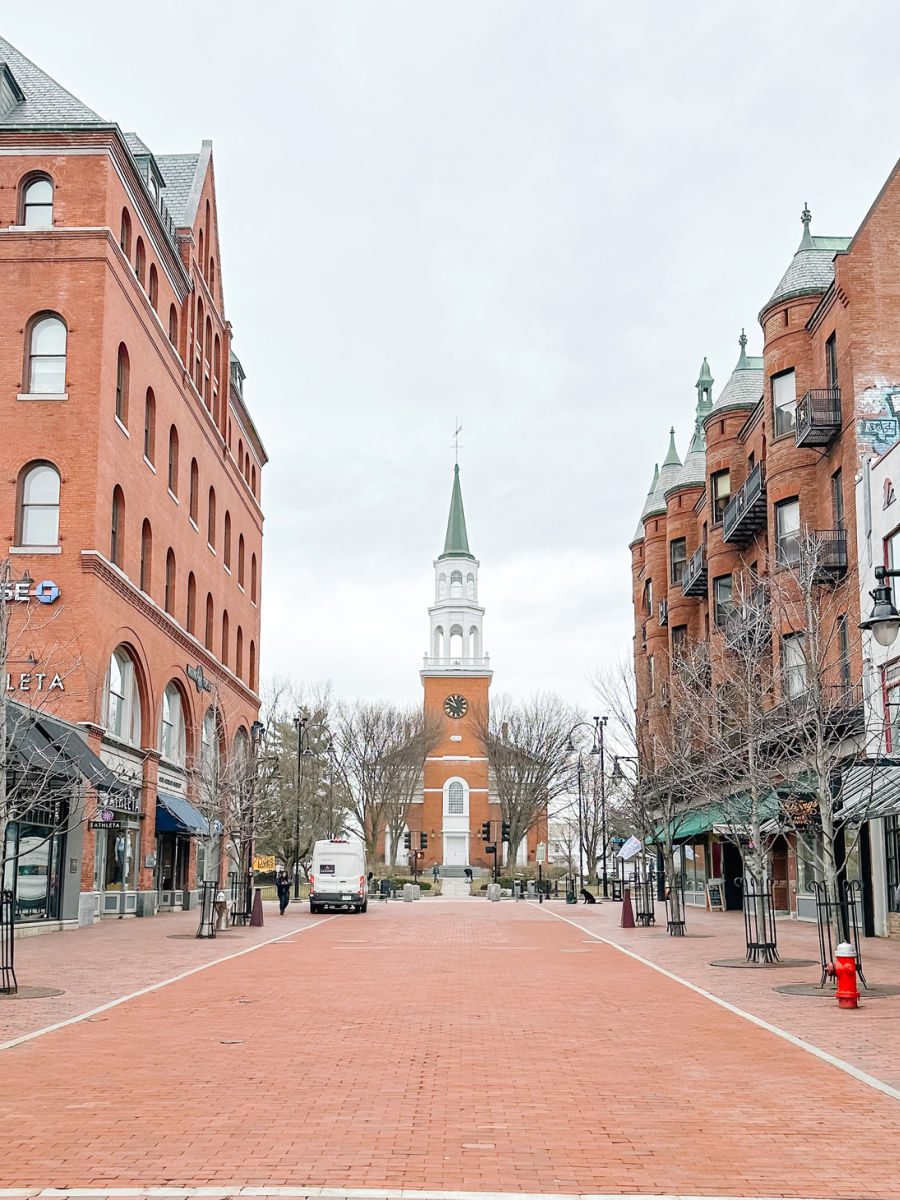 The first place locals will tell you to go when visiting Burlington is the Church Street Marketplace, a brick-paved outdoor pedestrian mall lined with shops, restaurants, and music venues. This four-block area covers Church Street from Main to Pearl Street in the center of downtown Burlington.
There are some beautiful historic buildings, along with a mix of local boutiques, bookshops, and a scattering of national brands such as Black Diamond, Fjällräven, and Helly Hansen.
One thing you will notice when walking around Burlington is that the locals prefer to buy locally. Local coffee shops over Starbucks. Local cafes over fast food. And local boutiques over big-name brands.
Church Street Marketplace is also home to over 30 restaurants, bars, and cafes, from women-owned Honey Road (Mediterranean), Black Cap Coffee and Beer, and Leunig's Petit Bijou (bakery), to locally-owned Gaku Ramen (Japanese) and Burlington Bagel Bakery. Church Street Marketplace is a perfect starting point for exploring Burlington.
Bike or Walk on the Burlington Greenway
The Burlington Greenway Bike/Walk Path runs for eight miles along the shores of Lake Champlain, connecting many major parks with residential neighborhoods and downtown Burlington commercial districts. Vermonters are hardy folk and the Greenway is in use year-round for walking, running, biking, and even cross-country skiing (but follow the rules).
You can easily hop on the Burlington bike path at Waterfront Park, a short stroll from the Church Street Marketplace. When you realize how much food you are going to be eating in Burlington, you will be happy about the exercise! There are a few places around town to rent bikes, including North Star Sports in Church Street Marketplace and Local Motion Bike Rentals (open seasonally.)
Take a Cruise on the Spirit of Ethan Allen (seasonal)
If you are visiting Burlington during the warmer months, the Spirit of Ethan Allen offers a magnificent way to enjoy Lake Champlain and get views of the city from the water. The Spirit of Ethan Allen offers daily, narrated sightseeing cruises in the summer months, and a more limited schedule during the shoulder seasons.
There are many options to choose from including 90-minute daytime cruises, buffet lunch cruises, 2 – 2.5 hour sunset sailings, dinner cruises (including Friday night lobster buffets!), and even a "Champagne on Lake Champlain" boozy brunch cruise on Sundays.
Check out the Artists and Makers at The Soda Plant
All around Burlington, you will find old mills and factories that have been restored and repurposed to support the city's thriving arts scene and entrepreneurs. The Soda Plant, in the South End Arts District, is such a building. Once the Coca-Cola bottling plant, the space has been reenvisioned to support over 35 producers, makers, and artists.
On a stop at the Soda Plant, you will find locals lining up for fresh smoothies and vegan treats at Tomgirl Kitchen, choosing freshly-pickled kimchi from Pitchfork Pickle, or browsing at the many shops from jewelry designers like Jennifer Kahn, artists, and other makers.
Shop your Way Down Pine Street
From the Soda Plant, you can wander down Pine Street, through the South End Arts District, shopping at the quirky and cool boutiques, gift shops, antique stores, and home furnishing shops along the way. Should you get hungry or thirsty, there are plenty of options to satisfy you, including Citizens Cider and Myer's Bagel Bakery, or it is a short drive to Zero Gravity Brewery or The Spot, a Hawaiian-themed brunch cafe.
Watch Glass Blowing at AO Glass
Simon Pearce may have put Vermont on the map for glassblowing, but AO Glass has taken up the mantle and creates beautiful glassware and home decor. The studio at the AO Glass Factory Store on Pine Street is open to the public six days a week for shopping and glass-blowing demonstrations. Just be sure to check the website for hours.
Go Wine Tasting at Dedalus
Dedalus is a wine shop, market, and wine bar located in the Southern Arts District right near AO Glass. Locals can join the wine club, but everyone is able to sign up for and attend one of the many special events that take place monthly and groups can arrange for a private tasting with one of the very knowledgeable and personable staff members.
If none of that works out, make a reservation at the wine bar, which features light bites and wines from small producers around the world.
Enjoy a Craft Beer (or Cider) Flight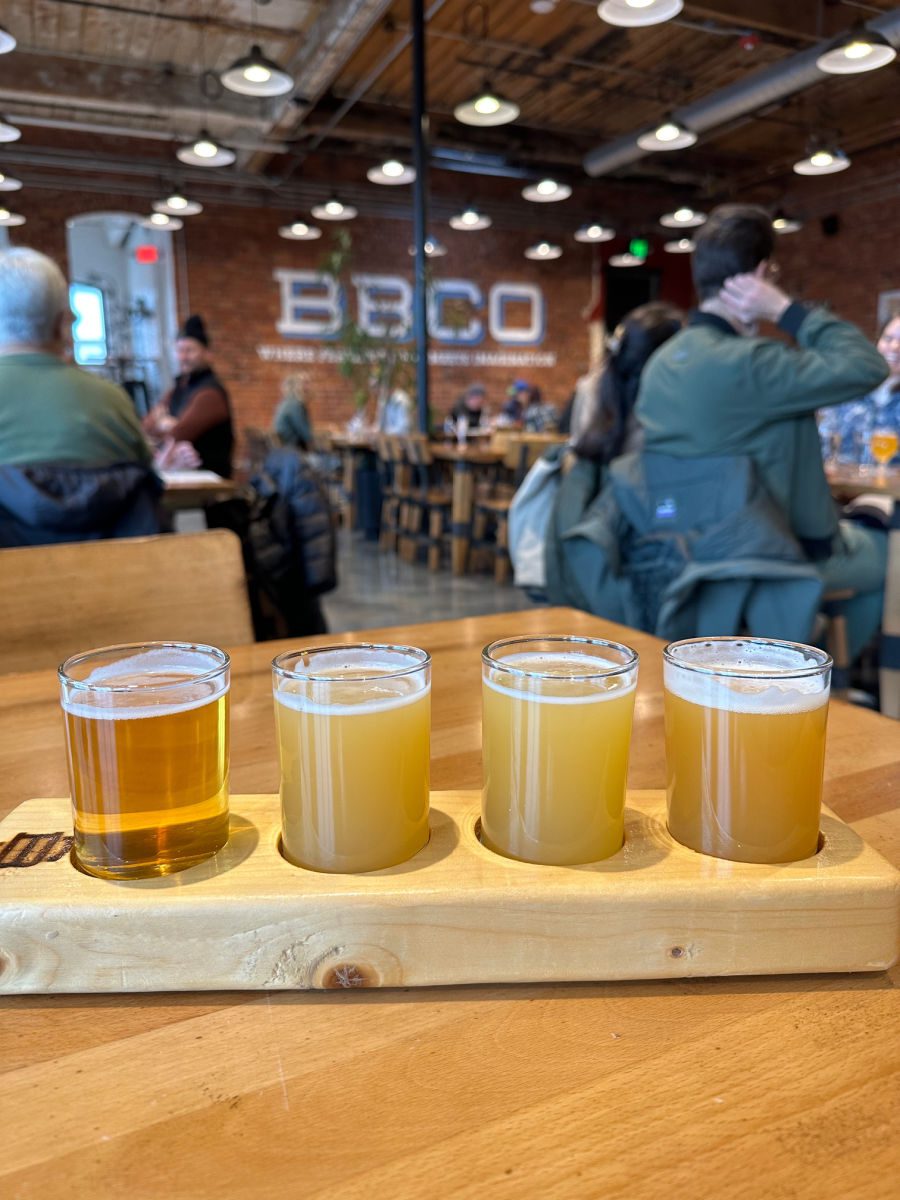 Vermont leads the country in the number of craft breweries per capita, with over 15 per 100,000 people! It is no surprise that the Queen City, Burlington, also the state's largest city, leads the pack. Queen City Brewery, Switchback Brewing Company, Burlington Beer Company, Foam Brewers, Zero Gravity Craft Brewery, and Magic Hat Brewing Company are just a few.
Most specialize in hazy IPAs and New England Pale Ale, but you will also find sours, porters, stouts, and all kinds of special maple concoctions. Vermont is definitely a place for beer lovers but if that isn't you, it is also up-and-coming on the cider scene with players like Citizen Cider in Burlington.
Fill up on Breakfast (and Maple Syrup)
Burlington is a town with great breakfast options…from traditional greasy spoons like Henry's Diner to hip bakery-cafes where cell phones and laptops aren't allowed like August First to Mediterranean brunch joints like The Grey Jay.
You also have Vermont mini-chains like The Friendly Toast and The Skinny Pancake. If you need to cure a hangover, try the famous breakfast sandwich at Kountry Kart — the Triple Threat Shiner is heaped with bacon, sausage, ham, three eggs, three hashbrowns, and three layers of cheese. The nice thing about breakfast in Vermont — none of that fake maple syrup stuff.
Listen to Live Music
Did you know that the band Pfish got its start in Burlington at Nectar's Lounge? That isn't the only spot for live music. The Flynn Center has a 1930 art deco theater that has been home to a variety of live performances and a major venue in Burlington's annual Jazz Festival, which has been running for 40 years. The Jazz Festival, which takes place in early June, features renowned artists in venues across the city.
You can also see live music at ArtsRiot, Red Square, and Radio Bean, which also hosts theater productions or poetry readings.
Chillax at a Local Coffee Shop
Like many cities, Burlington seems to have a coffee shop on every corner. Except, instead of it being Starbucks or Dunkin', Burlington is buzzing with local coffee joints. A few worth putting on your list to visit when you are in town include Kestral Coffee Roasters, Speeder & Earl's, Oynx Tonics, Kru Coffee Collective, Vivid Coffee Roasters, and Cosmic Grind.
Taste Chocolate at Lake Champlain Chocolates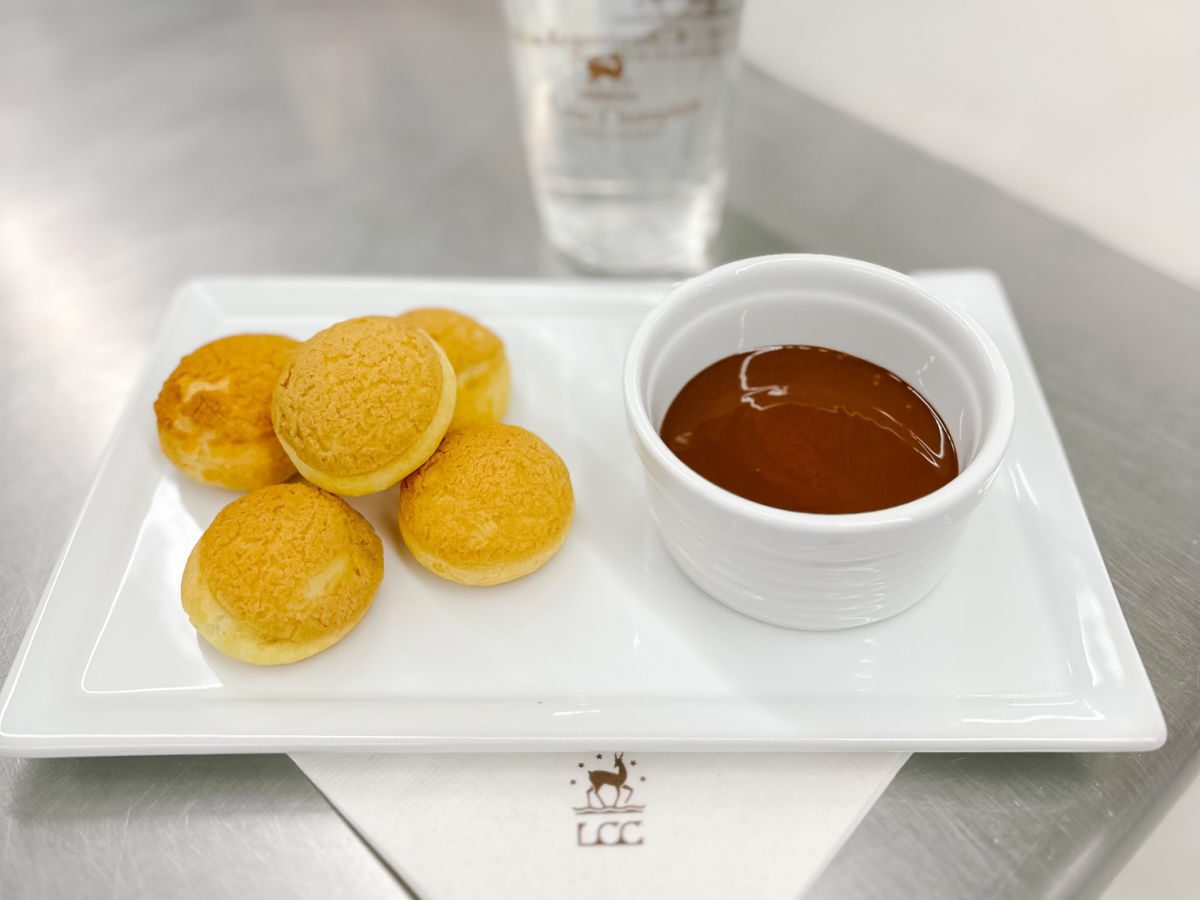 Lake Champlain Chocolates is a family-run company that has been producing premium-quality chocolate using the finest ingredients since 1983. They are a Certified B Corporation focused on social and environmental sustainability initiatives. They work closely with other Vermont producers for ingredients and use only Fair Trade Chocolate to produce over 1 million pounds of deliciously tempting products each year.
The flagship store is located on Pine Street, in the location of the original factory. This location is about to get a facelift to expand the cafe and offer visitors new glimpses into the innovation kitchen. In addition to chocolate truffles, chocolate bars, and specialty and bulk items, the cafe offers decadent and rich hot chocolate and coffee drinks, along with pastries and ice cream to satisfy your sweet tooth.
Eat Ice Cream at Ben & Jerry's
This area of Vermont is prominently associated with a few famous people…Bernie Sanders (btw, you can buy copies of his famous mittens at the Vermont Teddy Bear Company store) and Ben & Jerry. Ben & Jerry's has a scoop shop in downtown Burlington, off the Church Street Marketplace, if you just want some ice cream.
However, if you want the full experience, take a day trip over to Waterbury and visit the Ben & Jerry's Factory and Ice Cream Shop. It is worth the 1.5 hour drive to get a glimpse of the first factory to produce those delicious concoctions. The Factory is closed on Sundays and Mondays and it is helpful to book your tour online in advance. Make sure to leave time to visit the Flavor Graveyard out back.
Have Cocktails at Paradiso Hi-Fi Lounge
If cocktails are more your vibe, the Paradiso Hi-Fi Lounge is a listening lounge and restaurant, featuring craft cocktails in a lounge/speakeasy environment. Paradiso has a collection of 1,500 – 2,000 high-quality LPs (often from original pressings) that heavily feature jazz, international psychedelic and progressive rock, classic rock-and-roll, electronic and ambient music, and R&B.
Visit a Maple Sugar House (seasonal)
If you love all things maple, then head to Burlington in mid-to-late March during maple sugaring season. Palmer's Sugarhouse, just a few minutes outside of the downtown area, is a popular spot with visitors and locals alike.
On sugaring weekends, they feature live music, fresh pancakes, and so many maple products including maple cotton candy, maple sugar, maple cremees, maple cookies, and sugar on snow (maple syrup on shaved ice or snow so that it freezes like taffy.) And, apparently in Vermont, they enjoy sugar on snow with a pickle on the side to balance out the sweet.
If you don't visit during March, don't worry, you can still purchase maple syrup and other Vermont products throughout the year both in town and at local farms like Dakin Farm, just south of Burlington on Route 7.
Visit the Ethan Allen Homestead Museum (Seasonal)
The Ethan Allen Homestead is a historic site that was built by Ethan Allen, a prominent figure in the Green Mountain Boys, a group of Vermonters who fought in the Revolutionary War. Today, visitors can explore the restored house and learn about the life and times of Ethan Allen and his family.
There are also exhibits on the history of the Green Mountain Boys and their role in the American Revolution. In addition to the historic house, the homestead features beautiful gardens and nature trails that offer visitors a chance to enjoy the natural beauty of Vermont. The site is open from May 1st through October 31st.
Enjoy Dinner with a View
In the summer, it is easy to have dinner with a view of Lake Champlain at Spot on the Dock or Splash at the Boathouse in Waterfront Park. A good view in the winter months is a little harder to come by, but if you can get a table by the window at Waterworks in nearby Winooski, you will have a lovely view of the waterfalls. Go with friends because the food is so delicious, you are going to want to share.
The Essex Resort & Spa, which is about 20 minutes from Burlington, makes a great romantic getaway, especially for foodies as the resort has a top-notch culinary program. However, even if you don't stay at the hotel, you can still enjoy a wonderful dinner with a view at Junction. Request to sit at the Chef's Table and you can watch Chef Nicole and her fabulous team prepare your dishes, which makes you appreciate each bite even more.
Browse the Burlington Farmer's Market (seasonal)
From mid-May to late October, Pine Street is packed with people going to the Burlington Farmers Market. Over 70 farmers, specialty food vendors, and artisans fill the market every Saturday with the best and freshest that Burlington has to offer.
Take Pictures in Front of Burlington's Street Art
The brick walls of downtown Burlington are lined with street art and beautiful murals. Go on a mural hunt and take photos in front of a few to remember your trip! Check out the public arts website on the Burlington City Arts website.
Kayak or Paddleboard on Lake Champlain (Seasonal)
In the summer, Lake Champlain because a playground for water sports such as boating, water skiing, kite surfing, windsurfing, kayaking, canoeing, and paddle boarding. You can even go scuba diving to see some shipwrecks from the French and Indian War and the Revolutionary War.
You can rent Hobie Cats, wind surfboards, or stand-up paddleboards at the Burlington Surf Club. Once the lake warms up, you can go swimming and enjoy the sandy beach at North Beach Park.
Enjoy Farm-to-Table Dining
Hen of the Wood is a true Vermont dining experience featuring farm-to-table cuisine in a rustic yet refined setting. This is the hardest reservation to secure in Burlington, so book early. Your dinner may be pricier than the more casual places in town (for delicious pizza at a good price, try American Flatbread or Pizzeria Verita), but the creativity, presentation, and exceptional ingredients make it an experience worth splurging for.
Best Things to Do in Burlington with Kids
Enjoy Hands-on Learning at ECHO Leahy Center
The ECHO Leahy Center for Lake Champlain, located on the Burlington waterfront is one of the top Burlington attractions. Part interactive science center, part aquarium, and part children's museum, the ECHO Leahy Center is fun for the whole family, but geared toward the under-12 set.
The museum is dedicated to inspiring and engaging visitors with the ecology, culture, and history of the Lake Champlain Basin. It features over 100 interactive exhibits, including live animal encounters, hands-on science activities, and multimedia presentations that explore the connections between the lake, its inhabitants, and the people who live and work in the region.
Visit the Animals Shelburne Farms (Seasonal)
Shelburne Farms is a 1,400-acre working farm and National Historic Landmark located just south of Burlington in the town of Shelburne. The Farm is open to the public from May through October and offers a variety of activities and attractions for visitors of all ages, including the formal gardens and Children's Farmyard, as well as educational programs and events that focus on sustainable agriculture, environmental stewardship, and conservation.
You can also hike on the many trails that wind through the property or sample the farm's award-winning cheese and other locally sourced products.
Step into History at Shelburne Museum (Seasonal)
The Shelburne Museum is a world-renowned museum located in Shelburne, just 15 minutes south of Burlington. It was founded in 1947 by the collector and philanthropist Electra Havemeyer Webb. The museum's collection features over 150,000 works of art, design, and Americana displayed in 39 historic buildings set on 45 acres of scenic land.
Some of the museum's most popular attractions include the Ticonderoga steamboat, a 220-foot-long ship that once sailed on Lake Champlain, and the Webb Gallery, which showcases a stunning array of American folk art. Other buildings on the museum's expansive grounds include a one-room schoolhouse, a covered bridge, a lighthouse, and a variety of historic homes and barns. The museum is open from May through October.
Take a Tour of the Vermont Teddy Bear Company
Just a few minutes from Shelburne is another attraction that will thrill the kids…the Vermont Teddy Bear Company. The company handcrafts nearly 500,000 bears a year and has been a Vermont staple for 35 years.
They are open every day and offer factory tours throughout the day. Visitors can also shop at the gift shop or even create their own bear.
---
Tip: If you are visiting Burlington on a "workcation", you can purchase a day pass to Hula, a stunning and vibrant co-working space on the eastern shore of Lake Champlain. This facility offers a coffee shop, cafe, kitchen, privacy booths, meeting spaces, open-plan workstations, and daily activities for members. Day passes are free for the BIPOC community on Fridays.
Where to Stay in Burlington
Note: This post may contain affiliate links. If you click a link and make a purchase, I may receive a small commission. All opinions are my own.
There are many options in downtown Burlington but if you enjoy boutique hotels, Hotel Vermont is everything you would hope for. The lobby bar is popular with locals and guests, including the outdoor patio in the summer. The rooms are spacious and comfortable, equipped with locally-made products from the soap to the mugs to the Vermont Flannel Company robes.
Each floor has a beverage station with a still and sparkling bottle refill station, an electric tea kettle, mini-fridge with milk, and a deluxe coffee and espresso maker. Guests can even borrow snowshoes in the winter and utilize the Peloton in the fitness center. A thoughtful touch is the bedtime menu, featuring hot toddies, milk and cookies, or a Vermont Teddy Bear. The plush beds make it easy to fall asleep, but the aromatherapy diffuser and custom scented oil makes your stay even more comfortable.
---
While Burlington has so much to offer year round in terms of beer, food, and small city fun, it really shines in the summer when you can fully enjoy its setting on Lake Champlain. Summer is also hopping on the waterfront with many festivals and concerts like Ben & Jerry's Concerts on the Green, the Burlington Food & Wine Festival, and the Vermont Brewers Festival.
For family fun, check out Church Street's Festival of Fools, a weekend of street performer fun up and down the marketplace and the Champlain Valley Fair.
Save this to Pinterest
The post 25 Best Things to Do in Burlington VT: Local Gems & Good Eats appeared first on We3Travel.