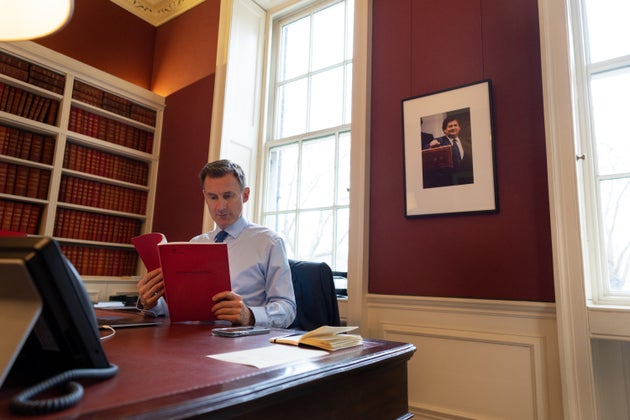 Jeremy Hunt will deliver his first Budget as chancellor on Wednesday.
Jeremy Hunt will deliver his first Budget as chancellor on Wednesday and all the indications are that it will be a relatively dull affair.
Demands by Tory MPs for immediate tax cuts will be rejected, with Hunt expected to confirm that the rate of corporation tax will increase from 19% to 25% as planned.
As ever, there have been a number of pre-announcements of what he will say, such as an increase in the amount of money people can put into their pension pot before paying extra tax and a boost in defence spending.
But, like so many chancellors before him, Hunt will be keen to pull a headline-grabbing rabbit from the hat when he gets to his feet at 12.30.
HuffPost UK has learned that one idea under consideration is a huge expansion in the amount of free childcare available to parents in an attempt to encourage stay-at-home mums and dads back into the workplace.
Officials in the Department for Education have been tasked by the Treasury with drawing up options, which are thought to include 30 hours of free childcare a week for parents with children aged between nine months and three years.
"The Treasury are being very coy on what is in and what is out of the Budget, but they have been working round the clock on this in the the last few days," said one source.
However, concerns have been raised that without an increase in nursery space and staff, any expansion of eligibility may end up being a "white elephant".
Asked about what he may do at the weekend, Hunt confirmed plans to give Universal Credit claimants' help with their childcare costs up front rather than in arrears.
He said: "You will hear me put together a very comprehensive package of measures to break down the barriers to work.
"Childcare is one of them, and I particularly want to look at the barriers facing the 700,000 parents on low pay, on Universal Credit, who aren't able to work even though they have a young child.
"We would like to help everyone, it's expensive to do it - you can't always do everything at once. But we can make a big difference on childcare, for example by paying people's help for childcare if you are on benefit up front rather than in arrears."
We'll find out tomorrow whether that "comprehensive package" also includes help for parents who are not claiming in-work benefits.