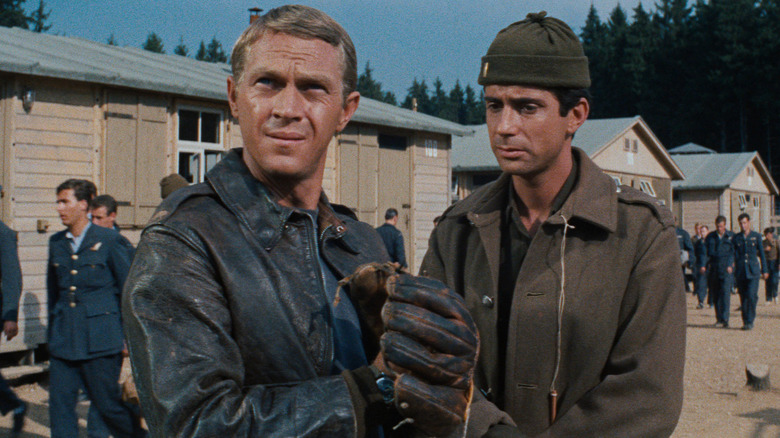 When it comes to prisoner of war stories, few are as remarkable as "The Great Escape." During World War II, the inmates of Stalag Luft III in modern-day Poland embarked on a grand plan to dig not just one but three tunnels out of the camp. The goal was to bust out over 200 men and cause disruption to the Nazi war effort by tying up as many resources as possible trying to recapture them. It was no easy task, however, as the camp was specially designed to be escape-proof: the huts were raised above the ground to deter digging and built on sandy earth to make any efforts to disperse hundred tons of soil excavated from the tunnels obvious to the guards.
Nevertheless, the team, overseen by "Big X" Roger Bushell and his escape committee, largely made up of British servicemen and others from around the Commonwealth, displayed remarkable ingenuity in not just constructing a successful tunnel to freedom, but also forging documents, tailoring civilian clothing, and either acquiring or manufacturing anything else they needed for their daring escape attempt. In the end, only 76 men made it out of the camp and 50 of them were murdered after being recaptured.
These exploits were made famous by "The Great Escape," John Sturges' rousing Boys' Own adventure that stars a terrific international cast including Steve McQueen, Richard Attenborough, Donald Pleasance, James Garner, Charles Bronson, and many others. It also featured a classic score from Elmer Bernstein that has come to represent chipper can-do spirit. All in all, it sounds like a no-brainer for film treatment, but actually getting the real-life drama to the screen was much harder than you might imagine.
The Origins Of The Great Escape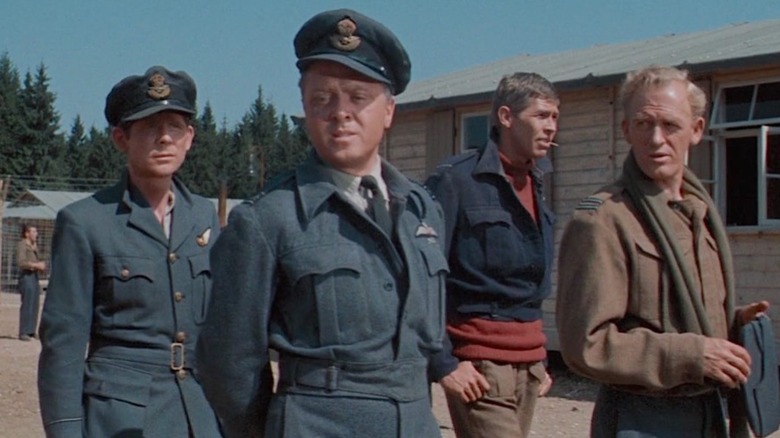 "The Great Escape" is arguably the most famous World War II POW film, but it was not the first out of the gate. Before its release in 1963, there were two classics that have become somewhat overshadowed by John Sturges' film. First up was Billy Wilder's "Stalag 17" with William Holden, followed by "The Colditz Story," starring John Mills and Eric Portman as British servicemen trying to escape the daunting fortress of the title. In another theater of war, there was also David Lean's "The Bridge on the River Kwai," which won seven Oscars including Best Picture, Director, and Actor for Alec Guinness.
As good as those movies are, none of them have achieved the level of cultural penetration as "The Great Escape." It started as a 1950 book from Australian flyer Paul Brickhill, who also wrote two other novels adapted into films dear to the hearts of British war movie fans, "The Dam Busters" and "Reach for the Sky." Brickhill served in North Africa and was shot down over Tunisia, captured, and transported to Stalag Luft III.
His role in the Great Escape was a small but important one, acting as a "stooge" to keep tabs on German guards and protect the tunneling activities. When it came to the breakout, he was denied the chance to go through the tunnel because his claustrophobia might risk the entire enterprise if he panicked underground.
After 50 of the escapees were caught and murdered, Brickhill was determined to write about the daring plot while still in the camp while a fellow prisoner named Conrad Norton collected stories of other intrepid escape attempts. After the war, the tales became an anthology called "Escape to Danger," and Brickhill's chapter was published and became the basis of a book-length account called "The Great Escape."
From Page To Screen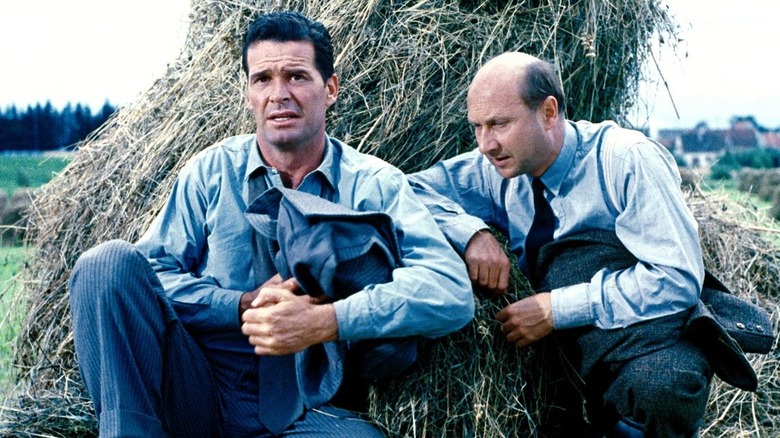 Director John Sturges may be well known these days for a string of genre classics including "Bad Day at Black Rock," "Gunfight at the O.K. Corral," "The Magnificent Seven," and "The Great Escape," but when Paul Brickhill's novel came to his attention he was just a jobbing studio director making B-movie potboilers. He saw great potential in the story of committed Allied fighters risking it all breaking out of a prisoner-of-war camp, but he didn't have the influence in Hollywood at that time to generate much interest. A particular sticking point was the film's downbeat conclusion where 50 escapees are cold-bloodedly murdered as punishment for their exploits, which in some eyes negated the "great" part of the title. He later said (via Criterion):
"When I said I wanted to make [The Great Escape], everybody thought I was crazy. I don't think anybody understood how an escape that doesn't come off could be a picture. I did."
From Brickhill's perspective, the author was worried that a Hollywood adaptation of his book might water down the largely Commonwealth-based contingent that planned and undertook the Great Escape. A large majority of the men involved were servicemen from Britain and its territories while only a few Americans had a significant role. One of them was William Ash, a fighter pilot who provided the inspiration for Steve McQueen's character, "Cooler King" Virgil Hilts. Brickhill's concern was that an Americanized version would look bad on him and betray the facts of the true story.
As it turned out, "The Great Escape" was a somewhat Hollywoodized version of the tale, but no one at the time of its release could have anticipated just how deeply the film would become ingrained in British culture, Hollywood stars or not.
A Change In Fortunes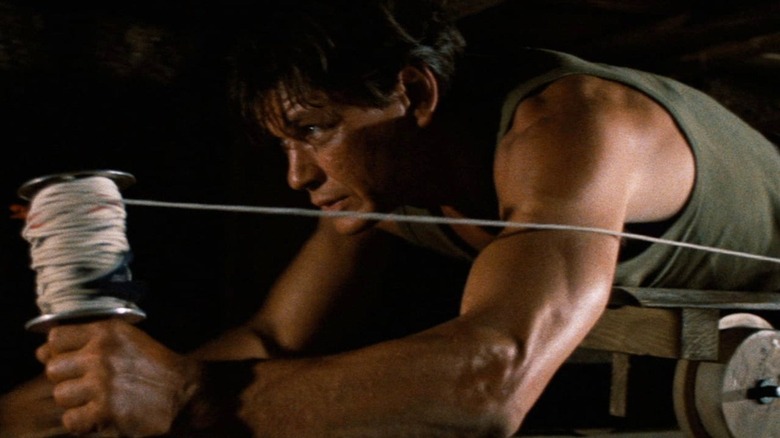 It took John Sturges over a decade to secure the rights to Paul Brickhill's book. During that time, he steadily built a name for himself as a talented director of genre fare, nominated for both an Academy Award and the Palme d'Or for "Bad Day at Black Rock," a curious blend of western and film noir starring Spencer Tracy as a one-armed WWII veteran investigating the death of a Japanese farmer in a no-horse Californian backwater.
He never gave up hope of making "The Great Escape" and it was another western, "The Magnificent Seven," that finally gave him the clout to move forward with his dream project. The influential horse opera, based on Akira Kurosawa's "Seven Samurai," starred future escapees Steve McQueen, Charles Bronson, and James Coburn, and also featured a rousing score from Elmer Bernstein. It wasn't a hit initially, disappointing at the U.S. box office, but proved a huge success in Europe. And with that, "The Great Escape" was a go.
However, adapting Brickhill's source novel for the screen was far from straightforward. Several writers were involved over a period of two years, while only two finally received screen credit. The first was W.R. Burnett, a prolific novelist and screenwriter best known for his scripts for two pre-Code gangster classics, "Little Caesar" with Edward G. Robinson and the original "Scarface; the second was James Clavell, a former British Navy officer who spent time in a Japanese POW camp and wrote "The Fly" starring Vincent Price.
To help bring authenticity to the film, Sturges also drafted Wally Floody as a technical advisor. Floody was a Canadian pilot who had first-hand involvement in the tunnel construction at Stalag Luft III and also provided the basis for Charles Bronson's character, the closet-claustrophobic "Tunnel King" Danny Welinski. 
The Final Product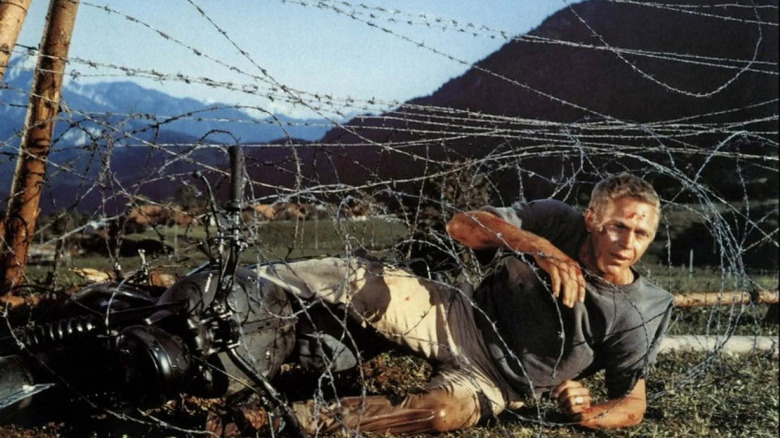 "The Great Escape" clocks in at almost three hours and isn't a moment too long. As a Brit who grew up with the film I may be speaking from a position of nostalgia, but even when putting on my film critic hat I can't identify a single scene that could be chopped. John Sturges' enthusiasm for the subject comes across loud and clear; he spends plenty of time detailing the fascinating minutiae of the plan and celebrating the ingenuity of the escape committee as they scrounge, manufacture, and repurpose materials from the camp in their bid for freedom.
At the same time, the film also fictionalizes and condenses events to amp up the drama, which is mainly where the Hollywoodization of the story comes in. "The Great Escape" was a major starring role for Steve McQueen, who received top billing and got the movie's show-stopping (and completely made up) action set piece as Captain Hilts tries to vault a series of barbed wire fences on a motorbike into neutral Switzerland. His derring-do is counterbalanced by the large British contingent who deliver some of the film's quieter but no less dramatic moments, such as Donald Pleasance as the mild-mannered forger who suffers an unfortunate loss of eyesight at the worst possible time. The film does a far greater disservice to the Canadian flyers who were involved in the escape; 150 of the 600 men involved were Canucks, but they barely get a mention.
Ultimately, Paul Brickhill needn't have worried that he was betraying his Commonwealth roots by selling the rights to his book to a major Hollywood studio. Not only is "The Great Escape" one of the greatest prisoner-of-war movies ever made but it has also become a beloved Christmas classic in Britain, as much part of our festive tradition as turkey sandwiches and the Queen's speech. 
Read this next: The 30 Greatest War Films Of All Time, Ranked
The post Turning The Great Escape Into A Screenplay Was Easier Said Than Done appeared first on /Film.