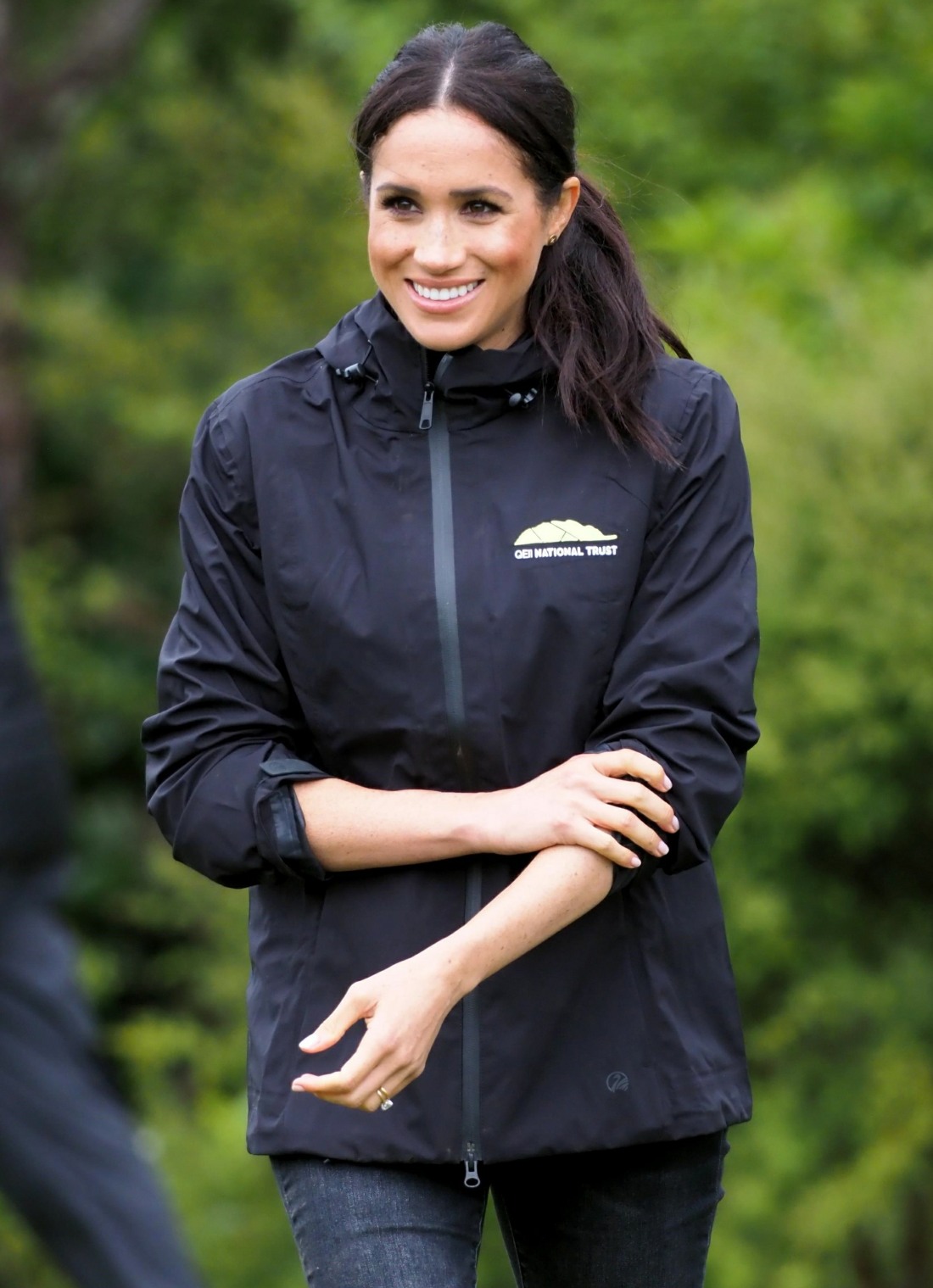 On Sunday, TMZ posted new (to us) photos of the Duchess of Sussex taking a hike. She was with her good friends Markus Anderson and Heather Dorak, and she was dressed for hiking. She wore a black t-shirt, black leggings, hiking boots, blue socks, an olive jacket and a hat. You can see the photos here:
Meghan Markle Takes a Hike Without Harry Day After Charles' Coronation https://t.co/AlU7HnoZro

— TMZ (@TMZ) May 7, 2023
Now, TMZ says that these photos were taken on Sunday, the day after King Charles's coronation. Some Sussex Squaders claim that the photos are days old and that TMZ sat on the pics on purpose? I have no idea and I don't have the bandwidth to analyze it. Don't get me wrong, I think that scenario is perfectly possible. I also think it's possible that Meghan invited friends to stay the weekend in Montecito and they went for a hike on Sunday. Also: Meghan also wore her Cartier watch and wouldn't you know, the royal reporters were furious that Meghan would wear such an expensive piece out on a hike! Those same reporters have nothing to say about Kate wearing her giant sapphire engagement ring on boat races, abseiling and various other active photo-ops.
Meanwhile, as the coronation was unfolding, the British media was breathlessly reporting on Prince Archie's fourth birthday party. "Sources" swore – to the Daily Mail – that Archie had a "private celebration" with a "lemon cake baked by the Duchess of Sussex using fruit from their garden." Sources were asked if OPRAH would go to Archie's party and someone said: "Some of their friends are celebrities, so yes, that's likely. It will be a small, intimate gathering." I mean… I'm glad that the British media was focused on the right thing this weekend, which was Prince Archie's birthday in Montecito and Archie's mom, the only royal woman with charisma.