Super cute recommendations for organic baby clothing and more eco-friendly options.
When my kids were babies, organic clothing and products were just becoming semi mainstream and frankly, there weren't a ton of options. Color and style options were limited and so were the number of brands.
Now if organic and sustainable baby clothing shopping is important to you, the world is your oyster. There is no shortage of amazing brands doing their best to protect our planet. And you certainly don't have to sacrifice style for sustainability.
My only problem writing this piece was narrowing down my list so you didn't have to review an overwhelming amount of organic baby outfits, bwah! I can't believe how many choices there are these days!
What are the best sustainable, eco-friendly clothing brands?
So, why buy eco-friendly clothing? We live in the age of fast fashion and, while I am passing no judgment on people who shop that way, there are so many factors that go into it after all. If it is possible for you to shop with sustainable brands, it will go far in the fight to preserve our planet!
Organic cotton, for instance, uses far fewer synthetic pesticides in the growing process than non-organic cotton does. So, not only is organic baby clothing better for their environment, but it's better for your baby's skin because it isn't laden with residue from pesticides.
And eco friendliness aside, I found organic clothing to be so much softer and way more soothing against a baby's precious skin. Both my kids have sensitive skin and it was even more so when they were babies.
Organic baby blankets and clothing were necessary to keep their skin from getting irritated. I only wish I had all the adorable sustainable baby outfits available to me that are in such abundance now!
And that brings me to our topic at hand, the best organic and sustainable baby clothing! Get ready to shop for some seriously sweet duds my friends…
The Best Organic Muslin Baby Clothes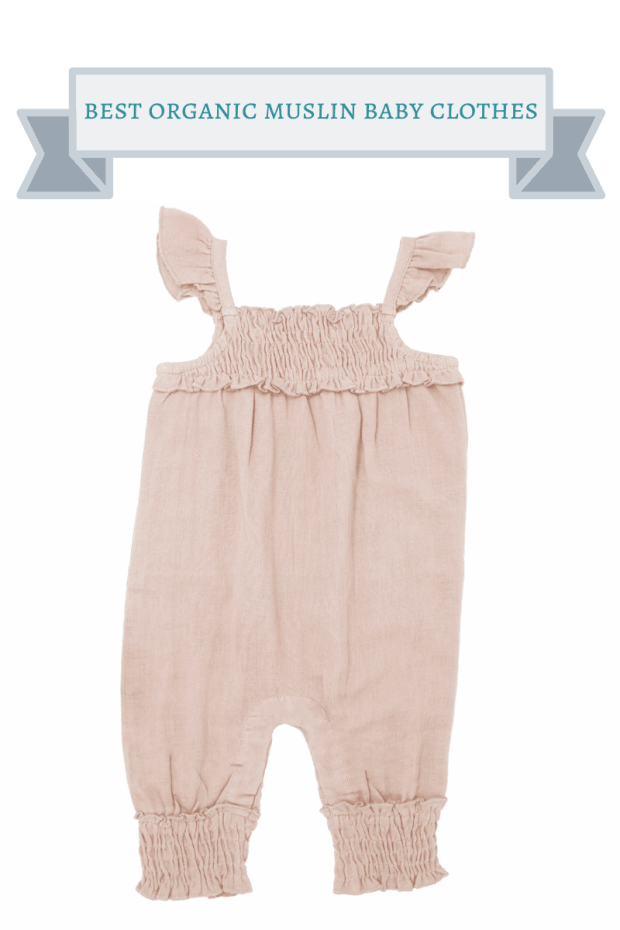 I am all about comfortable clothing. That goes for every season, but double for summer. Nothing beats nice, cool comfortable clothes. And organic muslin is the best for warm weather!
L'oved Baby has an organic cotton muslin line of baby clothes that is as cute as it is comfy! I just love the soothing neutral hues it comes in and the styles are so sweet!
My favorite organic cotton muslin baby outfit is the sleeveless romper. Throw it on your baby with a matching smocked headband and they're all dressed and comfortable at the same time!
Shop L'oved Baby Organic Cotton Muslin here.
The Best Organic Baby Footie Pajamas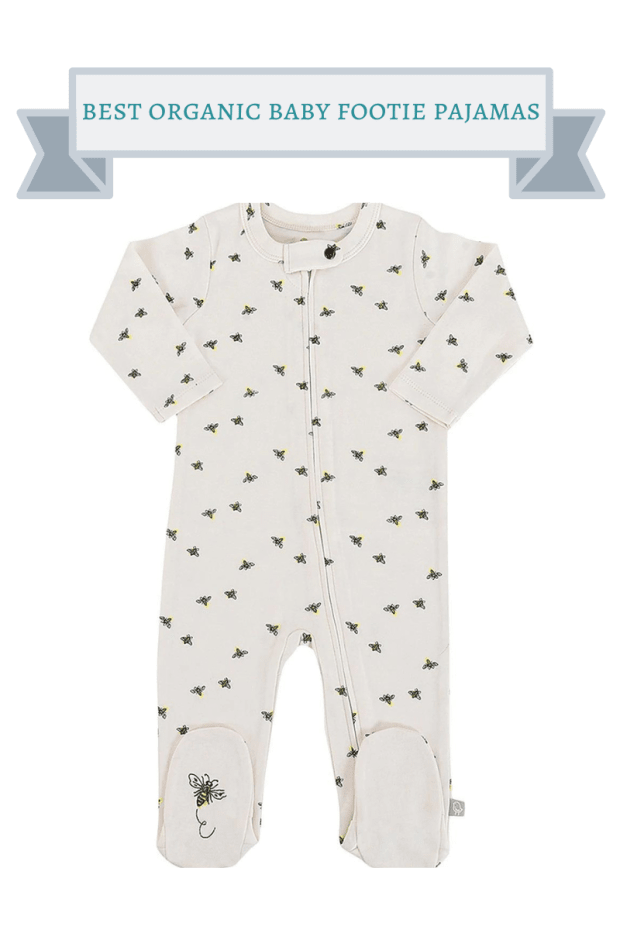 I am going to share one of my favorite busy mom hacks. This is mostly for you first-time parents because if you've already been a mom for a minute, you probably already figured this out, haha. If the footie pajamas are cute enough they can double as an outfit. Bam!
Finn and Emma pajamas are definitely cute enough. They come in an array of pretty colors as well as a couple of prints! Oh whenever possible, get zip-up footie pajamas versus snap-up. They make diaper changes a breeze. The last thing you want to do during those exhausting middle-of-the-night changes is fiddle with a million snaps.
Their newest footie pajamas print is called busy bees and this gender-neutral print is simply adorable. And let's not forget about how the super soft organic cotton is free from toxins!
Shop Finn+Emma Organic Footie Pajamas here.
The Best Organic Baby Clothing Basics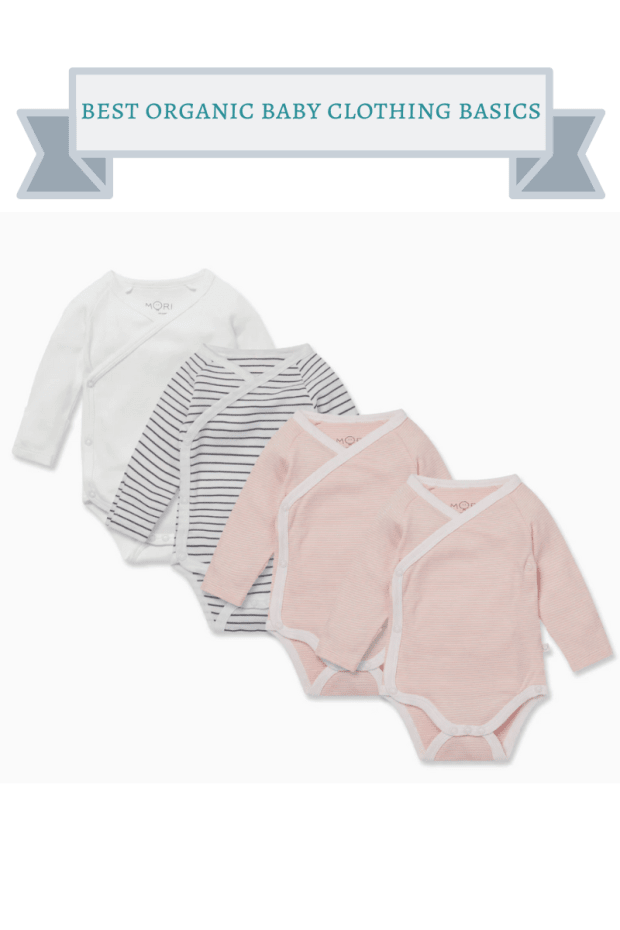 If you haven't figured it out by now, I love pieces that can be considered both loungewear and fit for the streets.
A bodysuit in a cute print fits that description to a tee. I love a kimono style because you don't have to pull it over a baby's head thanks to the snap on the side.
You can't beat the Mori kimono bodysuits that come in a convenient 4 pack. You get plain white, a color, AND stripes!
Shop Mori Long Sleeve Kimono Bodysuits
The Best Organic Baby Bibs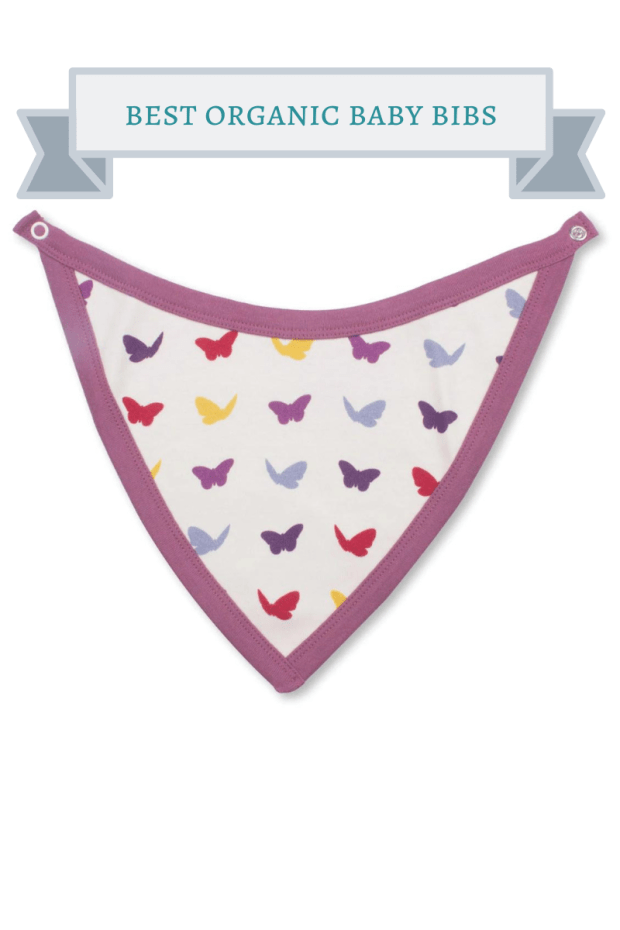 If your baby is a drooler, as both mine were, you want to have plenty of bibs on hand to save yourself from constant outfit changes. Organic cotton lessens the chance of skin irritation. All that drooling is irritating enough!
Pick up some organic cotton bibs in cute patterns so you can just throw them on over your baby's outfit to make it last longer!
I love the Jazzy Organics bibs because they're reversible so they give you more styling options, bwah! My favorite is the butterfly and stripes combo!
Shop Jazzy Organics Organic Cotton Baby Bibs
The Best Organic Baby Bloomers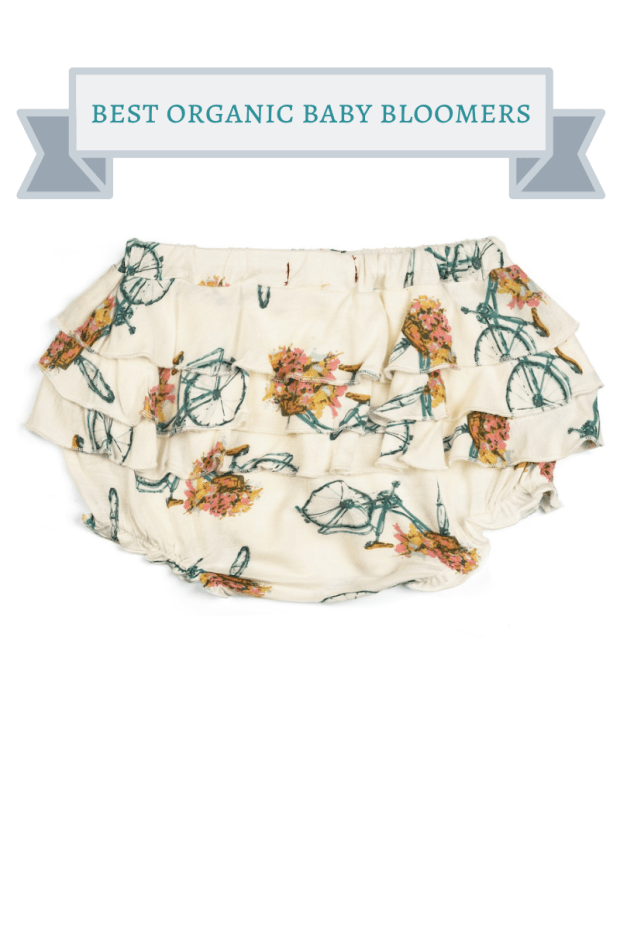 I absolutely love bloomers. Not only do they look darling under dresses, but you can pair a pair with a cute tee and you have an instant outfit. They're perfect for summer!
And the bloomers with ruffles are totally my favorite, but that's just me. You can absolutely go less frilly with your bloomer picks.
Milkbarn has soooo many cute bloomer prints. The wannabe French girl in me is partial to this bicycle bedecked pair, but there are so many more I adore too!
Shop Milkbarn Baby Ruffle Bloomers here
The Best Organic Baby Sun Hat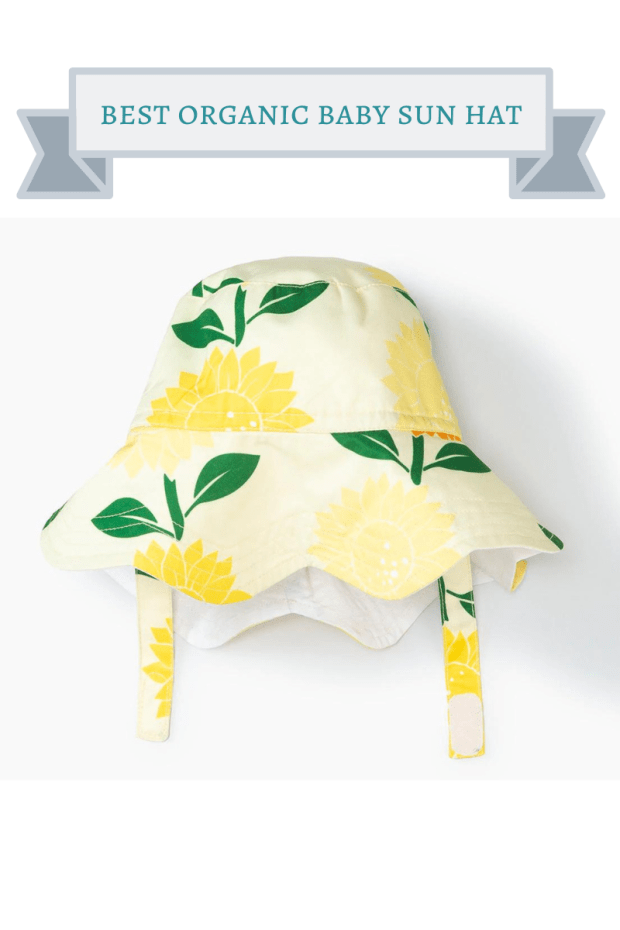 A sun hat is non-negotiable where I live. My kids are definitely no longer babies, but if we are going to be out in the sun, they still wear hats.
You can't go wrong with a classic bucket hat for your baby. They shield your baby's skin and look darn cute doing it. Throw in a matching baby swimsuit while you're at it!
Monica + Andy has the sweetest matching baby sun hat and swimsuit prints! I can't get enough of their sunny floral print. And I love that the liner is made from organic cotton while the top is SPF 50+!
Monica + Andy Scalloped Sun Hat
The Best Sustainable Baby Blanket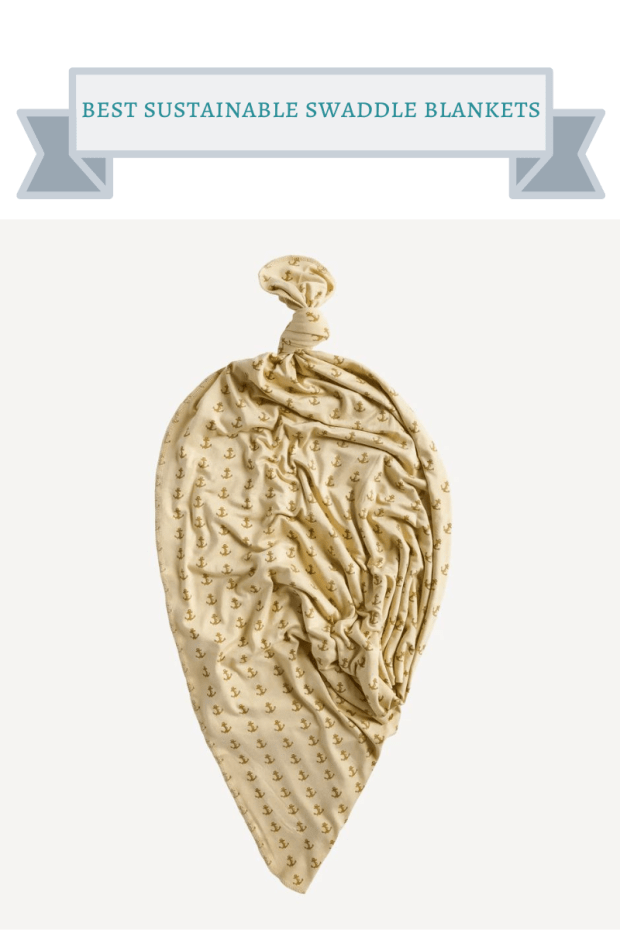 I know I've talked a lot about organic cotton, but another eco-friendly material that shouldn't be discounted is bamboo. You may wonder why is bamboo sustainable? Well, it's an incredibly fast-growing plant that doesn't require fertilizers.
I also know that a blanket isn't necessarily a piece of clothing, but they were always in my diaper bag and I had so many because they were so useful, I usually color coordinated with my baby's outfits. I'm extra like that, bwah!
I really love Kate Quinn's bamboo swaddle blankets because they're super stretchy and come in darling prints of course. Bamboo makes the best swaddle blankets for this time of year especially because it's so lightweight and cool!
Get the Kate Quinn Swaddle Blanket here.
The Best Sustainable Baby Subscription Box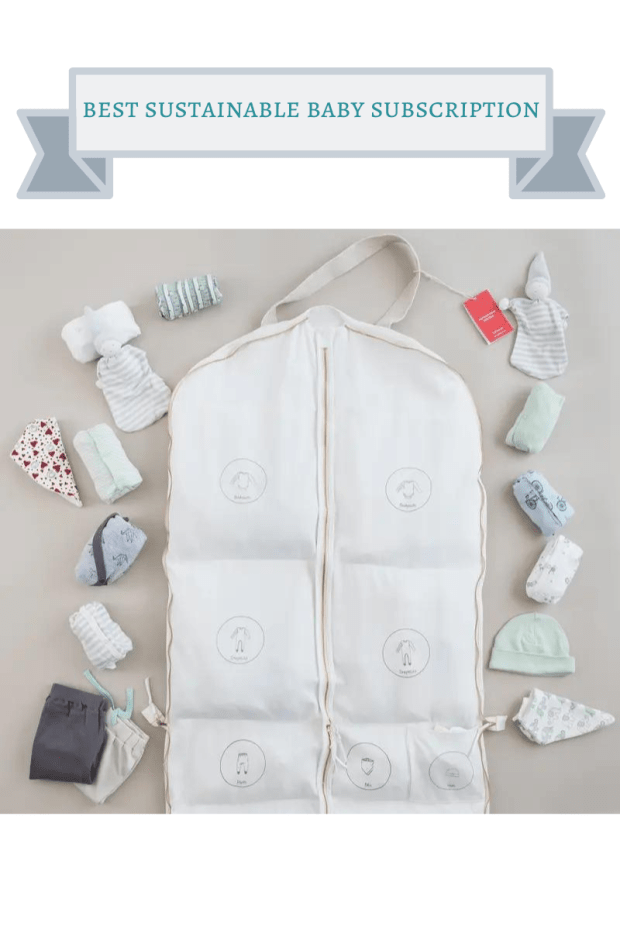 Cutting down your consumption of materials is the hallmark of sustainability. That can be difficult when we're talking about baby clothing because they outgrow things so quickly.
With a sustainable baby subscription box like Upchoose, you swap out outgrown pieces for new sizes when the time comes.
I love Upchoose in particular because you can really curate and customize your box according to the type of baby clothing you need the most! And everything is organic. Plus, the packaging is reusable, so you keep the same container and use it over and over as you send your organic baby clothing sets back for new sizes!
Upchoose Organic Baby Subscription Box
I could go on and on and organic and sustainable baby clothing, but I think this gives you a darn good start! And for more baby-focused Momtrends MVP's action, explore the pieces below!
And don't forget to stay tuned for our next Baby Momtrends MVPs list coming at you very soon…
For Even More of Our Favorite Momtrends MVP's Winners, Follow the Links Below:
Pin It!
Save your fave baby gear and ideas on Pinterest and follow along with our Gear for baby and kid board!
Momtrends MVP's is a non-sponsored series. Brands must meet our strict standards to be included. When naming winners we take several factors into account, including expense, convenience, and style.
We make our picks annually based on editors' research. In some instances, we may request and receive samples so that we can more thoroughly assess products. Our opinions are our own, and our goal is to help our community of moms make more informed decisions on everything from baby gear to beauty products to vacation destinations and more. We scour the abundant options and painstakingly hand-pick our favorites, so you don't have to. Our hope is that our most valuable players become your most valued purchases.