If you are looking for FREE coloring apps for adults, check out our full reviews of the best. All have free pages and colors. Youll also learn which subscriptions are worth it!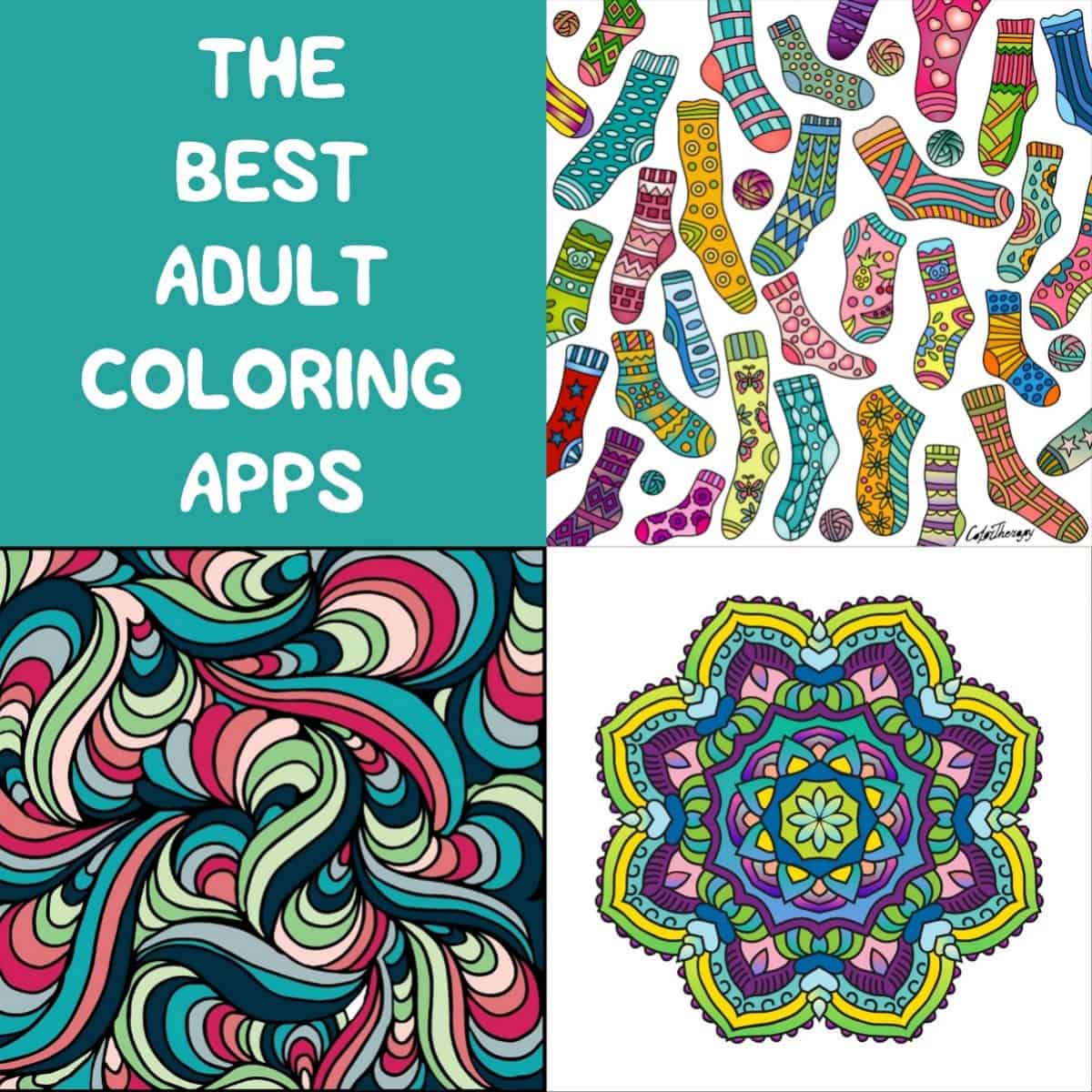 When I thought about reviewing adult coloring apps, something came to mind immediately. Adult coloring is supposed to be relaxing, and even an escape from electronic devices. So what is the deal with adult coloring apps? Why use them over an adult coloring book and your pencils?
Im not going to lie I was skeptical of adult coloring appsmyself. That was until I downloaded all of these to review and gave them an honest go . . . and then I discovered: adult coloring apps ARE relaxing!
Why I Like Adult Coloring Apps
Here are the top things I noticed:
I dont have to break out the books and colored pencils. Sometimes I just dont like having supplies everywhere.
Its a lot less expensive than books and pencils, markers, etc. If you are looking for an inexpensive hobby, ALL of these apps have a free option. Some are better than others which I address in each review.
These apps are perfect for waiting rooms, the line at the DMV, and anytime you are bored and dont want to be on Facebook or some other app.
They STILL relax me. Yes, its on an electronic screen, but I can still zone out.
Free Coloring Apps
The only true free coloring app in the bunch is the Color Me: Coloring Book for Adults app. All have free pages, but a lot options are limited without a subscription.
Another app, Coloring Book for Adults, has all colors free and a few pages . . . so if you like playing with color and wont get bored with the same pages, try that one too. In the world of free adult coloring apps, most of the options arent completely free!
Best of the Adult Coloring Apps
After reviewing these adult coloring apps, I like them all but Pigment and Color Therapy are my DEFINITE front runners (reviews below). Ive already purchased the Color Therapy subscription, and Im considering Pigment too.
Reviews of Adult Coloring Apps
These coloring apps are in order of my preference!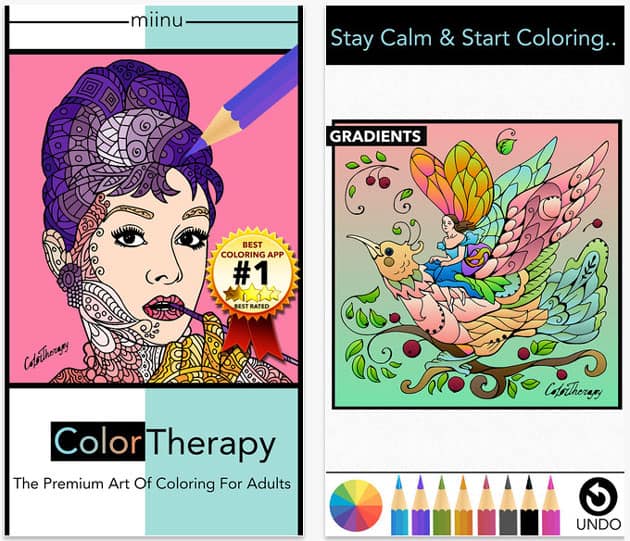 This app by far has my favorite artwork of all of the coloring apps for adults! The categories seem simple: Classic, Seasonal, Animals, Art, Fashion, etc. . . but the drawings are REALLY cool.
There are cityscapes, women, famous paintings, dreamcatchers, sea life, peacocks, words, holidays, and more! These closely resemble drawings you might see in an actual coloring book.
In terms of colors, you get30 free colors to start under the Basic Solid palette and 24 under the Basic Gradient Palette.
You can earn additional colors by sharing pieces of art, but the really good palettes (including skin colors!) can only be purchased. I loved this app enough to purchase the subscription.
Subscription you can purchase individual packs of colors for $1.99 and individual drawings to color for $.99. If you upgrade to Pro, you get 700 Solid Colors, 700 Gradient Colors, Premium Frames and Songs, and ads removed for $8.99. Theres no recurring subscription for this Pro account . . . just a one time purchase!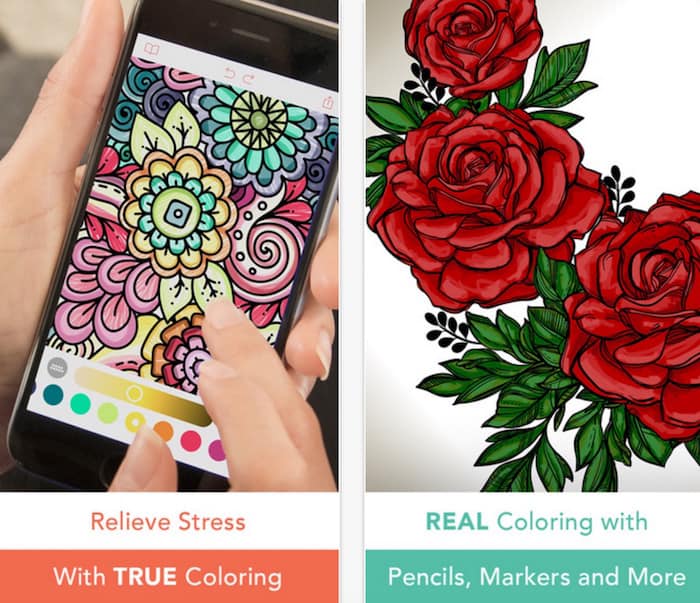 This is the closest to real coloring you can possibly get and this adult coloring app is trulyamazing. Unlike any of the other apps, you can choose brushes that allow you to *really* color by swiping your finger across the screen.
You can fill like the other apps by just tapping in areas, but if you want to, you can select from a variety of 10 other brushes that will allow you to get the true coloring experience.
Some of the brushes come with the premium membership, but thats only three of them. You get seven brushes without the membership.
In addition the brushes, there are options for coloring inside the lines (or not), and for choosing multiple areas at once to color by tapping. You can also use the eraser to create some unique effects, so youll feel like a real coloring artist with this app!
I love the art and they feature artists weekly some with free pages and some that you can access with the premium membership. By my count, I could access 234 colors for free, and you can lighten or darken those colors when you select. So the options are truly endless!
Subscription You can get a free 7-day trial for premium access. Its $7.99 monthly or $39.99 if you subscribe for a year. Youll get access to 600+ pages, premium brushes, exclusive color palettes, and new books each week.To remove the watermark on your art, youll have to have the premium subscription.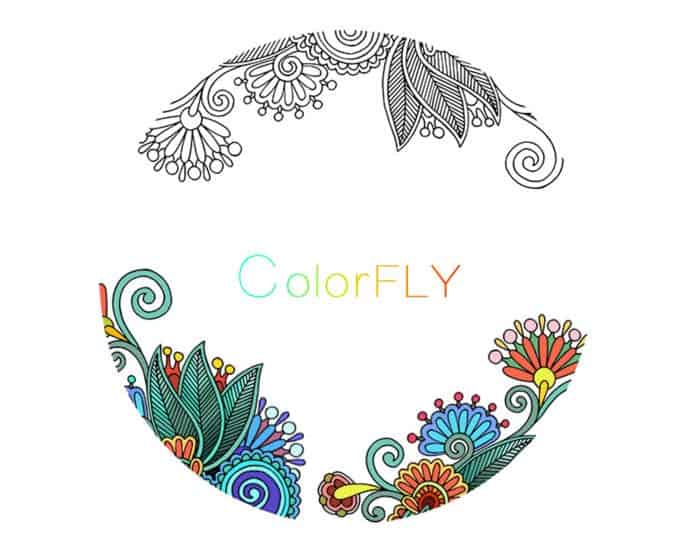 This is a different adult coloring app from the one that came in #9. Make sure you dont confuse them as its a one letter difference in the name!
When you open the app, you are taken immediately to a Gallery where you can choose the Daily Free page or select from one of the following free categories:
Animal Kingdom
Mandala World
Zen Spirit
Masterpiece
Pixel Art
Each of these categories has about 8 10 free coloring pages.The following categories are available with a premium membership: Secret Garden,Heart Love, Mandala World 2, Special Dates, Florals, Message, Food, People,Zodiac,Weekend Special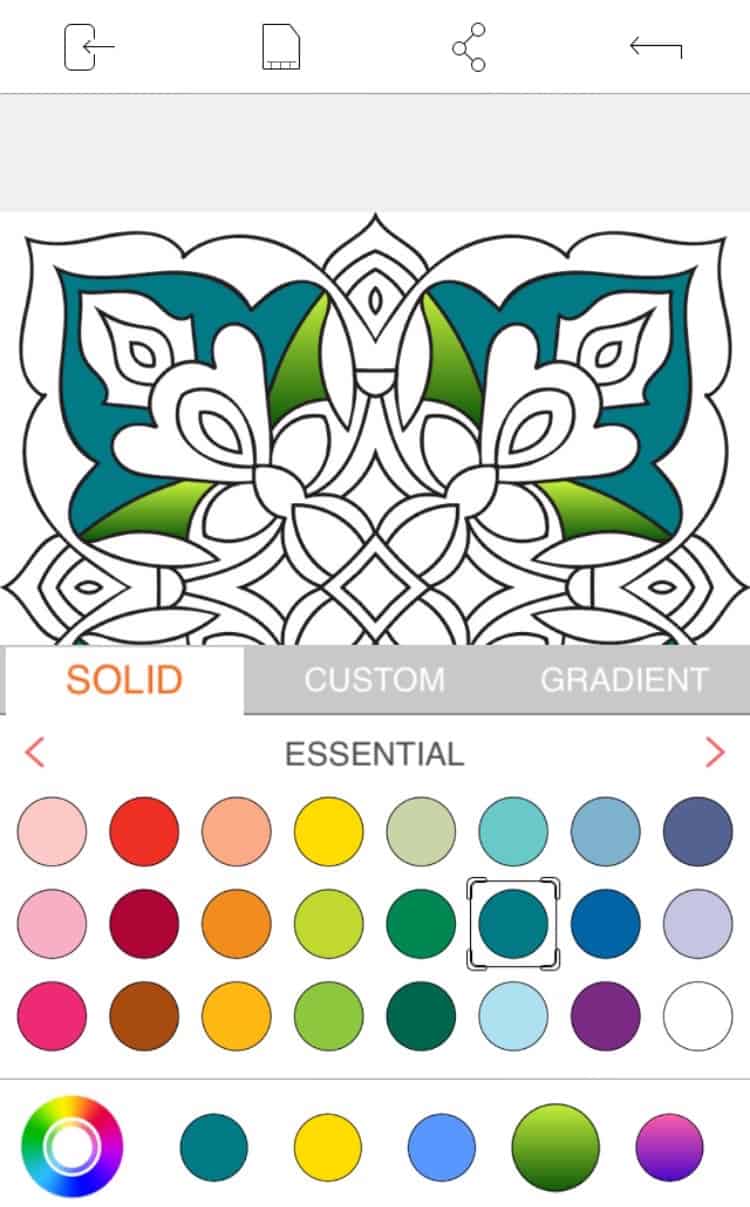 In terms of colors, you get a ton to choose from about 96 for free. Under the Solid category, youll get Essential (24), Dynamic (24), Classical (24). Then you get 24 Gradient colors, which are very cool!
If you purchase a premium membership, you have access to a LOT more colors. Selecting colors is easy, and reversing your color choice or deleting a color is as well.
Subscription $2.99/week gives you full access to all premium content, new content every day, and no ads. You can cancel any time. Start with a 7-day free trial. If you choose a 1-month membership, its $7.99, and 1 year is $39.99.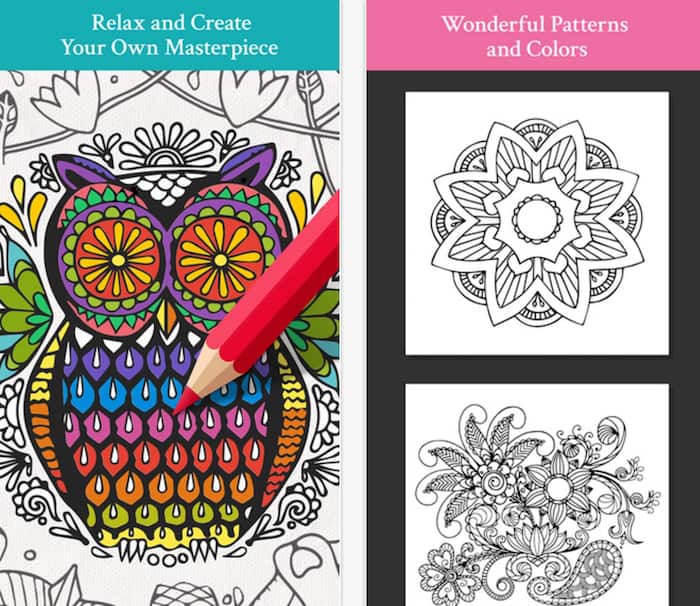 I tried to find completely free adult coloring apps, and this is the only one that has no subscription. In terms of coloring apps for adults, its not complicated to use
You open it up, and then you have 250+ images to color. New ones are regularly added. The drawings range from more basic to complicated, and there are a lot of mandalas. Youll see some animals, florals, and people too. You definitely wont get bored!
There are 10 color palettes with 9 colors each, and they are all free. No gradients or anything really interesting but you cant complain for free, right?
There are enough colors to make your drawings fun, and sometimes thats all thats required. As far as free coloring apps to get you started, this one is perfect.
Subscription cant get one FREE!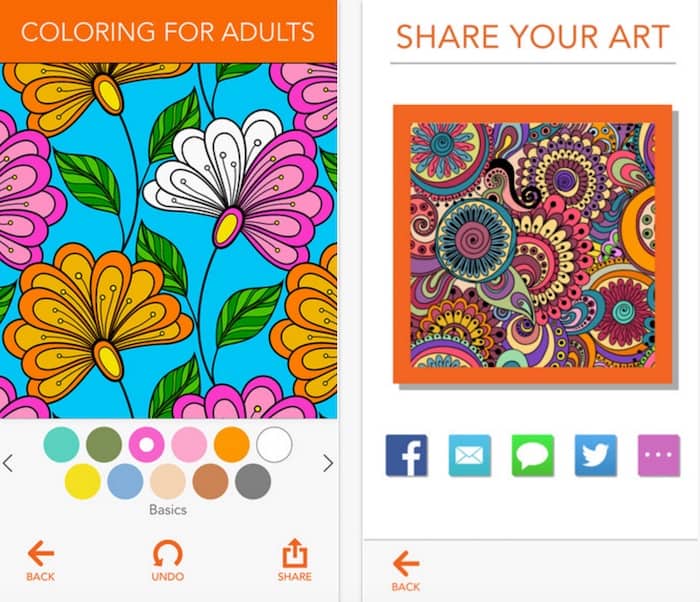 I really like the functionality of this adult coloring app! I dont know theres something about it that makes it easy to use. When you open it, youre taken right to a screen to select your drawing from several categories. In the five main categories Mandalas, Floral, Animals, Patterns, and Holiday youve given 10 to 11 free coloring designs each.
The other categories have maybe one free design each (if that) and the rest are available for purchase. I do like the free designs here and you get some detailed ones too (better than most free coloring apps), which is nice. And some of the paid are really fun!
I like the colors in this app. Youll get 4 palettes with 11 colors each for a total of 44 colors for free. Theres a palette you can unlock with 11 more colors by sharing a completed picture, and then 16 more palettes with 11 colors each if you subscribe. The colors are very pretty and I definitely wanted to unlock all of them!
Subscription a free 1-week trial is available. A 1-month subscription is $4.99 and a 1-year is $34.99. The subscription unlocks color palettes and removes the ads.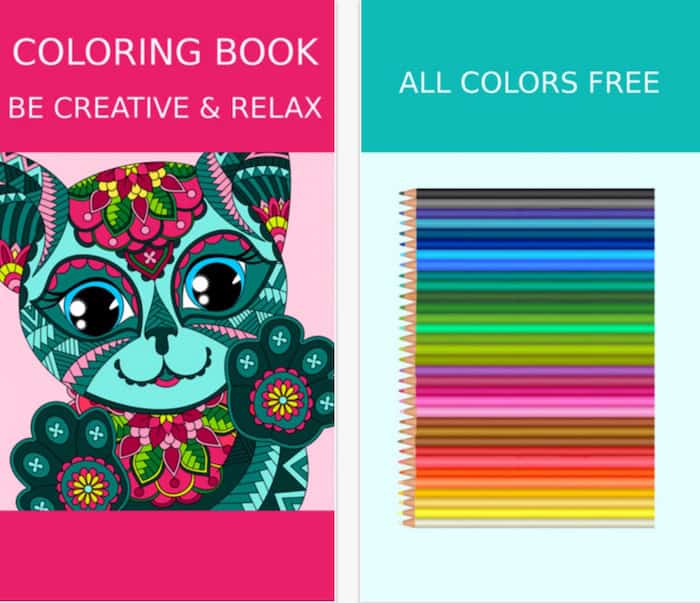 There arent a lot of places to go in this coloring app, which for some people is going to be a bonus. You basically have two places . . . the main library and then inside the drawing.
Theres no gallery or anything fancy, but there is one huge advantage over the other coloring apps for adults all 168 colors available in the app are FREE! I absolutely love that.If youre searching for free adult coloring apps, you get a lot here without paying.
You get 8 free drawings in the Relaxation category and then there are about 10 other categories or so with one free drawing each.
So if you love a lot of color and dont mind coloring the same thing over and over, this is for you. And of course, you have the option to purchase the subscription and give yourself a better selection of drawings.
Subscription You have three options for subscription: 1) remove ads for $3.99, 2) get individual coloring books for $3.99 each or 3) get all coloring books for $19.99. I *think* that you remove the ads with the $19.99 purchase, but Im not clear. The nice thing is that its not yearly . . . its one time only.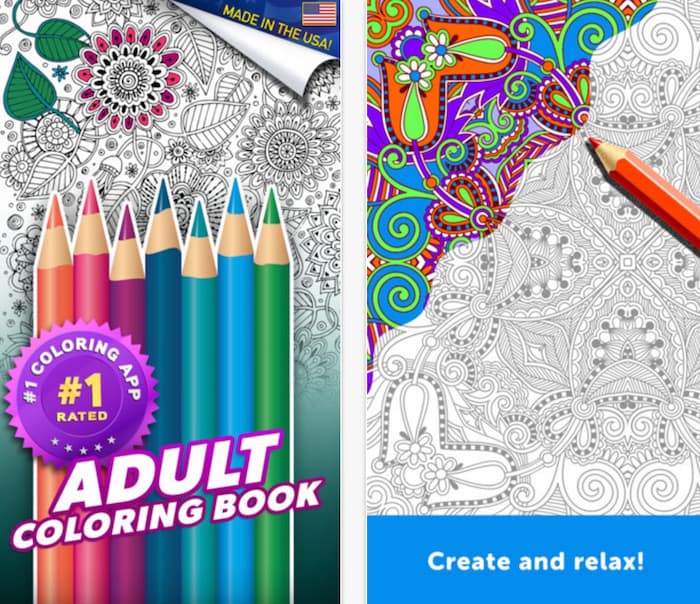 This is an interesting adult coloring app because its design to actually look like mini coloring books within the app.
Under each section (Flora, Mandala, Fauna, Holiday, Animals, etc.) you have several free designs, and then a lot more that are available with a subscription.
There is also a free daily design available for 24 hours. What I like is that under each book theres a hyperlink that says Get Inspired and takes you to the gallery to show you how other people have colored that design.
Its nice if you get stuck. You can also color a design multiple times and its saved in your book (and shown on the left). Kind of interesting the way they lay it out, and I like it.
In terms of colors, youll start with a basic palette of 24 called Essential. Its definitely not enough, so youll want to either get the subscription or jump through the hoops to download a few additional palettes (you can like the app on Instagram, share drawings, etc). I still feel like they dont give me enough for free, honestly.
Subscription To join Adult Coloring Book Plus, youll spend $4.99 a month or $22.99 per year. You do get a free trial of a week if you like.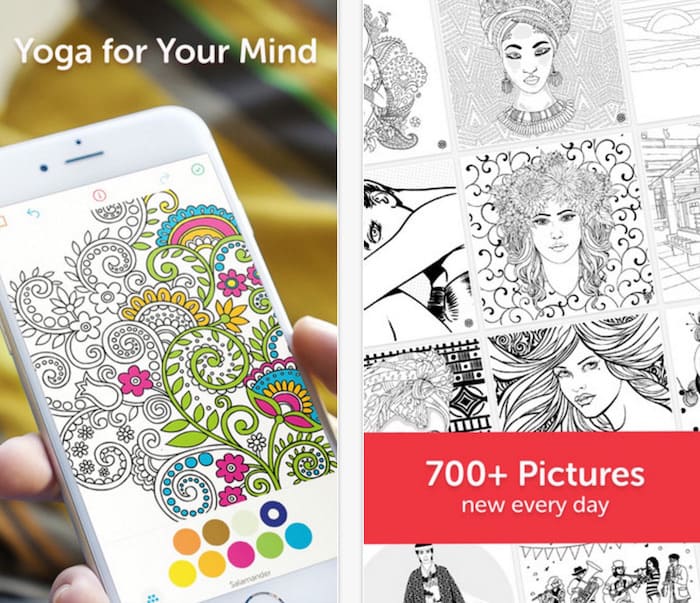 This app reminded me of Colorfy but it does have morefree pages available it seems 27 total. The difference is that the paid images look a LOT better than what Colorfy offers!
Some are quite detailed and some are very basic . . . but there are a lot of options (words, mandalas, people and some odd ones like a rabbit being pulled out of a hat).
The 3-D coloring drawings are unusual and intriguing. And you have the option of creating your own coloring pages by scanning an image or opening a picture you saved. For the scanning option, you get one free image a day, then you have to wait to scan again.
For color palettes, there are 16 available with 9 colors each for a total of 144 free colors. Im pretty pleased with the colors available, as they have a lot of shades that I love. You can create your own palettes if you like, but thats not creating colors thats just reorganizing ones in the app into palettes that you enjoy. Gradients come with the paid subscription.
Subscription a Recolor Unlimited 7-day free trial is available. You can pay monthly for $7.99 or yearly for $39.99. This subscription gives you access to 900+ pictures and new ones every day. Youll also get access to all palettes and effects.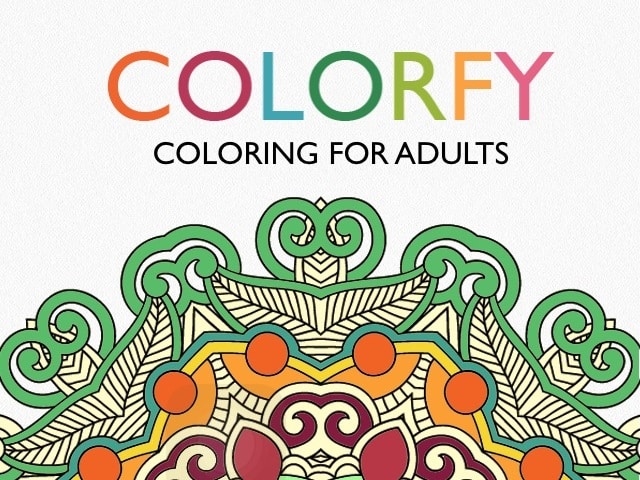 When I tried out this coloring app for adults, I was a little surprised at how few free images were available. Ive used this app before, and it seems that in the past there were a lot more freebies.
As of the writing of this article, there are only 10 free drawings listed under the Basic category, and honestly, the artwork isnt very good.
While there are additional free pages available, you have to dig for them. There is typically one at the bottom of each category (though not all the time). There are also free colors, but there are only 27 of them . . . the rest require the subscription. This is the same with the gradient colors.
I will say that a bonus of this app is that you can create your own pages with a photo. You have to take the photo and wont be able to select it from a gallery, but its a nice touch. I seem to be able to do it for free, as well.
Subscription a free trial to Colorfy Plus is available. One month is going to cost you $7.99 (or $2.99 per week if you choose that route) and 1 year is going to cost you $39.99. The subscription includes all images, 210+ colors, and no ads.
Which of these adult coloring apps are your favorite? Let me know in the comments! Also if youve tried some adult coloring apps I didnt mention, let me know that too.
The post The Best Adult Coloring Apps (Including Free!) appeared first on DIY Candy.