Spring dresses, sunglasses, and cute outfit ideas. Oh, spring how we love thee. Are you ready to step into spring? Clothes that is. We love getting outdoors and spring is a perfect time to lighten up your wardrobe by layering outfits. The weather is milder, the days are longer… 
Looking for more ideas? See all our lifestyle, fashion and style posts.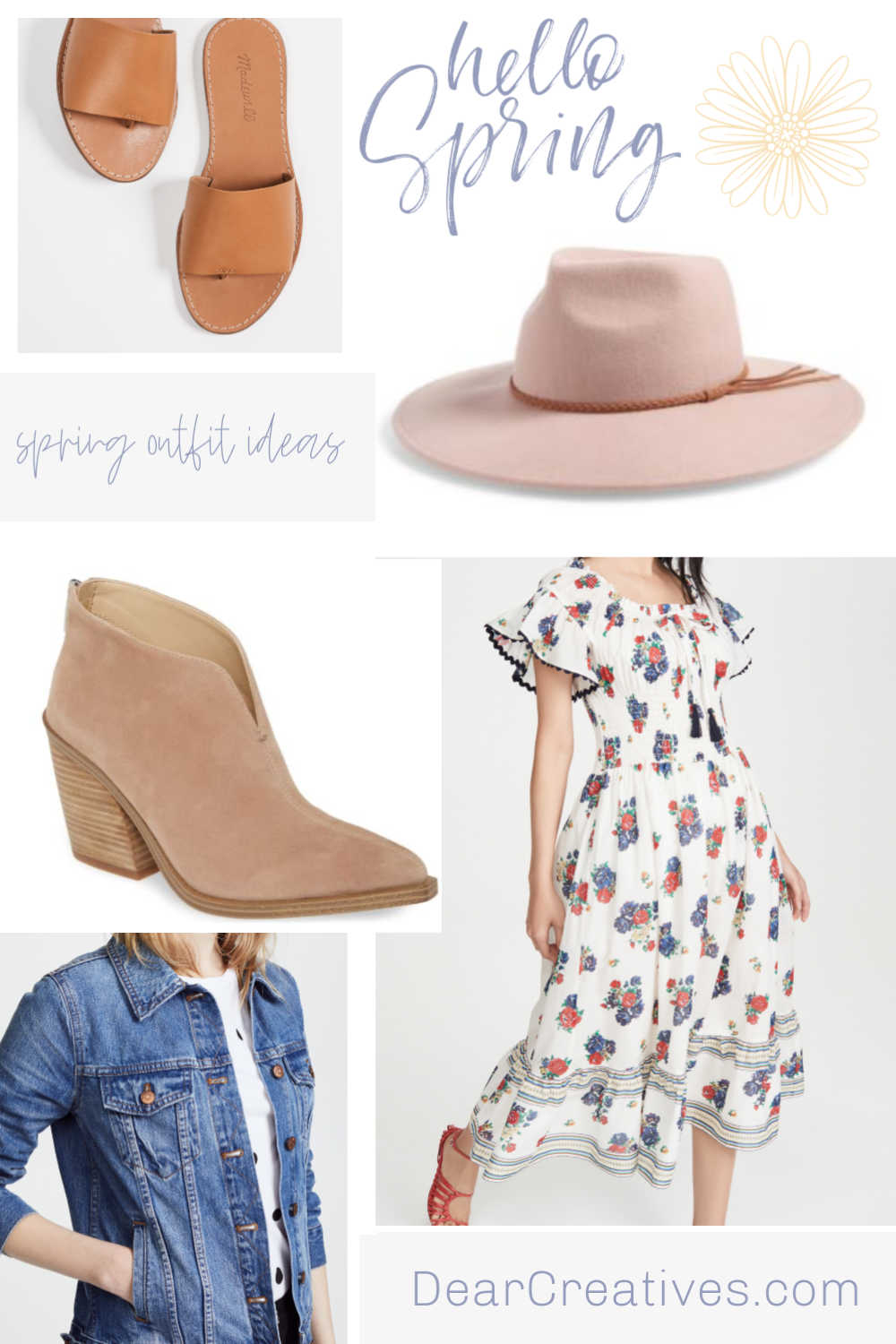 sandals | wool felt Panama hat | booties| denim jacket | spring dress 
Whether it's a trip, off to a school event or the coffee shop spring is the perfect time to tuck your jeans away and pull out a dress to wear. Are you starting to update your wardrobe for spring? There are several must-haves you need to add to your closet to be ready for spring. 
Cute Outfit Ideas 
Spring Dresses
Find dresses for spring, spring dresses for a casual occasion or Easter and dresses perfect for a sunny day. 
Anthropologie Marigold Midi Dress
Asos Edition ASOS EDITION floral beaded mesh dress with balloon sleeve
Alice + Olivia Vida Puff Sleeve Tiered Ruffle Dress
Kendall + Kylie Front Wrap Duster Dress
Anthropologie Ionia Sweater Dress
Asos Design ASOS DESIGN square neck textured midi smock sundress in stripe
Sandro Spring Summer 2018 Pink Cotton Dresses
Asos Design ASOS DESIGN shirred pleated midi dress
Anthropologie Maren Embroidered Maxi Dress
Asos Design ASOS DESIGN lace long sleeve prom midi dress with cut out
Asos Design ASOS DESIGN long sleeve button through midi dress with shirred waist
Lucky Brand Spring Fling Wrap Knit Dress
Asos Design ASOS Lace Pinny Scallop Edge Midi Prom Dress
Anthropologie Brighton Dress
Z Supply Ombre Dip-Dye Dress
Madewell Tiered Mini Dress
Anthropologie Sparrow Silky Midi Dress
Anthropologie Francie Mini Dress
Kenedik Floral Puff Sleeve Maxi Dress
Ganni Spring Summer 2019 Pink Polyester Dresses
Our Favorite Spring dresses for women from Target (under 30)
Spring dresses for women (over 40) that we love
This Midi Dress with a smocked bodice that is ruched. Smocking is super trendy this year and can be very flattering.
Striped polo dress from Tory Burch is perfect for weekends at the beach or heading to your favorite coffee shop.
Light, flowy printed floral dress screams spring. It's perfect with its midi length, flowy sleeves and it's 100% cotton which is perfect for spring through summer! 
Do you love neutral colored dresses that can work for so many things? This Smocked Linen Midi Dress. I think it's my new favorite. 
Or this Dolman Midi Dress. 
Shop for more spring clothes for you and the family. Be sure to subscribe so you don't miss the outfits we add to our wardrobes. 
New here? Be sure to subscribe
Pin it for Later
The post Spring Dresses And Cute Outfit Ideas appeared first on Dear Creatives.