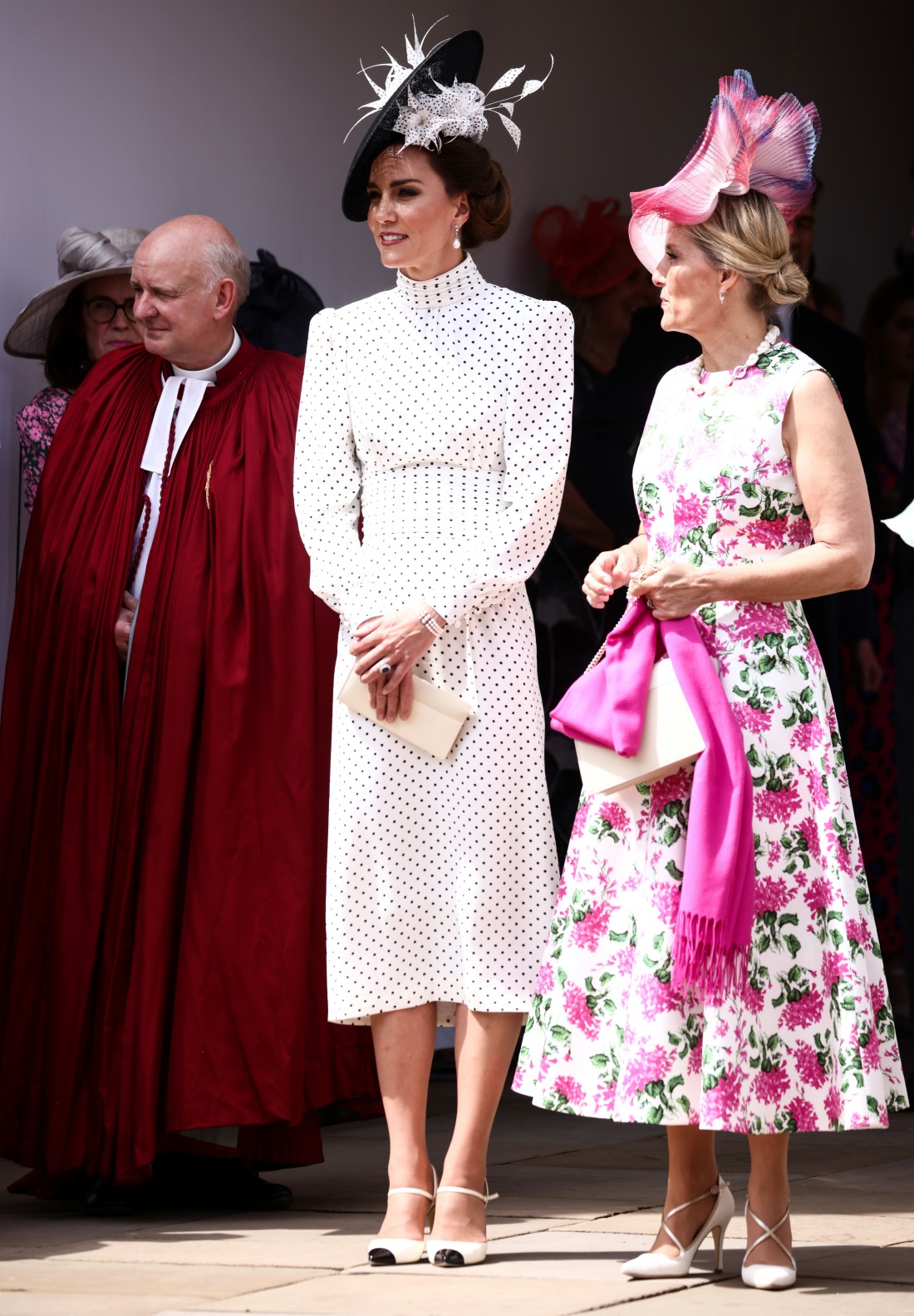 Here are some photos from Monday's Order of the Garter service in Windsor. The service was held at St. George's Chapel, the larger chapel on the Windsor Castle estate. It's an annual thing, and all of the knights of the Garter are invited and there's some kind of secret meeting or something. Prince Andrew is a knight of the Garter, but he was told to stay home. Princess Anne and Queen Camilla are both ladies of the Garter, and Prince William and Prince Edward are both knights of the Garter. They were all in attendance, but the foreign stranger-knights of the Garter (like King Felipe and King Willem-Alexander) skipped. This was King Charles's first Order of the Garter service as sovereign.
No one ever mentions this, but the Princess of Wales is not a lady of the Garter. While I get that she's just a married-in royal, she's wife to the future king and mother of the future-future king. You would think that after eleven-years-plus of marriage, they would invite her into this special club. They have not. Sophie's not a lady of the Garter either. Both Kate and Sophie showed up to support their spouses though.
Kate wore a polka-dotted Alessandra Rich dress with a matching Philip Treacy hat. I looked it up – this is not a repeat of the Rich dress she wore to Ascot last year. That Ascot dress had bigger "dots" and a ruffle across the chest. The Rich dress this week had no chest ruffle, but did have a similar cut to other Rich dresses Kate has worn. Interestingly, I think this is the first time Kate has worn Alessandra Rich since Rich gave that interview late last year – Rich said all the right things, but I definitely got the vibe that she doesn't think Kate is the right model for her designs. Rich would prefer to see women wear her dresses with some humor and lightness. Kate wears these prissy, overworked, beruffled pieces with too much earnestness, like she really thinks this is high fashion.