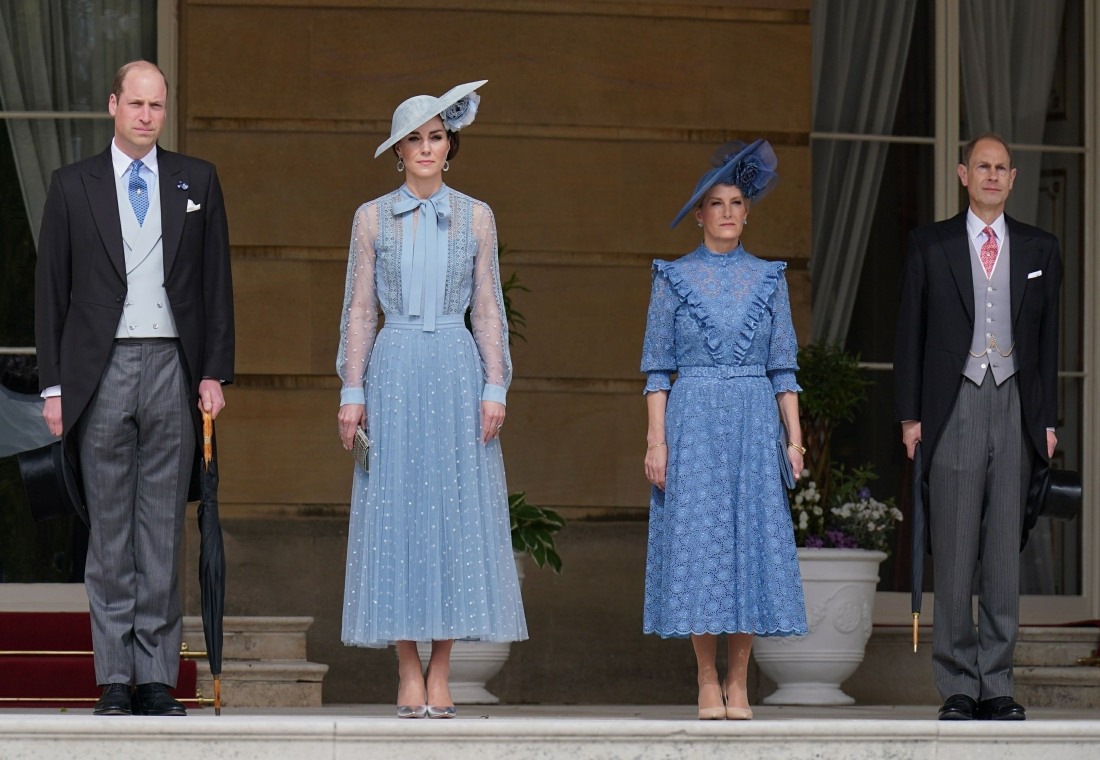 Didn't you think that the Prince and Princess of Wales would need a month-long holiday to recover from their exhausting coronation schedule? They had to work five days in a row! Well, make that SIX days in a row. Seriously, Peg and Buttons are working themselves to the bone this month. I can only imagine how many separate "events" will be counted in this work blitz. In any case, on the sixth day of keenery, my keen love gave to me: a pussybow at a palace garden party! On Tuesday, William, Kate and the Edinburghs hosted a garden party in sunny weather at Buckingham Palace.
Kate and Sophie both repeated blue dresses which they had previously worn at Royal Ascot (on different years). I remember Kate's Elie Saab look from 2019 – I called it Edwardian cosplay at the time, and I can't say that I like it more after four years. It is just so fussy, the combination of the high neckline with the bow, plus the lace and the tea-length skirt. It's too pinched – one of those details needed to be edited out, probably the bow. Of course, Kate looks positively modern (for the early 20th century) compared to Sophie's deeply unflattering ruffled catastrophe. I remember this look too – she just wore it at Ascot last year, and I still haven't found a designer ID for it. No designer wants to claim it.
Since there's nothing else to talk about, let's keep talking about Kate's style. She didn't even bother styling the Elie Saab differently this time around – she literally pulled out the same pair of Gianvito Rossi pumps in silver, with the same Philip Treacy hat from her 2019 Ascot appearance too. I double-checked the 2019 photos – she's even carrying the same Elie Saab clutch!! The only difference: the earrings. In 2019, she wore aquamarine-and-diamond drop earrings (which looked much better with the dress). On Tuesday, she wore blue topaz hoop earrings by Kiki McDonough. Who convinced her that a pale blue dress (with sparkles) needed matching silver accessories?
Also, why is Kate repeating an Elie Saab dress at the palace? I thought royals were only supposed to wear BRITISH LABELS. What's that? Oh, I'm being told that rule only applies to Prince Harry.