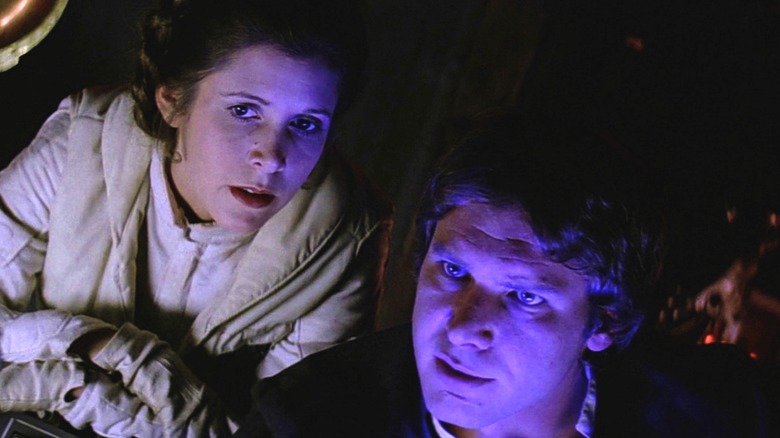 Famously, Harrison Ford, the man who embodied our favorite smuggler with a heart of gold, didn't exactly care for "Star Wars." In Ford's opinion, George Lucas' writing was phony and hacky, constantly leading to creative disagreements on set of the trilogy. Due to a variety of production issues and overall low confidence in the project from cast, crew, and executives shooting the original "Star Wars," no one could have predicted that the film would be a box office success, let alone become a defining piece of pop culture that would endure decades of relevance.
Ironically, Ford was one of the few who believed in "Star Wars," having some confidence that the film would resonate with mainstream audiences. That faith paid off for the actor's career — with only a few independent films under his belt before "Star Wars," Hollywood did not see Ford as a bankable, A-list star. But suddenly, with the instantaneous success of Lucas' blockbuster film, Ford's career was given a fascinating second life. Leading up to the end of the original "Star Wars" trilogy with 1983's "Return of the Jedi," Ford would take on the leading roles in genre films "Raiders of the Lost Ark" and "Blade Runner," as well as a small appearance in Francis Ford Coppola's "Apocalypse Now."
Despite not having much love for "Star Wars" or his character of Han Solo, Ford would demand his fair share of the spotlight as one of the franchise's leads. In a 1980 feature for RollingStone magazine, which profiled the daily lives of Mark Hamill, Harrison Ford, and Carrie Fisher during the press tour for "The Empire Strikes Back," Fisher recalled a memory in which Ford humorously threw a fit over his lack of inclusion in "Star Wars" merch.
'Why Don't I Get To Be On An Eraser, Too?'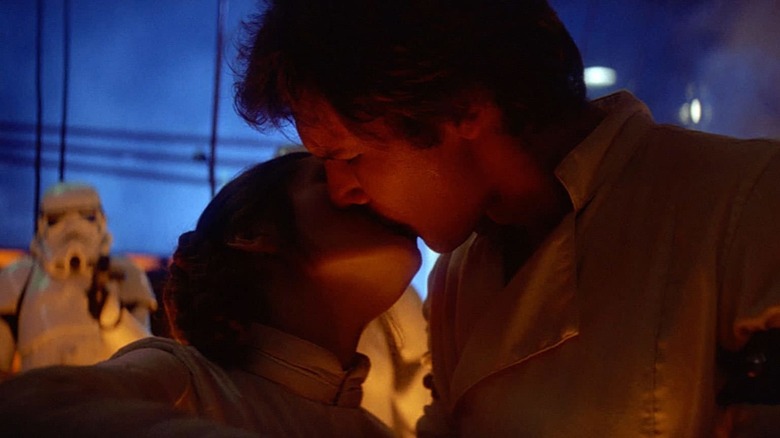 Carrie Fisher, who was 24 at the time, spoke to RollingStone in her own apartment, which was "crammed with antique toys, dolls and the whimsical knickknacks one might expect to find in a little girl's bedroom." Fisher would reminisce on the "Star Wars" merchandise that was often sent to her:
"You know, they send me 'Star Wars' sheets. I just gave the last ones away to some of the 'Saturday Night Live' writers. They called me back and said, 'You don't have them for double beds, do you?' The merchandising, it's very funny. Harrison used to get so upset: 'Mark gets to be a puzzle, why don't I?!' Those kinds of arguments. And we'll go, 'Wait a minute! Why don't I get to be on the pencil box for chrissake! I mean, if I'm gonna be in this and I'm gonna end up being two sizes of dolls, and a belt, and a cookie, and a hat, then why don't I get to be on an eraser, too?'"
Today, Ford's distaste for "Star Wars" has been well documented. However, in the 1980 feature, he actually openly considers "The Empire Strikes Back" to be some of his best work. "['Empire'] is the first time I've ever seen anything I've done that I'm happy with," a 37-year-old Ford told RollingStone, even after vocalizing how much he despises watching himself on screen.
He went on to explain his contribution to one of the film's most famous emotional beats, improvising the "I know" line before Han gets frozen in the carbonite. "This film is much more emotional, and some of the emotions are extremely difficult to deal with," Ford continued, "The accomplishment of saying something true about those emotions is great."
Ford Wanted His Best Work To Be Remembered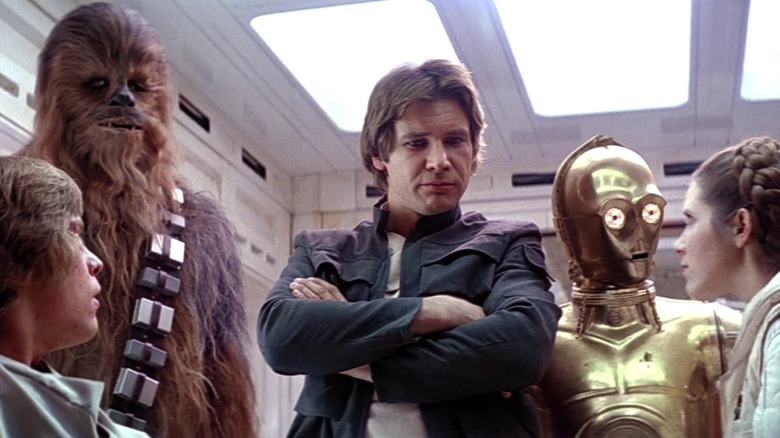 The feature also documented one of Ford's most infamous "Star Wars" opinions: how he personally felt that Han Solo shouldn't have returned for "Return of the Jedi." Titled "Revenge of the Jedi" at the time, the third film of the original trilogy was set to film in the summer of 1981. "Well, do I feel that I want to do it today? No. Definitely not." Ford said. "But let's leave it for a bit and possibly ... it will be all right."
Taking how proud Ford is for managing to add some personal flair and emotional depth to "The Empire Strikes Back," into context, it makes his frustration with the merchandising at the time make a little more sense. Of course he would want this specific performance — this version of Han Solo to be immortalized in pop culture over anything else.
Little did Ford know, his performance in "Empire" would take his level of fame to new heights: After he became a bonafide movie star, Ford's fans caused a ruckus on set of "Return of the Jedi." He might not have gotten his Han Solo branded erasers at the time, but after "Star Wars" ended, Ford had arguably one of the most successful careers of his co-stars. A "Harrison Ford movie" became something of a genre itself. Today, with "Indiana Jones and the Dial of Destiny," "1923," Apple TV+'s "Shrinking," and his upcoming role as "Thunderbolt" Ross in the Marvel Cinematic Universe, he shows no signs of slowing down.
"I was on a Princess Leia eraser," Fisher jokingly flexed to RollingStone. We will always remember her for her irreverent sense of humor.
Read this next: 12 Star Wars Moments That Haven't Aged Well
The post Harrison Ford Got A Little Heated Over Star Wars Merch, According To Carrie Fisher appeared first on /Film.