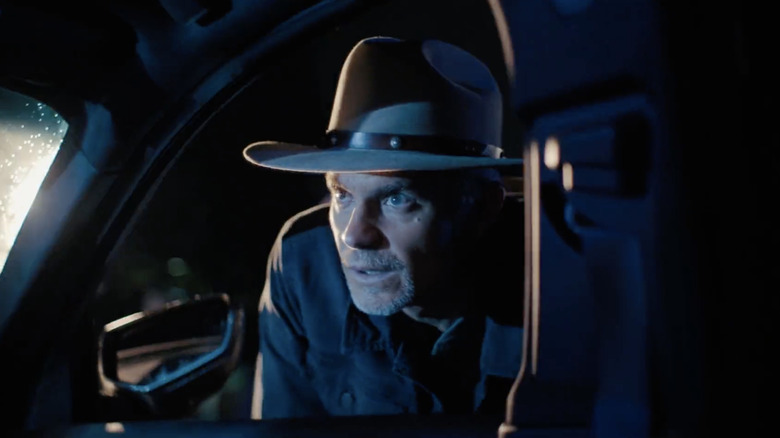 Amid the buzz of Oscar night, FX has released a short, 60-second preview to remind you that TV is still here and it doesn't all involve honoring movie achievements. The preview of what's coming soon to FX includes a first look at the much-anticipated "Justified" revival, "City Primeval," as well as new seasons of "Dave," "The Bear," "What We Do in the Shadows," and more.
The first thing that jumps out about this preview is the footage it offers of the network's upcoming "Great Expectations" adaptation, which is a co-production with BBC Studios. The "Great Expectations" limited series, based on the classic Charles Dickens novel (which has been adapted approximately umpteen times), hails from "Peaky Blinders" and "Taboo" creator Steven Knight. Academy Award winner Olivia Colman is out in front as Miss Havisham — so, see, there is an Oscar connection with this thing, after all. "Dunkirk" and "Black Mirror: Bandersnatch" star Fionn Whitehead plays the protagonist, Pip.
The Bear. Dave. Justified: City Primeval, and so much more. Here's a glimpse of what's coming soon to FX. pic.twitter.com/J9hItBOxli

— FX Networks (@FXNetworks) March 13, 2023
"Great Expectations" premieres on Sunday, March 26, 2023, on FX on Hulu. In the UK, it will air on BBC One. We somehow missed sharing the full trailer for the series last month, but you can see it below, followed by a quick breakdown of what else we see in the preview.
Great Expectations For Justified: City Primeval
The FX preview also gives a glimpse of another upcoming miniseries, "Class of '09," which we first reported on back in 2021, and which is said to follow "a class of FBI agents set in a near future where the U.S. criminal justice system has been transformed by artificial intelligence." The series stars Kate Mara and Oscar nominee Brian Tyree Henry, the latter of whom competed for Best Supporting Actor for "Causeway" tonight but ultimately lost to Ke Huy Quan for "Everything Everywhere All at Once."
The "Justified: City Primeval" footage shows Timothy Olyphant back in his cowboy hat as Deputy U.S. Marshal Raylan Givens, who hasn't had a new adventure since the sixth and final season of his series in 2015. "City Primeval" draws from both the Elmore Leonard novel of the same name (which had a different protagonist) and the Leonard novella "Fire in the Hole." In the preview, you can also see a glimpse of Boyd Holbrook, looking appropriately wild as the violent sociopath Clement Mansell, aka The Oklahoma Wildman.
The Allen Hughes-directed docuseries, "Dear Mama: The Saga of Afeni and Tupac Shakur" promises a "blemishes and all" look at the late rapper's relationship with his mother. It's the final series to have its title appear onscreen in this preview, but you can also catch a glimpse of Nandor (Kayvan Novak) teasing the magic that will happen in "What We Do in the Shadows" season 5, along with chef Carmen "Carmy" Berzatto (Jeremy Allen White) promising to "take it up another level" in "The Bear" season 2, the latter of which is due to arrive early this summer.
Read this next: The Moments That Defined TV In 2022
The post FX Offers First Look at Justified: City Primeval, New Seasons of The Bear, Dave & More appeared first on /Film.