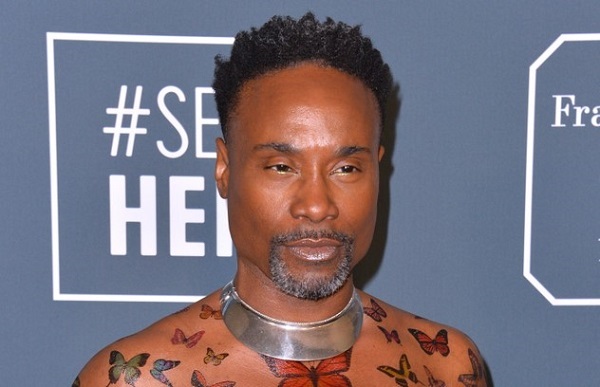 Image via Featureflash Photo Agency / Shutterstock.com
Billy Porter stole the spotlight at the 2020 Grammys in a luxurious turquoise suit.
However, the show-stopping feature was his hata blue headpiece with a silver fringe doubling up as a curtain. The silver detailing could be swept aside using a remote control for the whole dramatic reveal.
In a tweet, Porter wrote that his outfit was designed by Scott Studenberg, while the hat was custom-made by Sokol Millinery.
While Porters hat looked impressive, it also sparked a bunch of memes on Twitter, with many social media users finding alternative uses for the headgear.
The motorized fringe could, for instance, provide privacy to the wearer and create a dramatic entrance when he or she is ready to reveal themselves. Check out some of the funniest Billy Porter memes below.
View this post on Instagram
Get on my nerves, and the curtain closes! Living for my @recordingacademy / #GRAMMYs custom @bajaeast lewk and custom hat by @sarahsokolmillinery styled by @sammyratelle. #grammys2020 . . Styling and Creative Direction by @sammyratelle for @rrrcreative agency | @thewallgroup Make-Up by @nellichristine Cut by @johncotton3 Styling Assistants: @ashleymarienyc, @ashleydai1, @alexandra.bucokova Custom Look by @scottstudengerg of @bajaeast Custom Hat by @sarahsokolmillinery Mechanically enhanced by @smooth.technology Jewelry by @alexisbittar Custom handbag by @judithleiberny Boots by @coach | Crystalized by @amorirstudio Crystals provided by @preciosacomponents Nails by @nailzbyvee | @cndworld by @santiagraphy & @gettyentertainment
View this post on Instagram
This Hat @sarahsokolmillinery and @smooth.technology truly outdid themselves. Im gagged! #grammys #unexpecteverything : @gettyentertainment Creative Direction & Styling by @sammyratelle Custom look by @scottstudenberg | @bajaeast
View this post on Instagram
Get out the way, cause like it or not, here she comes! . . Styling and Creative Direction by @sammyratelle for @rrrcreative agency | @thewallgroup Make-Up by @nellichristine Cut by @johncotton3 Custom Look by @scottstudengerg of @bajaeast Custom Hat by @sarahsokolmillinery Mechanically enhanced by @smooth.technology Jewelry by @alexisbittar Custom handbag by @judithleiberny Boots by @coach | Crystalized by @amorirstudio Crystals provided by @preciosacomponents Nails by @nailzbyvee | @cndworld
the cashier at the mcdonalds drive thru when i pull up pic.twitter.com/RTLgLhwVRr
gabe bergado (@gabebergado)
January 27, 2020
Me when a customer has the audacity to ask me a question https://t.co/7nCVtU0Ujb
kerry jo (@kerry__jo)
January 27, 2020
Me getting ready to reply, per my last email pic.twitter.com/ug5QhXwQqd
Kevin Glueck (@kevin_glueck)
January 27, 2020
Me: I cant go out, Im trying to save money this week
Friend: wanna go to happy hour?
Me:
pic.twitter.com/1bPdx0Fzaw
dunc city (@whduncan)
January 27, 2020
when someone mentions potato skins pic.twitter.com/CXLgK23Nyr
ceeks (@70Ceeks)
January 27, 2020
Me: I hate drama

Also me when theres drama: pic.twitter.com/sCyKFgnzZK
Sam Stryker (@sbstryker)
January 27, 2020
Me blocking negativity like...#billyporter pic.twitter.com/Ytdfh9kKVS
. (@GeoCast85)
January 27, 2020
[via
Cosmopolitan
, opening image via
Featureflash Photo Agency / Shutterstock.com
]