Chinese dissident artist Ai Weiwei is to take over London's Design Museum with his first installation using design and history as a lens through which to consider what we value.
Hundreds of thousands of objects, which have been collected by Weiwei since the 1990s as part of his ongoing fascination with artifacts and traditional craftsmanship, will be at the heart of the exhibition in a series of five expansive "fields."
The fields include Still Life, which will feature 1,600 tools from the Stone Age highlighting the origins of design rooted in survival, and Left Right Studio Material, which consists of thousands of fragments from Weiwei's porcelain sculptures that were destroyed when his studio was demolished by the Chinese state in 2018.
Another field, Spouts, will feature 200,000 porcelain spouts crafted by hand during the Song Dynasty.
Two untitled fields feature an estimated 100,000 cannon balls from the Song Dynasty, and Lego bricks which Weiwei began working with in 2014 to produce portraits of political prisoners.
Lego briefly stopped working with the artist as a result but a response from social media led to donations from the public and it is these donated bricks which will be presented for the first time as a fully-formed artwork at the exhibition, which runs from April 7 to July 30.
Weiwei, who is best known for working on the design of Beijing's Olympic stadium and filling the Tate Modern's Turbine Hall with hand-crafted porcelain sunflower seeds in 2010, said: "This is an exhibition focused on a very specific concept: design.
"I had to think about how we use the space in the Design Museum as a whole, and the exhibition offers a rich experience of what design is, and how design relates to our past and to our current situation."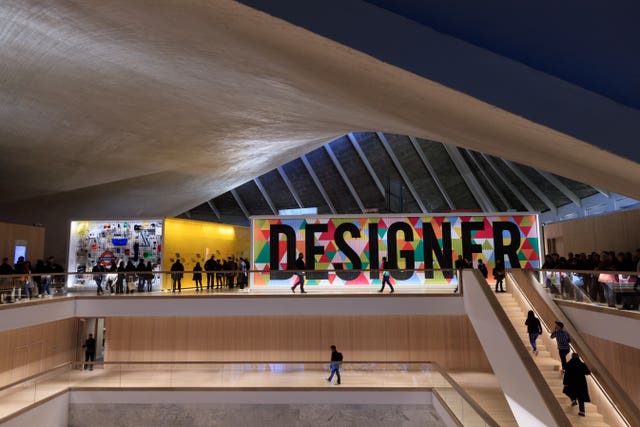 It is the artist's biggest UK show in eight years and features dozens of objects and artworks from throughout his career exploring tensions, including his Han Dynasty urn emblazoned with a Coca-Cola logo which epitomizes these clashes.
Highlights also include a number of Weiwei's objects transforming something useful into something useless, including a worker's hard hat cast in glass and a sculpture of an iPhone cut out of a jade axe head.
There are also works that refer to the Covid-19 pandemic, with three toilet paper sculptures on display shown in the context of China's rapidly changing urban landscape which Weiwei has documented through photographic and film works.
Ai Weiwei: Making Sense will feature large-scale works installed outside the exhibition gallery in the museum's free-to-enter spaces as well as outside the building, including a piece titled Coloured House featuring the timber frame of a house that once belonged to a prosperous family in Zhejiang province in eastern China during the early Qing Dynasty.
Weiwei has painted the frame with industrial colors and installed it on crystal bases, and it is the first time it has been seen in the UK.
Justin McGuirk, chief curator at the Design Museum and curator of Ai Weiwei: Making Sense, said: "Ai Weiwei's fields are extraordinary, and they tell a story of human ingenuity that spans millennia. The fields are a meditation on value – on histories and skills that have been forgotten, and on the tension between the industrial and the hand-made.
"Their scale is unsettling and moving, and, in trying to make sense of these works, the visitor is challenged to think about what we value and what we destroy."
Design Museum director and chief executive Tim Marlow said: "Ai Weiwei is one of the most compelling artists and activists working today, but his practice is profoundly pluralistic, encompassing film, architecture, design and collecting.
"This exhibition is, therefore, long overdue and I'm proud that the Design Museum is the first institution to frame the work of Ai Weiwei through the lens of architecture and design and to collaborate in new ways with one of the great creative forces of the 21st century to date."
Artist Ai Weiwei to launch first design-focused exhibition at London's Design Museum - Londontopia - The Website for People Who Love London