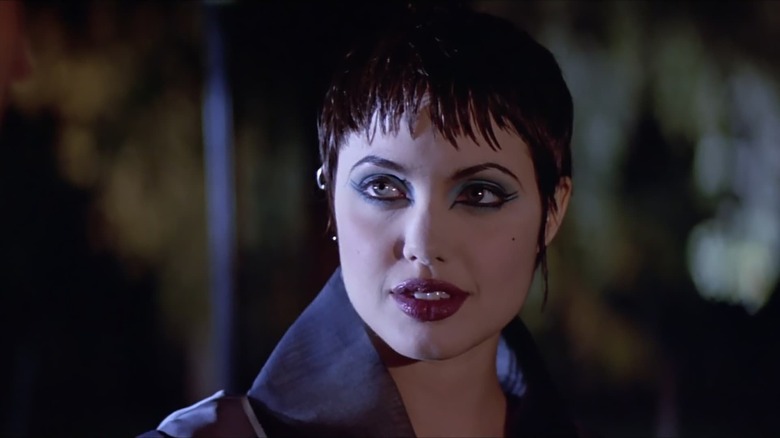 Even in 1995, it was easy to snicker at Iain Softley's computer-centric cyber-thriller "Hackers." Firstly, because computer technology is so complex, and develops so quickly, any mention of modern cyber-gear would definitely be dated only a year later. Actual computer experts saw right through Softley's and screenwriter Rafael Moreu's attempts at being cutting edge. 
Additionally, Softley was presented with an interesting problem. While computer hackers occupied an exciting new technological subculture in 1995, people sitting at keyboards weren't very cinematically dynamic. Softley solved this problem by turning computer usage into something a little more abstract, using glowing animations, swirling cameras, and projecting images onto his actors' faces to make his film visually interesting. 
Softley also had to more or less create his own version of hacker culture from the ground up. He dressed his teen protagonists in complex neo-punk garb and invented their own patois. He assembled a glorious three-volume soundtrack of electronica and dance music. He made his own version of cool. Fans of "Hackers" would say he succeeded, even if his film bore no resemblance to reality. Although now considered something of a pop curio, "Hackers" remains a high-energy, power-to-the-youth caffeine jolt. 
"Hackers" stars Johnny Lee Miller as Zero Cool, a.k.a. Crash Override, a once-disgraced cyber criminal (busted when he was 10) who reenters the hacker scene after years away. He quickly falls in with the other computer enthusiasts at his new high school, including Lord Nikon (Laurence Mason), Cereal Killer (Matthew Lillard), and a rival Acid Burn (Angelina Jolie). Over the course of "Hackers," Crash Override and Acid Burn will challenge each other to competitions, eventually leading to a proper romantic date. Crash and Burn. It's cyber-fate. 
We Don't Talk About Cyborg 2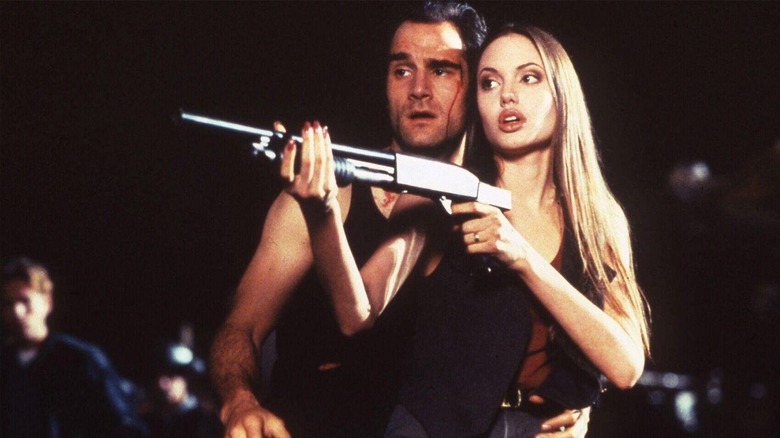 In a 2020 interview with Collider, Softley reminisces on his "Hackers" house style, its soundtrack, and its young, enthused cast. In 1995, the film's biggest stars were Lorraine Bracco and Fisher Stevens. Its young leads weren't yet stars. Jolie, of course, would go on to be one of the most notable A-list movie stars in Hollywood, winning an Emmy in 1998 and an Oscar in 2000, and headlining no small number of high-profile action blockbusters and numerous studio prestige dramas. According to Softley, Jolie considered "Hackers" to be her first movie. It wasn't, but she looks at it that way. Softley said:
"Well, she calls it her first role. That's how she describes it. Certainly her first lead role. I met her at the Berlin Film Festival a few years ago, when she was premiering one of her films, and she introduced me to the cast who were there as the person who gave her her first film and her first husband." 
Jolie and Miller were married from 1996 until 2000. 
Jolie's first credited role came when she was only six years old, in 1982. She appeared briefly in the Hal Ashby gambling comedy "Lookin' to Get Out," which starred her father, Jon Voight. Her first major role came in the 1993 sci-fi action film "Cyborg 2," the sequel to the 1989 flick with Jean-Claude Van Damme. In "Cyborg 2," she played a high-tech android named Cash who was programmed for fighting and assassination. Cash was programmed to self-destruct in the middle of a board meeting in an act of corporate espionage, but found herself resisting. Jack Palance, Billy Drago, and Elias Koteas also appear. It's a slick film, as low-budget Trimark Pictures releases go. 
For some reason, Jolie doesn't mention "Cyborg 2."
The Casting Process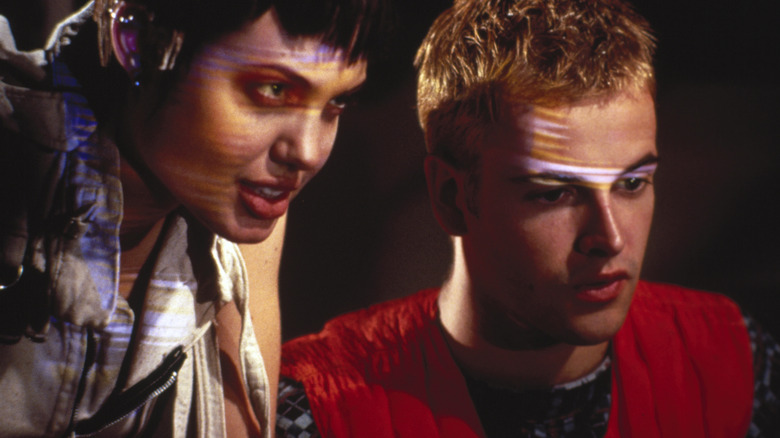 Softley filmed "Hackers" in Los Angeles, New York, and London, using local casting agents for each city. Miller was discovered in London while Jolie was found in L.A. Softley remembers the process well, and even found one of his original audition reels for the part of Acid Burn. While he mentioned no one by name, he did note that most of the actors who auditioned went on to be big stars. It seems that "Hackers" was a hot showbiz commodity during its pre-production. With Miller in place, he called back his favorite performers for screen tests. In his words: 
"[W]hat I did was a sort of final callback session in New York, and we flew Jonny over and paired him, and a couple of the other front runner male performers, with the front runner women. And I actually found the DVD of that casting about five years ago; I think it coincided with the 20th anniversary release of the film. And it's really interesting because there are some really good actresses, particularly. At least three of them have become major movie stars."
Softley notes that, because the characters were teenagers, the actors were also all young and, for the most part, just starting their professional careers. "They were all, like, 18 year olds, so they were very, very young," he said. "And for all of them, it would have been their first kind of major film." 
"Hackers" certainly helped Jolie, as the following year she was to appear in four films, including the rebellious queer romance "Foxfire." Miller, meanwhile, found success in films like "Trainspotting," "Afterglow," and "Mansfield Park." It may be that "Hackers" is a more notable film than it ever got credit for in 1995.
Read this next: The 95 Best Sci-Fi Movies Ever
The post Angelina Jolie Considers Hackers Her First Real Movie Role appeared first on /Film.