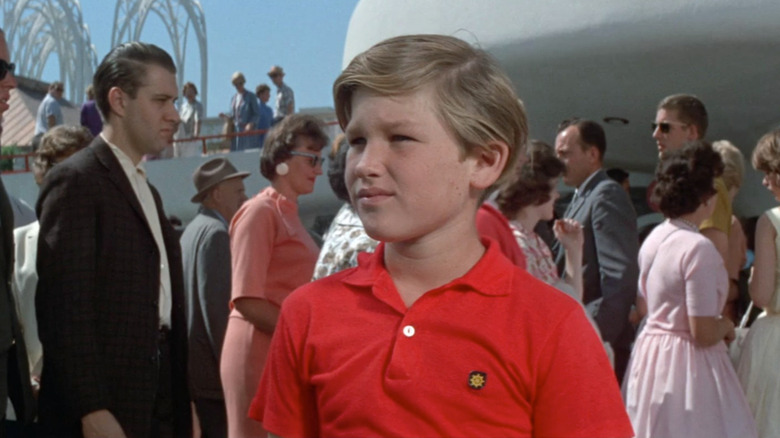 You know Kurt Russell from "Big Trouble in Little China," "Tombstone," "Stargate," "Guardians of the Galaxy Vol. 2," and the 1979 TV movie "Elvis." But did you know that he actually got to work with Elvis? He was 10 years old at the time, and the film was 1963's "It Happened at the World's Fair," as we learn in a 2016 interview with GQ. The film had Elvis Presley as a crop-dusting pilot who ends up at the World's Fair. Elvis's character Mike likes a nurse (Joan O'Brien) who isn't interested. He pays Russell's character a little spare change to kick him in the shins, so he has a reason to visit this nurse. Of course, later on, the boy blows Mike's cover by asking if he'd pay to have the kid do it again. 
Russell says in the GQ article that he really wasn't familiar with Presley as a rock and roll star but said they spent time during filming "playing catch and talking baseball." He says that Elvis was "an incredibly nice guy" and that he was "really cool." 
What's even sweeter is that Elvis wanted to speak to Kurt Russell's father, actor Bing Russell, who appeared in the TV series "Bonanza" as Deputy Clem Foster and the film "The Magnificent Seven" as Robert. He appeared in TV series like "Wagon Train," "Route 66," "The Untouchables," "The Twilight Zone," "The Monkeys," "The Mod Squad," and "The Rockford Files." When Russell did the 1979 "Elvis" film, he played Vernon Presley, Elvis' father. Russell, the younger, told GQ, "He loved the way my dad wore his hat. He said, 'Mr. Russell, would you mind if I wore my hat that way?' He was really serious about it."
Noticing The Effect Elvis Had On People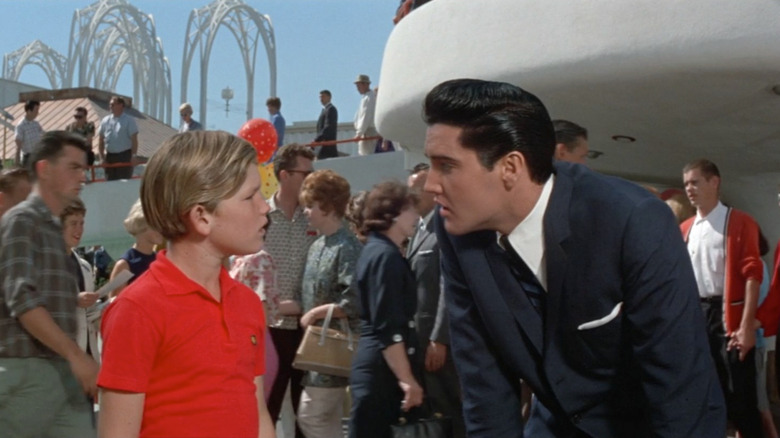 For a kid who was more into baseball than music at the time, seeing the reaction that Elvis got from women made an impression on the young Kurt Russell. He told Turner Classic Movies (via Turner Classic Movies) back in 2016:
"When I think of Elvis Presley, I go back to when I worked with him in 1962 on my first film, 'It Happened at the World's Fair.' I was 10 years old, and really, I barely knew who Elvis Presley was because I was into baseball — my movie stars — but I got a kick out of working with him. We had a great time working on that picture. But as we filmed, I noticed that crowds of girls were flocking to our set. I mean, we were on location at the Seattle World's Fair, and it was my first experience seeing an actual mob scene. There must have been 8,000 girls just going crazy, blocking his way, and seriously throwing themselves onto his car, and it just ... I mean, it was bizarre. At the time, I couldn't begin to understand how that must have affected Elvis. I don't know if he enjoyed that or not, but unquestionably, those crowds and others like them, I think, ultimately limited his life."
It's almost unthinkable to consider that someone in 1963 didn't know who Elvis was, but here we are. Getting to play Elvis later allowed Russell to delve into whether or not the fame did actually limit his life. The 1979 John Carpenter film "Elvis" wasn't the only time he played the King of Rock and Roll, though. He had an Elvis voice cameo in the 1994 film "Forrest Gump." He also appeared in the Elvis-adjacent 2001 film "3,000 Miles to Graceland."
Kicking The King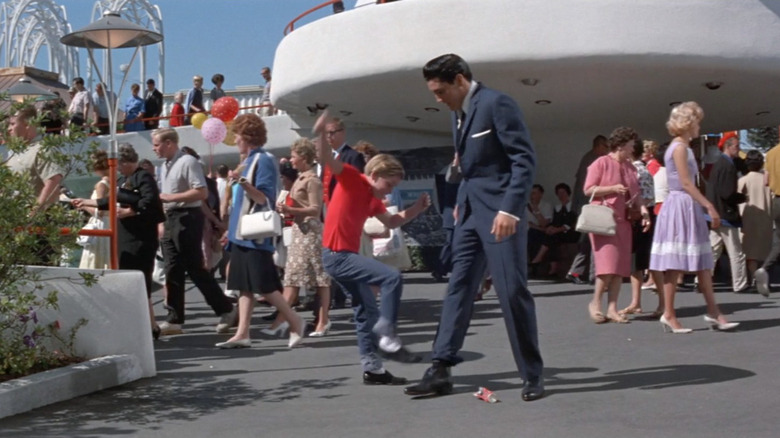 Poor Elvis got kicked a lot on the set of "It Happened at the World's Fair," according to the GQ article. Russell said that he kicked the King's shins about 15 times. Russell explained, "He had to wear a pad. One time I got close to the edge of it, and he looked at me because he really trusted me and went, ' ... stay on the pad.' What a nice guy he was. Yeah. He was 27 years old." It's interesting to note that Elvis was 27 when that film was shot, and Russell was 27 when he played Elvis in the TV film. 
"It Happened at the World's Fair" may not be one of Elvis Presley's most memorable films, but it was the film debut of Kurt Russell. If you want to check out little Kurt Russell in the film, it's currently streaming on HBO Max. The two scenes happen at 45:49 and 57:16. The most recent biopic about Presley is "Elvis" starring Austin Butler and Tom Hanks, which is also streaming on HBO Max. 
Read this next: 15 Best Movies Of The 1960s, Ranked
The post A Young Kurt Russell Was Paid To Kick Elvis On The Set Of It Happened At The World's Fair appeared first on /Film.