Did you ever watch the HBO Series Westworld? It was this bizarre drama set in a futuristic "amusement park" in the American west where visitors are able to act out their violent fantasies against very realistic looking robots. Sound strange? So is stepping into real-life western town of Tombstone, Arizona, especially during its annual "Helldorado Days" festival.
That was my first introduction to Tombstone. I was on a day trip from Tucson and determined to find the best things to do in Tombstone and had no idea what I was walking into. Ever since seeing the 1993 movie Tombstone, with its star-studded cast, this small town has been on my list of places to visit in Arizona.
I didn't know what to expect, but since the events depicted in the movie are based on historical facts, I thought it would be an authentically preserved Western town. I've been itching to swing through the doors of an old-fashioned saloon and stroll down the boardwalk past the storefronts of the main street, so I was game for a flashback to the wild west.
What Are Helldorado Days?
Driving into town, I arrived into the bizarro world that is historic downtown Tombstone during Helldorado days. The wide, dusty main street lined with shops and restaurants looked just as I had imagined. Immediately, I was surprised by the number of people walking around in full on Western gear — gowns, parasols, overcoats, vests, boots and oh the hats! It was like I walked into a Western version of ComicCon or onto the set of a movie!
It was so confusing at first — were they paid re-enactors, like when you go to Colonial Williamsburg and "townspeople" stroll around having deep conversations straight from the 1700s? Were they actors from the various gunfight shows taking a break? Or did people actually get dressed up to visit Tombstone? I finally noticed the "Helldorado Days" banner hanging across the street and stopped at a booth selling t-shirts to get the low down.
Helldorado Days is the biggest annual event in Tombstone, held on the third Friday, Saturday and Sunday in October. There are so many things to do in Tombstone AZ during Helldorado Days including gunfight re-enactment shows, street entertainment, fashion shows, carriage rides, and even a parade. So while the festival made the town extra crowded, it actually ended up being a great time to visit Tombstone. If you can't make it for Helldorado, the town also hosts a number of annual events and festivals, including the Tombstone Vigilante Days.
And all those people in costume walking around? Truth was, it was a mix of everything. The gunfight shows were in full swing with plenty of actors coming from across the country to perform. Other groups of musicians, gunfighters, saloon girls, cowboys, story tellers, and dancers congregate in Tombstone for Helldorado Days.
There were even people who had traveled across the United States to basically cosplay in the Old West. (Hmm, could Westworld actually be a thing someday?) What was clear was that everyone was there to have a good time. And even if you aren't there for Helldorado Days, there is still plenty to do in Tombstone.
So Why is Tombstone, AZ Famous?
Tombstone, Arizona is famous for its history as a mining town and for the infamous gunfight between lawman and a group of outlaws at the O.K. Corral that took place in 1881, one of the most famous events in the history of the American Old West.
The lawmen, including Wyatt Earp, his brothers Virgil and Morgan Earp, and their friend Doc Holliday, had been deputized to enforce a ban on carrying firearms in the town limits. The outlaws, who included the Clanton and McLaury brothers, were known for their involvement in cattle rustling and other criminal activities.
The two groups encountered each other in a vacant lot near the O.K. Corral, and a brief but intense gunfight ensued. The exact sequence of events and who fired first is still a matter of debate, but the outcome was that three of the outlaws were killed and the Earps and Holliday emerged unharmed.
The gunfight at the O.K. Corral became famous in popular culture as a symbol of the lawlessness and violence of the Old West, and the Earp brothers and Doc Holliday became legendary figures.
Today, Tombstone is a popular tourist destination that offers the opportunity to step back in time and experience the Old West. It has been called one of the top things to do in Arizona with families and included on AZ bucket lists.
In addition to its historical significance, Tombstone is also located in a beautiful part of Arizona, surrounded by scenic desert landscapes and close to attractions such as Kartchner Caverns State Park and the Chiricahua National Monument.
Best Things to do in Tombstone Arizona
These are the best things to do in Tombstone if you have a day or more to spend in town.
O.K. Corral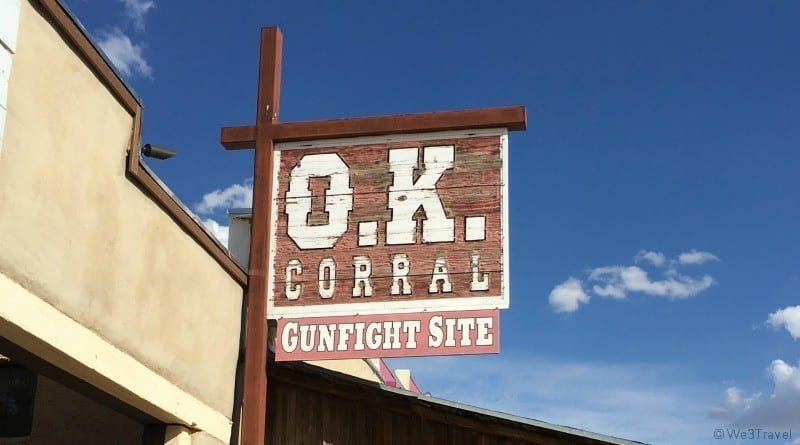 At the O.K. Corral in Tombstone, Arizona, you can experience a reenactment of the famous gunfight that took place there in 1881. The reenactment is performed by actors in period costumes and with period weapons, and aims to recreate the events of that day as accurately as possible.
Of course, the O.K. Corral isn't the only show in town when it comes to gunfight re-enactments — you can take your pick. But many will opt to see where the legendary Earp Brothers and Doc Holliday took their stand against the "Cowboys" gang of outlaws. The famous gunfight is reenacted daily at 11 am, 1 pm, and 3 pm (but times are subject to change so check before you go).
Each show lasts about 30 minutes. You need to buy your tickets at the gift shop on the day of the performance, but get there early and get your tickets 2-3 hours in advance, especially on the weekends, to ensure a seat. Leave time to visit the exhibits before the gunfight show because they get very crowded afterwards.
In addition to the gunfight reenactment, you can explore the historic site, which includes a museum and exhibits on the history of the town and the Old West. The museum features artifacts and memorabilia from the gunfight and the lives of the famous figures involved, including Wyatt Earp and Doc Holliday. There is also a Histogram, which is a large-scale rotating diorama narrated by none other than Vincent Price.
There are also live demonstrations of Old West skills and crafts, such as gunsmithing, leatherworking, and blacksmithing.
Old Tombstone Western Town
The Old Tombstone Western Theme Park is designed to give visitors a fun and immersive experience of the Old West. It is set up as a mini amusement park with a carnival-like atmosphere.
One of the main attractions of the Old Tombstone Western Theme Park is the gunfight shows, which recreate the famous shootout at the O.K. Corral and other Old West shootouts. The shows are performed by actors in period costumes and are billed to be both entertaining and educational.
I did take in the gunfight show here, since they claim it is the "best in town." It was a bit like watching a vaudeville show with some really campy acting and no real historical context, but hey, the people in the audience seemed to enjoy it. Just know what you are getting yourself in for and if you are looking for historical accuracy, maybe try the OK Corral instead and go here for a laugh.
The park also features a range of rides and activities, including a vintage carousel, a train ride through the park, and a mine tour that takes visitors through a simulated underground mine. You can pan for gold, practice your aim at a shooting gallery and even play mini-golf. How that goes together I don't know but it will make the kids happy.
There are also interactive exhibits that allow visitors to learn about Old West history and culture, including displays on cowboy life, Native American culture, and mining. They also offer a combination ticket with a trolley tour. Friday and Saturday nights the trolley tour covers Tombstone's most haunted landmarks, including the Boothill Graveyard, Tombstone's haunted hot-spot, on a ghost tour.
The Chuckwagon restaurant on-site is also a good spot to grab some grub (aka lunch.)
Old Tombstone Stage Coach Tour
If you have ever wanted to ride in a stage coach, here is your chance. Old Tombstone Tours offers historical tours by stagecoach or covered wagon from 9 am until 5 pm daily (no reservations required.) The tours are operated by a fourth generation native of Tombstone and the company has been conducting historic tours throughout Tombstone's Historic District for twenty seven years.
Old Butterfield Stage Coach also offers a 20-minute narrated tour around Old Tombstone. The tour is named after the Butterfield Overland Mail Company, which operated a stagecoach line in the mid-1800s that ran through Tombstone.
The tour takes visitors on a ride in a replica stagecoach that is pulled by a team of mules, just as it would have been in the Old West. The tour follows the same route as the original stagecoach line, which took passengers from Tucson to Tombstone and beyond, carrying mail and other goods.
Tombstone Mine Tours
One thing that sounded really interesting to me but I didn't have time to do it was an underground tour. Since Tombstone was such as prosperous mining town It would be fun to go underground and see what it is like in a real mine (especially for all those Minecraft fans.)
The area around Tombstone was rich in silver deposits, which led to a mining boom that began in the mid-1870s and continued for several decades. Some of the most significant mines in the Tombstone area included the Tough Nut, the Lucky Cuss, and the Goodenough mines. These mines employed thousands of workers and produced millions of dollars worth of silver ore, which was transported by rail to processing facilities in other parts of the country.
You can learn about this mining history by visiting the Tombstone Courthouse State Historic Park, which features exhibits and displays on the history of mining in the area. But a fun way to learn more is with the Goodenough Mine Tour.
This tour takes you down into the underground tunnels, which are accessed by a 100-foot vertical shaft. The tour lasts approximately 30 minutes and covers the tunnels, stopes, and drifts, to teach about the history and technology of mining during the Old West era.
Enjoy Town
You need to leave yourself time to really enjoy the town. Allen Street has been preserved to reflect life in the 1880s. Many of the original buildings burned down in fires but they have been rebuilt in that same Old West style. If you are visiting in the afternoon, there is usually a free gunfight in the street at 1 pm.
If you have kids in tow, the Crystal Palace Saloon (originally the Golden Eagle Brewing Company) or Big Nose Kate's Saloon might be a little rowdy (at least it looked it to me during Helldorado Days), but the shops are fascinating. This is where you will find your next Halloween costume, gown for a masquerade, or just a great cowboy hat! The clothing is great quality and variety. You may even want to splurge on some of those Oldtyme Photos to remember the trip.
If you have more time, there are many other historic sites to explore in Tombstone, including the Tombstone Courthouse State Historic Park, the Bird Cage Theatre, the Rose Tree Museum (home to the world's largest Rose Tree), and the Boothill Cemetery.
Where to Stay in Tombstone, AZ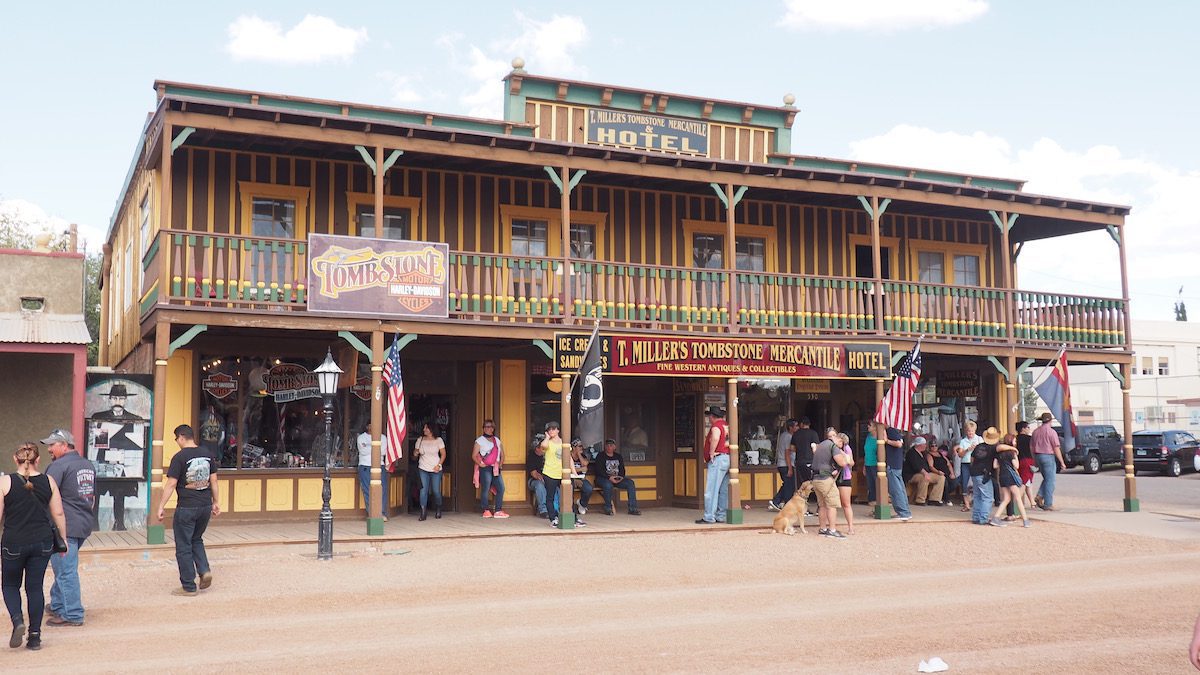 When I visited Tombstone, it was on a day trip from Tucson. See my recommendations for the best resorts in Tucson. If you are looking for something closer, check out the options below:
Frequently Asked Questions
Where is Tombstone, Arizona?
Tombstone, Arizona is located in the southern part of the state, in Cochise County. It is approximately 70 miles southeast of Tucson and 30 miles north of the Mexican border.
How do you get to Tombstone, Arizona?
If you are driving from outside the area, the most common route is to take Interstate 10 to Benson, Arizona, and then follow Highway 80 south to Tombstone. The drive takes approximately 1 hour and 15 minutes from Tucson, and about 3 hours from Phoenix.
If you are flying, the closest major airport is Tucson International Airport (TUS), which is located approximately 70 miles north of Tombstone. Several major airlines offer flights to and from Tucson, with connections to many other cities across the United States and around the world. From the airport, you can rent a car or arrange for a shuttle or taxi to take you to Tombstone.
Once you are in Tombstone, the town is small enough to be easily explored on foot, although you may also want to consider taking a guided tour, such as a stagecoach tour or a walking tour, to learn more about the history and culture of the town.
How long should you spend in Tombstone, AZ?
The amount of time you should spend in Tombstone, Arizona depends on your interests and what you want to see and do while you are there. I would recommend spending at least a half day to a full day exploring the town and its attractions including the O.K. Corral, the Tombstone Courthouse State Historic Park, and the Tombstone Epitaph newspaper office. You may also want to take a guided walking or stagecoach tour to learn more about the town's history and culture.
If you are interested in outdoor activities, such as hiking, horseback riding, or birdwatching, you may want to spend more time in the surrounding area, exploring nearby parks and wilderness areas such as the Coronado National Forest or Kartchner Caverns State Park.
Overall, a minimum of half a day is recommended to explore the town and its major attractions, but if you want to fully immerse yourself in the history and culture of Tombstone, you may want to spend a full day or more in the area.
What is the best time to visit Tombstone, AZ?
The best time to visit Tombstone, Arizona is in the spring (March to May) or fall (September to November), when the temperatures are mild and the weather is generally pleasant for outdoor activities. During these seasons, the average high temperature is in the 70s and 80s (Fahrenheit), and the evenings can be cool.
The summer months (June to August) can be hot and dry, with average high temperatures in the 90s and low 100s (Fahrenheit). If you do visit in the summer, it is important to stay hydrated and take precautions to protect yourself from the sun.
Winter (December to February) in Tombstone can be cool to cold, with occasional frost and snow. However, winter can be a good time to visit for those who enjoy cooler temperatures and fewer crowds.
Save this to Pinterest
The post 5 Fun and Quirky Things to do in Tombstone, Arizona appeared first on We3Travel.