It goes without saying that sweaters are a great winter and fall staple.
And, while sweaters for women styles change only subtly from year to year, there are plenty of ways you can style your sweater for fall or winter.
Here are some of the best sweaters for women and ways to style them this season.
Types of sweaters for women
Before we talk about how to wear your sweater, how about what type of sweater to choose?
There are so many different sweater styles you can choose from, but here are the main ones to think about adding to your closet for winter and fall.
As with all of your clothing, think about what is flattering for your body type.
V neck sweaters for women
A V-neck sweater is the most universally flattering sweater style there is.
Thats because the V-neck naturally elongates the figure by drawing the eye up and down rather than across.
You could opt for a classic neutral shade, or something brighter to liven up your outfit.
Cobalt blue was one of the main color trends for winter and fall 2019.
Treasure & Bond cozy nep flecked v-neck sweater
Round-neck sweaters for women
Another classic style, the round neck, or crew neck, tends to draw attention to your face, and can be a particularly flattering option if you have a long neck.
Michelle (above) opts for a cable-knit crew neck, worn against a fabulous London phone box backdrop.
Get her look with this similar balloon sleeve sweater, wide leg jeans, backpack and leopard print shoes.
Boden crew neck cashmere sweater
Turtleneck sweaters
A great layering piece for winter, you can wear your turtleneck on its own, or layer a block color turtleneck under a dress.
Lisa (above) wears a stripe roll neck top from AllSaints, booties from Marc Fisher and an embossed tote from Ralph Lauren. Complete her look with these similar trousers from Reiss.
Woven Heart Chenille turtleneck sweater
Boatneck sweaters for women
A boatneck sweater can be a particularly flattering option for pear shapes as it helps to balance wider hips.
Ky (above) pairs her boatneck with leopard print.
Check out this similar sweater, printed pants and boots.
French Connection Millie Mozart sweater
Cardigan
Cardigans can have an unfair reputation for being frumpy, but they really can be one of the most flattering knitwear options you can choose.
You can opt for a tie-waist to show off your figure, or choose a long option to look taller and slimmer.
Sandra wears a blanket wrap from World Market, heels from Steve Madden and bag from Brahmin. Get her complete look with this similar sweater and crop pants.
Trendy sweater
If you already have all of these sweater styles in your closet, theres always an on-trend style of sweater you can choose to update your looks.
This does, of course, incorporate lots of different styles, but every season youll find theres a fresh twist on the sweater.
Trends include bell sleeves, cropped styles, fluffy or oversized sweaters, and cold shoulders.
There are lots of other variations on these sweater styles, but hopefully that has got you thinking about what is most flattering for you.
Oxana (above) opts for an oversized sweater worn with on-trend mom jeans.
Steal her look with this similar sweater, jeans and booties.
La Ligne oversize turtleneck sweater
Winter sweater outfits ideas for this season
So, now that you have chosen your most flattering winter sweaters, or fall sweaters, depending on how cold it is for you right now, how to you incorporate them into stylish winter outfits?
Here are 13 ideas for you. Dont forget to let me know in the comments in you have a favorite way to wear your sweater.
1. All neutrals
Who says you have to give up neutrals when colder weather sets in?
An all-neutral look can still look chic for fall and winter. It tends to work best if you choose a creamier white rather than a shade which is too stark.
Jo (above) mixes whites, creams and beiges in her outfit and adds additional interest with leopard print.
Check out this similar sweater, cardigan, jeans and booties.
Beige, taupe or tan may sometimes be seen as a frumpy option but by switching your outfit around so you wear your beige on top and your white on the bottom (rather than the more conventional beige pants and white sweater), you can make your look instantly more modern.
Also, read our article on the 9 timeless outfits you can wear this fall season.
While there are some beautiful richly-hued jewel colors among the fall color trends for 2019, whites, creams, camels and pale grays can also look stunning when looking at sweaters for women in stores, or shopping your closet. They can create real impact when worn together.
Rachel Parcell long belted cardigan Everlane silk shirt Hudson bootcut jeans Dolce Vita bootie Kendra Scott tassel necklace Kurt Geiger London tote
2. Sweater tucked into wide-legged pants
Just as the half-tuck became the fashionable way of tucking a shirt this summer, the sweater has also gained a tuck and is a new idea when looking at how to wear a sweater.
Sally (above) tucks her sweater into her wide-leg pants.
Check out this similar sweater, wide leg pants, booties and necklace.
Wear yours tucked in a little at the front and then left casually to drape at the side and back.
However, you may wish to avoid this kind of tuck if you dont want to add extra bulk around your midriff.
Its all about playing with the tuck so that your sweater falls in the most flattering way for your body shape.
Push up your sleeves for an even more relaxed take on this trend.
43I3NNA crop turtleneck sweater 7 For All Mankind crop wide leg jeans Micheal Kors bootie Sole Society satchel Nordstrom floppy hat
For more inspiration take a look at how to wear wide leg pants.
3. Wear your sweater with a sequin skirt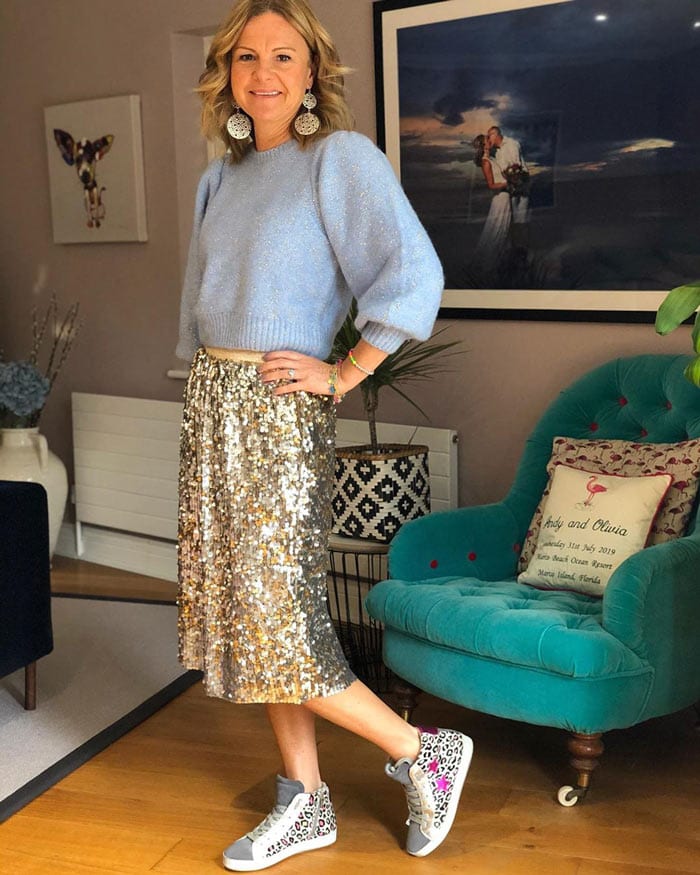 If you have a sequin or print skirt in your closet, you can style it for fall with a sweater in a solid or block color.
Again, play around with where your sweater falls to make sure it ends at the most flattering part on your body.
Adding a sweater to your outfit, rather than a more formal blouse is a great way to wear your sequins in a more casual setting.
Liv (above) opts for sequins and sneakers with her sweater.
Check out this similar sweater, sequin skirt, sneakers and earrings.
Club Monaco bell sleeve wool blend sweater Court & Rowe sequin pencil skirt Karl Lagerfeld slide sandal Sole Society clutch The Accessory Junkie drop earrings
4. Sweaters with an unusual print
While most sweaters for women tend to come in one block color, there are some unusual prints out there which will make your sweater a hero piece for fall.
Hayley (above) wears houndstooth with her black skinnies, and finishes her outfit with an on-trend headband.
Check out these similar houndstooth sweaters from J.O.A. and 525 America that you can wear with these similar faux leather pants and booties.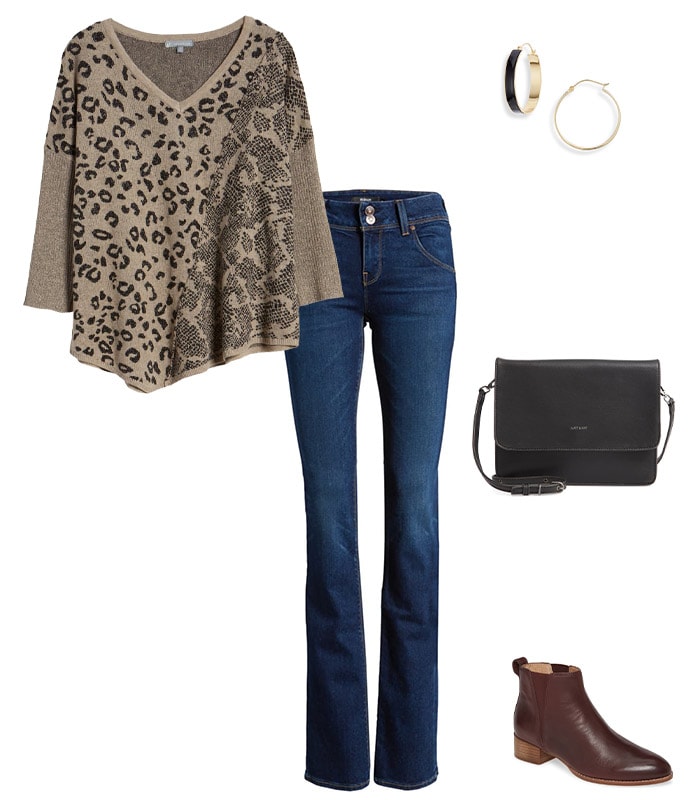 Wit & Wisdom animal print sweater Hudson Jeans bootcut jeans Madewell bootie Matt & Nat crossbody bag Gorjana hoop earrings
5. The new sleeve style for sweaters
Trends tend to be all about those little tweaks.
Weve had cold shoulder tops and voluminous sleeves during spring and summer. Now, the latest jumper style is the bell-sleeved sweater.
If you do decide to try it, its likely to be a womens sweater trend which wont be around too long, so simply choose something you love for this season.
This is another time you need to think about proportions and what will work best for your body type.
The point where the bell shape ends on the sleeve draws the eye. So, decide whether you want the focus on your waist (with three-quarter sleeves) or the hips (with full-length sleeves).
Club Monaco bell sleeve wool blend sweater
6. Wear your sweater under a blazer
This combination can be a great look for the office or for weekends. Youll want to choose a sweater which is lightweight so you dont add too much bulk.
Tanasha (above) wears a chevron print sweater from Shein and a pair of heels from Sam Edelman and she accessorizes with a quilted bag from Diophy. Complete her look with this similar blazer and trousers from Boss.
Below is another option for you which would be a great Christmas party look.
Leith sparkle blazer Boss wool sweater 1822 Denim coated skinny jeans Schutz ankle strap sandal Sole Society bag Knotty fan tassel earrings
7. A sweater with a pleated skirt
A cozy sweater can be a soft, glamorous option with a pleated evening skirt.
You could opt for a more casual sweater style and sneakers for daywear, or choose an off-the-shoulder number for an evening out.
Marina (above) teams her pleated skirt with reptile-print booties, belting her outfit to make sure she creates a flattering silhouette.
Recreate her look with this similar sweater, skirt, wide belt and booties.
Leith off the shoulder sweater Halogen pleated midi skirt Sole Society bootie Tory Burch wallet on a chain Argento Vivo hoop earrings
8. Layered with other knits
To stay warm AND stylish, you could layer your sweater with other knits. A turtleneck is a great layering option to wear under a poncho.
Nadine (above) creates a column of black and then pops a poncho over her outfit, which matches her boots.
Recreate her look with this similar turtleneck sweater, plaid ruana, jeans, boots and hat.
Nordstrom wool & cashmere ruana Court & Rowe mock neck sweater Wit & Wisdom bootcut jeans Cordani bootie Vince Camuto crossbody bag BaubleBar layered necklace BaubleBar hoop earrings
9. Layered under a dress
Again, a turtleneck is put to good use as a layering option.
Victoria Beckham has been layering hers under a shirt dress recently. It means you can continue wearing a thinner dress for fall and winter. Team yours with knee-high boots.
Gerogette (above) wears a pair of booties from Evolve and a handbag from Brahmin. Complete her look with this similar white sweater and dress.
Nobody Denim rib top Fraiche by J shirtdress Sole Society knee high boot Tory Burch shoulder bag Frye wool fedora Kendra Scott huggie hoop earrings
10. Worn over your shirt
Patricia (above) opts for a beautiful, classic pared-down style by wearing her v-neck over her sweater.
Check out this similar button down shirt, sweater and pants to steal her look.
Rebecca Minkoff crop sweater Nordstrom Signature blouse AG straight leg jeans Sole Society bootie Nordstrom top handle clutch Karine Sultan layered necklace
11. With your leggings
If you love the comfort of leggings, Im sure you already wear yours with a tunic top.
You can continue to wear your leggings in the colder months by looking for a long jumper.
A moto jacket worn over the top will add interest by working with a shorter layer worn over a longer-length sweater.
There are plenty more tips in this extensive guide on how to wear leggings over 40 or beyond.
Halogen cashmere sweater Blank NYC moto jacket Hue denim leggings Matisse bootie Sandra Roberts bucket bag The North Face beanie
12. As a dress
A sweater doesnt have to end at your waist or hips. A sweater dress can be one of the easiest, most stylish outfits for winter and fall.
You dont need to worry about matching separates. You can simply pop on your dress with tights and boots.
Erin (above) chooses a stylish neutral sweater.
Steal her look with this similar sweater dress, belt and croc embossed boots.
Vince Camuto sweater dress Rachel Parcell wrap coat Marc Fisher boot Kate Spade New York satchel
13. With a bit of sparkle
Who doesnt love a Christmas jumper as the festive season approaches, but that doesnt mean that you have to adorn your sweater with reindeers and flashing baubles (unless you want to of course).
A more subtle approach will keep you stylish for parties or Christmas morning.
Halogen sequin sweater Halogen wide leg pants Ted Baker London clutch Sole Society pump Kate Spade New York stud earrings
How will you be wearing your sweater this fall? Have these sweaters for women outfit ideas given you some inspiration?
Continue reading:
Like this article on the best sweaters for women? Save it on Pinterest!
Feature image by Oxana
The post 13 ways to style winter sweaters and fall sweaters for women over 40 appeared first on 40+ Style.