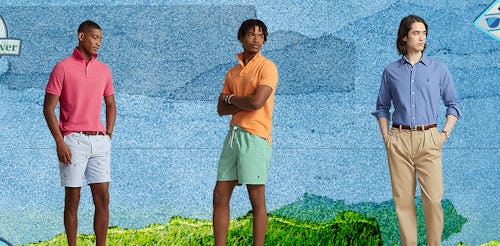 Dad jokes, dad bods, and dad style: This is the holy trinity of fatherhood. For most dads, "style" doesn't involve much more than ripped jeans and a ratty T-shirt, but many guys have far more fashion sense than they know. This latent potential is just waiting to be recognized, and there's no better time to help the dad in your life get in touch with his style than Father's Day.
This year, trendsetting editor Alex French is turning to Polo Ralph Lauren to find the perfect fashion gifts for any type of father figure. Filled with timeless, yet ultra-cool pieces, French's picks are designed to give Dad the push he needs to level up his style. French notes that you can never go wrong with a nice pair of sunglasses or a classic denim jacket, but encourages you to consider more personalized pieces like a mock-neck vest that all outdoorsy guys will adore and classic swim trunks that will make a splash this summer. After all, with a mind that's stocked equally with corny jokes and well-worn wisdom, Dad deserves a wardrobe that lets him show off his classic style, amplify his unique personality, and let him be the true, timeless icon we all know he is.
Ahead, shop 10 editor-approved Polo Ralph Lauren pieces that will give your dad a whole new look.
The Iconic Mesh Polo Shirt

There are few pieces of clothing more iconic than the Polo Ralph Lauren Polo Shirt. Available in a variety of fits, this top comes in a wide array of colors, from classic white with the navy blue logo to a 'Highland Rose Heather' that French calls "sneaky cool." He suggests styling the polo with a pair of jeans and a navy blazer — an outfit that will look just as dapper chilling out poolside as it will watching the sunset on a summer cruise in the Mediterranean.

Polo Ralph Lauren

[TAG1]
Classic Fit Luxury Jersey Pullover

Made with supersmooth recycled polyester, this luxe pullover can be paired with joggers for a casual workout or layered on top of a polo for a day hitting the links. French suggests the Andover Heather shade for a more elevated look.

RLX Golf

[TAG2]
Jersey Crewneck T-Shirt

"A great T-shirt is a foundational element in a great wardrobe," says Alex French. And as a dad myself, I can attest to how desperately in need we are of a well-fitting tee we can wear around the house and out to a nice dinner in town. Available in a range of cool colors, including French's preferred Derby Blue Heather, this T-shirt is a dad essential.

Polo Ralph Lauren

[TAG3]
Garment-Dyed Oxford Shirt

French says classic-fit, garment-dyed Oxfords shirt are the backbone of his closet. They look great with everything from jeans to khakis and last forever. According to French, the more distressed they get from repeated wears and washes, the better they look. Just like Dad, the Polo Ralph Lauren Oxford Shirt gets better and better with age.

Polo Ralph Lauren

[TAG4]
Heritage Leather Duffel

This is "the most gorgeous weekend bag in the universe," according to French. It's crafted from supple full-grain leather that's soft to the touch, meaning there isn't a more sophisticated duffel for Dad to carry his essentials in.

Polo Ralph Lauren

[TAG5]
Vintage-Inspired Striped Silk Repp Tie

There isn't a more classic item of clothing for a dad to have around his neck than this navy and pink striped silk tie. French suggests pairing it with the pale blue Oxford for a timeless look.

Polo Ralph Lauren

[TAG6]
Hybrid Mockneck Vest

We know that Dad loves his hoodie. He feels safe in it, comfy, and thinks he looks cool, but level things up this Father's Day with a zip-up vest in baby blue or navy. This will become for him, as it is for Alex French, an essential part of his wardrobe thanks to its warmth and tremendous versatility.

RLX Golf

[TAG7]
5.75-Inch Traveler Classic Swim Trunk

With an elastic drawstring waistband and plenty of pockets, these classic trunks from Polo Ralph Lauren will ensure that Dad is the hippest guy at the pool this summer. French recommends pairing them with a well-worn Oxford or a lightweight cable-knit sweater.

Polo Ralph Lauren

[TAG8]
Cotton Bucket Hat

Imagine Dad rocking this soft cotton bucket hat that you so thoughtfully bought him as a Father's Day gift this year: He's got on his shades and a sweater, and he's standing up straighter because he's infused with a heightened level of confidence. This is a supremely classic look for an incredibly cool guy.

Polo Ralph Lauren

[TAG9]
Double-Knit Jogger Pant

French says that around his house, these light jogger pants are referred to as "dress sweats," and it's easy to see why! With three pockets and ribbed cuffs, these double-knit joggers don't even exist on the same planet as traditional grubby sweats. Dad can wear these pants with his favorite denim jacket, says French, or his most fly sneakers.

Polo Ralph Lauren

[TAG10]